Avete presente quell'amico che vi racconta le cose senza mai finire il discorso? Voi siete lì che lo ascoltate, siete interessati a quello che sta dicendo, volete sapere quale sia la fine della sua storia, ma non la scoprite mai. Vi abbandona, vi lascia senza alcuna spiegazione. Ecco: Netflix a volte è quel tipo di amico. Come avrete potuto notare, infatti, la piattaforma presenta molte Serie Tv incomplete, alcune hanno addirittura la metà delle stagioni totali. Per i più impazienti questo rappresenta un vero e proprio problema che spesso blocca l'inizio di una serie. Controllare se sia completa, infatti, è il primo passo per decidere se iniziarla. Bene, oggi ci facilitiamo il compito. Vi diciamo noi quali sono le 10 Serie Tv presenti su Netflix con non tutte le stagioni, così voi saprete come comportarvi a riguardo. Vi avvertiamo: in mezzo a questa lista al 100% troverete quella famosa serie che avreste tanto voluto guardare, ma che è disponibile solo a metà mandando così in frantumi il vostro obiettivo.
1) Riverdale
Riverdale non è di produzione Netflix, e questo lo sappiamo bene. Nonostante ciò la piattaforma l'ha presa con sé praticamente da subito, con una sola condizione: gli abbonati dovranno accettare di non essere mai al passo con la trasmissione reale. Se, infatti, su Netflix troviamo quattro stagioni, nella realtà dei fatti momentaneamente la serie è arrivata a sei. Cominciare questa esperienza, dunque, significa vivere questo momento con estrema lentezza, ma è innegabile che con questa mossa Netflix abbia fatto un ottimo lavoro: basta solo avere un po' di pazienza. Nel frattempo, il resto del catalogo ci aiuterà a distrarci mentre aspettiamo le nuove stagioni!
2) The Big Bang Theory
The Big Bang Theory dimostra a tutti gli effetti che davvero Netflix è quel tipo di amico che racconta tutta la storia, ma che poi sparisce quando è il momento di raccontare il finale. La serie è presenta su Netflix con tutte le stagioni, meno quella finale. Probabilmente è proprio qui che ci sentiamo feriti, avviliti e tristi. Scoprire questa cosa soltanto non appena pronti a guardare la serie significa essere pronti a disperarsi, soffrire, mettersi su le cuffiette e ascoltare My Immortal di Evanescence. Siamo sicuri che il lieto fine, e intendiamo letteralmente, a un certo punto arriverà. Nel frattempo vediamolo come un modo per rimandare quel drammatico addio che diremo alla serie quando guarderemo l'ultima puntata. Bisogna sempre vedere il bicchiere mezzo pieno, amici.
3) Brooklyn Nine-Nine
Brooklyn Nine-Nine è una delle ultime sitcom che ci è rimasta. Con la fine di The Big Bang Theory abbiamo praticamente detto quasi addio a questa meravigliosa era che ci ha donato perle come How I Met Your Mother, Friends, Modern Family. Brooklyn Nine-Nine è stata l'ultima superstite, ma solo fino ad adesso. Anche lei, con la sua ottava stagione, è arrivata alla conclusione che tanto avremmo ancora voluto rimandare. Netflix però non segue questa realtà, e ne costruisce una tutta sua in cui in realtà siamo ancora alla sesta stagione della serie, ben due stagioni indietro rispetto al finale. Non temete allora amici: se avete sempre guardato Brooklyn Nine-Nine su Netflix, per voi l'esperienza è ancora in corso. Se invece non ce la fate più e volete guardare il finale a tutti i costi l'unica arma che avete a vostra disposizione è la pazienza: prima o poi arriverà.
4) The Good Doctor, la sorpresa di Netflix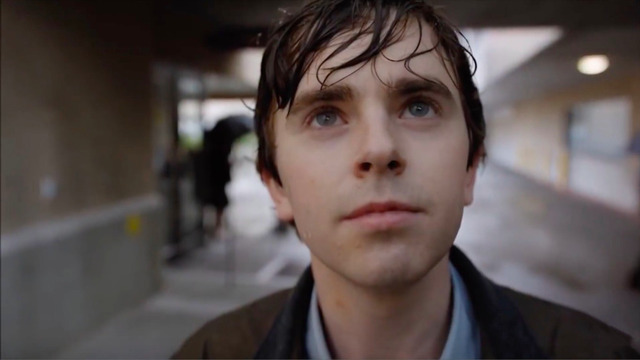 Si, è vero: The Good Doctor non è presente con tutte le stagioni all'interno di Netflix, ma è anche vero che in realtà qualche giorno fa non avremmo potuto neanche menzionare questo gioiellino all'interno di questa lista. Perché The Good Doctor è una vera e propria novità all'interno del catalogo Netflix, quindi il tempo per fare un po' di rodaggio possiamo concederlo senza lamentarci troppo dato l'apprezzatissimo regalo che la piattaforma ci ha fatto. No?
5) Archer
Anche in questo caso, come nel caso di The Big Bang Theory, quello che ci manca è il saluto finale. Archer è una delle chicche più interessanti della piattaforma Netflix, al tempo stesso – però – è anche la più nascosta. La sua reputazione la difende quanto può, ma nonostante ciò il suo continua a essere un successo nascosto da altri colossi animati presenti su Netflix come BoJack Horseman, South Park e I Griffin. Non grideremo al miracolo dell'animazione, ma Archer meriterebbe senza alcun dubbio una possibilità da parte degli abbonati Netflix, magari nel frattempo arriva anche la stagione finale.
6) I Griffin
Chiedere a Netflix di stare al passo con una serie animata come I Griffin è forse chiedere troppo, qualcosa di impossibile. La bella notizia è scoprire che, in realtà, sulla piattaforma sono presenti ben 18 stagioni a fronte di 21. Se la matematica non inganna, sono solo tre le stagioni che ci differenziano dalla realtà e questo è davvero un ottimo punto di partenza per fiondarci dentro alle folli avventure di questa pazza famiglia che mai come le altre, ci fa impazzire senza tregua.
7) South Park
Lo sappiamo: siete un po' confusi. South Park è presente su Netflix con sei stagioni disordinate tra loro: dalle prime due stagioni ci ritroviamo subito catapultati alla diciottesima che seguirà fino alla ventunesima. In realtà le stagioni della famosa serie animata sono ben 24, e nessuna di loro delude. South Park negli anni ha ricevuto un'infinità di riconoscimenti riuscendo a diventare una delle serie animate più premiate della storia. La possibilità di vederla in una delle nostre piattaforme preferite c'è: cogliamola, anche se non con il massimo delle stagioni.
8) Chicago Fire, Netflix ci stupisce ancora
Proprio come The Good Doctor, anche Chicago Fire è una vera e propria novità all'interno del catalogo Netflix. In questo caso le stagioni mancanti sono un bel po': se infatti sulla piattaforma troviamo quattro stagioni, nella realtà il numero cresce vertiginosamente arrivando a undici. Non sappiamo quali siano le sorti della serie su Netflix, ma probabilmente con un po' di pazienza potremo arrivare a essere al passo. Nel frattempo, c'è un'altra chicca per noi!
9) Chicago Med, lo spin off a sorpresa aggiunto su Netflix
Netflix ci ha fatto un doppio regalo: insieme a Chicago Fire, infatti, ha aggiunto anche lo spin off della serie Chicago Med. Anche in questo caso la serie non è conclusa e siamo di fronte alla metà delle stagioni, quattro su otto nello specifico. Pensare di guardare le due serie in contemporanea nell'attesa che il resto delle stagioni venga rilasciato non è però una brutta idea. Voi avete già iniziato la maratona?
10) The 100
Ancora una volta, come nel caso di The Big Bang Theory, ci ritroviamo a piangere per il finale mancato. The 100 non fa eccezione e rivela di nuovo il lato cattivo di Netflix, quello che inizia il racconto senza la nota conclusiva, quella che rivela il finale. La serie è una delle più famose all'interno della piattaforma, ma va ricordato che inizialmente le stagioni presenti erano minori. Con il tempo sono state inserite le altre, quindi i presupposti per attendere l'epilogo con grande speranza ci sono tutti. Che dire Netflix: noi siamo qua, pronti a un altro regalo. Non dire che non siamo mai contenti, perché noi la buona volontà nell'attendere ce la stiamo mettendo tutta. Ora sta a te. Dai.
Scopri Hall of Series Plus, il nuovo sito gemello di Hall of Series in cui puoi trovare tanti contenuti premium a tema serie tv