Non sono solo le scene di sesso a farci sentire a disagio, molte serie tv e alcune in particolare (come Game of Thrones) sembra abbiano una marcia in più nel dare vita a scene profondamente inquietanti o scomode. Quando arrivano, distogliamo ogni tanto lo sguardo, anche dopo che le abbiamo viste per la terza volta o la centesima. Scene che ci lasciano un profondo senso di disagio e molto spesso abbiamo bisogno di un po' d'aria fresca per riprenderci.
Ecco quindi 9 scene delle serie tv che ci lasciano confusi e terribilmente a disagio tutte le volte che le vediamo:
L'articolo presenta spoiler su The Handmaid's Tale, Game of Thrones, Outlander, Daredevil, Black Mirror, 13 Reasons Why, American Horror Story, Dexter e Hannibal.
1) La Cerimonia – THE HANDMAID'S TALE
Una delle scene più traumatiche della televisione degli ultimi anni. In The Handmaid's Tale (trionfatrice agli Emmy), le poche donne fertili rimaste sono chiamate Ancelle e il loro unico scopo è quello di generare figli. Seguendo spaventosamente alla lettera quanto scritto nell'Antico Testamento, le Ancelle vengono periodicamente stuprate dai Comandanti, ma quel che è peggio è il ruolo che le mogli assumono durante la Cerimonia. Come Serena, tutte le mogli tengono le Ancelle per i polsi e assistono senza battere ciglio a quello che avviene davanti ai loro occhi.
La prima volta che la serie tv ci ha mostrato questa scena raccapricciante, è stato davvero difficile restare a guardare. E ogni volta è come se fosse sempre la prima. Nella seconda stagione succede ben di peggio, ma se ancora non l'avete guardata eviteremo di fare spoilers.
2) La stupro di Tyler  – 13 REASONS WHY
La prima stagione era stata un successo incredibile che aveva messo in luce molte delle problematiche comuni nel mondo della scuola e degli adolescenti e di cui non si parla mai abbastanza. La seconda stagione è stata un disastro, una non necessaria continuazione che ha stravolto la storia di Hannah e reso gran parte degli avvenimenti banali e inutili.
Una scena che rimarrà, però, senza dubbio impressa è quella che riguarda il giovane Tyler. Una scena a cui non eravamo di certo pronti: improvvisa, violenta e crudele. Ma soprattutto senza alcuna logica se non quella di fare del male, un male disumano. Di fronte a ciò che succede a Tyler non siamo per niente preparati ed è un momento dall'impatto emotivo così devastante da trascinarsi anche dopo la visione.
3) La morte di Oberyn Martell – GAME OF THRONES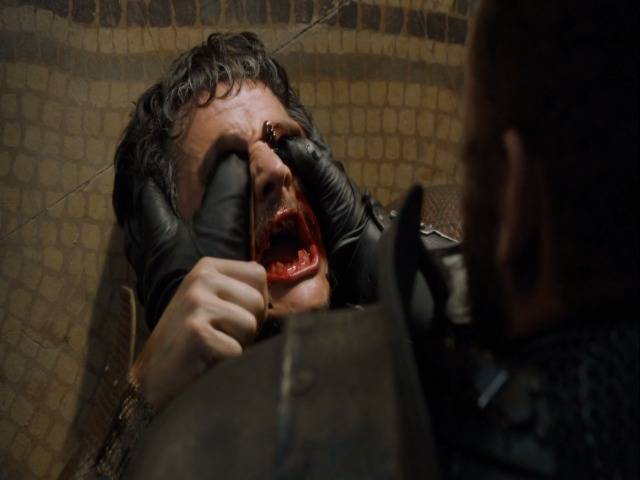 Di certo non si può dire che Game of Thrones manchi di scene forti, ma questa è sicuramente nella top 3 della storia della serie tv. Oberyn Martell si reca ad Approdo del Re con un solo intento, quello di vendicare finalmente l'amata sorella, stuprata e uccisa insieme ai suoi due figli durante la Ribellione di Robert. L'intento di Oberyn è comprensibile e ci sentiamo partecipi del suo dolore e del suo desiderio di vendetta. Tifiamo per lui e siamo inclini a sperare in un lieto fine. 
Per questo lo shock è ancora più grande quando ci rendiamo conto che le nostre speranze erano solo vane illusioni. La verità è sempre stata di fronte ai nostri occhi. Nel mondo di Game of Thrones non c'è giustizia, ma a vincere è sempre la dura legge del più forte. Le nobili intenzioni di Oberyn vengono spazzate via – anzi, schiacciate sarebbe più opportuno – dalla forza distruttrice della Montagna.
4) Il demone della dipendenza – AMERICAN HORROR STORY

Ecco un'altra serie tv che, come Game of Thrones, ci ha abituati a scene sempre più disturbanti. Forse però nessuna batte quella della quinta stagione che vede protagonista il Demone della Dipendenza. All'hotel Cortez fantasmi, mostri e assassini sono all'ordine del giorno, tutte queste anime dannate si contendono i visitatori che, una volta entrati nell'hotel, difficilmente ne usciranno vivi.
Una delle scene più controverse, proprio della quinta stagione, è quella con il Demone della Dipendenza, un essere senza volto, viscido e con un'enorme trivella di metallo al posto del … beh, fate un po' voi. Trivella che usa senza pietà sugli sventurati che gli capitano di fronte. Una scena che il pubblico di American Horror Story difficilmente dimenticherà e che infesta ancora i nostri incubi. 
5) "The Getaway" – DEXTER

In italiano, il titolo originale inglese è stato tradotto in "La storia si ripete" e ha un senso. Il finale della quarta stagione di Dexter segna un punto di svolta nella storia, ma soprattutto rappresenta il momento più buio per il suo protagonista. Il figlio in una pozza di sangue è un déjà-vu dello stesso Dexter e del suo passato. Quando l'uomo entra nella stanza sa già che cosa troverà ma né lui né noi vogliamo crederci.
In una vasca piena di sangue giace Rita, mentre il piccolo Harrison piange nell'altra stanza in un lago di sangue. L'ultimo atto del killer Trinity, la sua vendetta personale ai danni di Dexter, tocca il protagonista irrimediabilmente. Proprio come lui quando vide la madre morire davanti ai suoi occhi, così anche suo figlio. Proprio come fece il padre Harry, così Dexter prende il bambino e lo porta fuori, lontano dalla scena del delitto.
6) Il povero maialino –  BLACK MIRROR

Il primo episodio di Black Mirror ci fa capire subito che qui non si scherza. Di fronte a una situazione impossibile, il primo ministro inglese è costretto a prendere una decisione drastica. La principessa è stata rapita e l'unico modo per liberarla è quello di accontentare la richiesta davvero assurda dei suoi rapitori. Il primo ministro dovrà accoppiarsi con un maiale in diretta televisiva. Lo farà? Non lo farà? Per tutto l'episodio ci chiediamo avidamente come si concluderà questa storia. Fino a che punto ci si può spingere per un bene superiore?
Se all'inizio la richiesta viene vista come oltraggiosa ma necessaria da alcuni (il governo e i ministri) e fonte di enorme spasso da altri, ben presto la situazione che si profila davanti ai nostri occhi diventa tragica. La decisione del primo ministro, apparentemente l'unica scelta possibile, a noi appare inconcepibile e il finale ci mostra un altro messaggio sottinteso.
7) Randall il terribile – OUTLANDER

Tobias Menzies è un attore magistrale (in arrivo un'altra straordinaria prova attoriale) e anche incredibilmente sottovalutato. Il fascino dolce di Tobias traspare attraverso il sorriso a metà e l'intensità emotiva con cui interpreta ogni personaggio. Un professionista del suo mestiere che meriterebbe molto più spazio e attenzioni. E proprio nonostante un'indole pacata e buona, Tobias è riuscito a rendere assolutamente credibile e indelebile la performance come Jack Randall. 
Un mostro che sfrutta la propria posizione e il proprio potere per fare ciò che vuole, per usare le persone come oggetti da con cui giocare fino a distruggerli. Ed è quello che succede con Jamie in uno dei passaggi più oscuri e violenti della storia di Outlander. Le sevizie alle quali il giovane è sottoposto lasceranno in lui un marchio indelebile e non solo fisico. Sono state scene molto forti e difficili da sostenere.
8) La furia di Fisk – DAREDEVIL

Wilson Fisk non è un uomo da contraddire, specialmente di fronte alla donna di cui è innamorato. Ma soprattutto Wilson Fisk è un uomo che non sa cosa sia il perdono e agisce con la stessa furia cieca delle bestie. Senza se e senza ma. Così, nel quarto episodio della prima stagione, il suo tirapiedi Anatoly fa una fine orribile. Quasi quasi pareggia con quella di Oberyn in Game of Thrones.
Senza lasciargli il tempo di replicare, Fisk comincia a riempirlo di calci e pugni, lo sbatte sulla macchina, gli dà testate e infine, non soddisfatto, lo decapita con la portiera della macchina. Una scena di una crudezza agghiacciante che ci fa capire fin dove possa spingersi la furia di uno dei villain più pericolosi del mondo Marvel.
9) Prosopagnosia – HANNIBAL

La prosopagnosia è una malattia legata a un malfunzionamento del sistema nervoso centrale che impedisce ai soggetti che ne vengono colpiti di riconoscere i volti delle persone. A volte può essere legato a un danneggiamento dei lobi occipitali e temporali, per cui la fisionomia di una persona non riesce a essere percepita e registrata dal cervello.
Il personaggio di Georgia Madchen è affetto proprio da questa malattia e dalla Sindrome di Cotard, che induce chi ne è affetto a credere di essere morto e di non avere più organi vitali o sangue. Una delle scene che mette veramente a disagio lo spettatore è quella in cui ci ritroviamo a guardare il mondo con gli occhi di Georgia, avendo così un assaggio della sua malattia. Una malattia terribile che, combinata alla sindrome di Cotard, porta la ragazza a impazzire. A non capire più la differenza tra cosa è reale e cosa non lo è.