Comincio questo articolo facendo un appello ai fan di Game of Thrones: vi è mai capitato, guardando le ultime stagioni, di vedere un personaggio e pensare "quello meritava molto, molto di più"?
Onestamente mi sono trovata a pensarlo molto spesso, e non mi riferisco più soltanto a Game of Thrones.
Certo, questa è la serie tv che ha dato origine alla mia riflessione, ma ci sono molte altre situazioni in cui certi personaggi meritavano di meglio. E pure parecchio.
Quindi, Game of Thrones a parte, credo sia arrivato il momento di andare a parlare di quei personaggi delle serie tv la cui trama è stata davvero, davvero infelice.
L'universo televisivo è costellato di elementi sfruttati malissimo. Certo, non posso includere l'intero universo seriale, perciò ho dovuto restringere l'elenco a dieci personaggi. Fateci sapere chi altro, secondo voi, si meritava di meglio.
1) Lee Toric (Sons of Anarchy)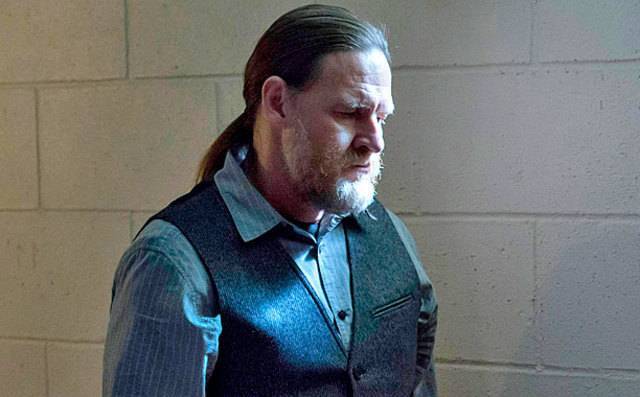 Apriamo le danze con uno dei villain più sanguinari che il mondo di Sons of Anarchy abbia mai conosciuto. Assetato di vendetta, disumano oltre misura ma al tempo stesso freddo e calcolatore. Un nemico che, tra l'altro, i Samcro si erano fondamentalmente creati con le loro mani.
Con tutti questi presupposti, Lee Toric era stato pensato per diventare IL villain per eccellenza all'interno di Sons of Anarchy. Il suo potenziale però è stato interrotto drasticamente, complice anche l'attore, Donald Logue, allontanatosi dal set perché si sentiva "estremamente disturbato".
2) Tyler Lockwood (The Vampire Diaries)
Con il passare delle stagioni, The Vampire Diaries è diventata una di quelle serie tv che ha dimostrato di non sapersi fermare (qui trovate un elenco di altri telefilm del genere). È riuscita a mandare a carte e quarantotto un'intera trama, rendendo diversi personaggi privi di senso.
Al di là di Alaric e del povero Matt Donovan, che ha avuto il suo momento di gloria solo nel finale, anche il povero Tyler non è stato trattato poi così bene. Nelle prime stagioni eravamo riusciti a emozionarci con la sua storia, ma poi? È sparito per una missione di cui sappiamo ben poco.
3) Wally West (The Flash)
In una serie tv come The Flash, Wally West doveva essere un personaggio di una certa caratura. E lo è stato, ma per troppo poco tempo. Lo conosciamo quando ancora non ha i superpoteri, poi riesce a ottenerli, dopodichè si allontana per trovare la pace e sbucare in Legends of Tomorrow.
La buona notizia è che è tornato in uno degli ultimi episodi, mostrandoci anche alcune nuove e interessanti abilità. Tuttavia, avrei personalmente voluto vederlo in azione più a lungo al fianco di Barry e avrei voluto vederlo combattere i suoi demoni al fianco della sua famiglia.
4) The Night King (Game of Thrones)
Ormai tutti i fan lo sanno: l'ultima stagione di Game of Thrones non esiste. Non può esistere. Dobbiamo essercela sognata, per forza. Con questi ultimi episodi sono stati rovinati tantissimi personaggi e uno dei peggio sfruttati è sicuramente il Re della Notte.
Il Night King aveva un obiettivo ben preciso, ma sfido qualunque spettatore a dirmi quale fosse. Voleva superare la Barriera? Voleva distruggere Westeros? Uccidere Bran? Non lo sapremo mai. Ed è un peccato, perché avrebbe potuto essere un personaggio con molto più spessore.
5) Nicholas Scratch (Chilling Adventures of Sabrina)
Con la nuova stagione uscita su Netflix, Chilling Adventures of Sabrina non si è esattamente piazzata tra le serie tv che hanno avuto una crescita. Ci sono stati diversi momenti trash e abbiamo assistito alla rovina di uno tra i personaggi migliori dello show: il povero Nick.
La sua storia d'amore con Sabrina ci piaceva, e abbiamo pianto nel vederlo sacrificarsi di sua volontà per contenere Lucifer. Salvato dalla sua fidanzata, nel corso della stagione Nick si distanzia da lei, fa l'offeso, accusa Sabrina che lei ha voluto che si sacrificasse. Non ci siamo gente. Per niente.
6) Lila Facchini (Sense8)
Quanto abbiamo pianto quando abbiamo saputo che Sense8 era stata cancellata? E quanto abbiamo esultato a sapere che avremmo avuto un ultimo episodio di due ore? Bene, purtroppo nemmeno quell'episodio è riuscito a rendere giustizia alla povera Lila Facchini.
La donna fa parte di una diversa Cerchia rispetto a quella di Wolfgang, con il quale tenterà di intrecciare una relazione puramente fisica. Pare abbia stretto un accordo con il BPO in cambio dell'immunità, ma ad oggi sono ancora convinta che abbia un percorso troppo breve per quello che avrebbe potuto dare.
7) Courtney Crimsen (13 Reasons Why)
Come già ci siamo trovati a dire per The Vampire Diaries e Game of Thrones, anche 13 Reasons Why è una di quelle serie tv che, con l'arrivo della seconda stagione, ha cominciato a creare dei grossi buchi di trama. Come se fosse una persona caduta per terra sbattendo la faccia, per far capire quanto la qualità sia calata.
Questo ha portato inevitabilmente ad avere dei personaggi a cui è stato dato più valore che ad altri. Tra i più bistrattati spicca Courtney Crimsen, personaggio costretto ad ammettere il suo orientamento sessuale al processo, salvo poi sparire nel più totale anonimato.
8) Audrey Liddell (Dawson's Creek)
Piccola, dolce, tenera Audrey! Io so che forse molti fan della serie non hanno apprezzato il suo inserimento nella quinta stagione, e ancora meno la sua storia insieme a Pacey. Ma a me loro piacevano molto insieme! Anzi, credo che il modo in cui ci fosse stata presentata agli esordi avesse perfettamente senso.
Audrey sarebbe potuta crescere, maturare, diventare una donna che sa divertirsi ma che allo stesso tempo tiene i piedi per terra. Peccato che con l'ultima stagione la sua possibile crescita sia stata mandata alle ortiche, tra il diventare gelosa del fidanzato senza un vero motivo e l'essere un'alcolizzata che non riesce a redimersi.
9) Tina Cohen-Chang (Glee)
Per quanto io ami infinitamente questa serie tv, che tanto mi ha insegnato, devo arrendermi all'evidenza che Glee qualche personaggio un po' stereotipato l'ha creato. Ecco, Tina Cohen-Chang si avvicina leggermente allo stereotipo dell'asiatica, con tanto di canzone in coreano in cui fa da solista.
Riusciamo però a conoscerla per quello che è, e a vedere il suo talento. Tant'è che, con l'arrivo della quarta stagione, tutti speravamo di vederla emergere. Invece niente! Il suo potenziale è stato nascosto, come del resto è stata nascosta lei, in mezzo ad altri personaggi, fino a scomparire.
10) Ivy Dickens (Gossip Girl)
Chiudiamo il tutto con una di quelle figure femminili che… Cosa faceva esattamente Ivy Dickens? A livello di personaggi inutili anche Gossip Girl ne ha conosciuti tanti, tra una Lola e una Vanessa Abrams. Insomma, se non sei nato nell'Upper East Side o non ti chiami Dan Humphery, in questa serie non sei nessuno.
Tuttavia i reietti come Ivy Dickens ci provavano a essere qualcuno. Lei poi ci era quasi riuscita! Prima facendosi passare per la cugina pazza di Serena, poi si è ingraziata nonna Van Der Woodsen… Poteva avere la vendetta perfetta, invece col cavolo! Si è fatta fregare da William! Peccato, la considerassimo una ragazza sveglia.