# #
Essere licenziati, lo sappiamo bene, non è mai facile. Non lo è per noi comuni mortali ma, con molta probabilità, le star non saltano di gioia nel sapere di essere fuori da un progetto di cui facevano parte fino a poco tempo prima. Nel corso degli anni il rapporto tra "attori serie tv" e licenziamenti è stato foriero di non pochi scandali: Kevin Spacey e Shannen Doherty sono soltanto due dei tanti personaggi di successo che hanno fatto parlare di loro e della loro condotta.
# #
Oggi abbiamo deciso di curiosare un po' in giro per cercare di avere notizie su quali attori siano stati realmente licenziati mentre giravano una serie tv e, soprattutto, quali motivazioni hanno portato a tale decisione.
1) Kevin Spacey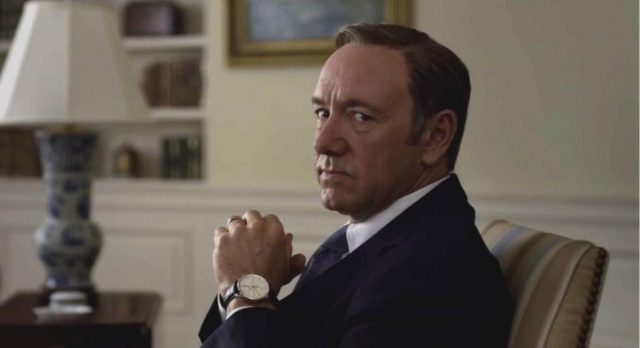 # #
Kevin Spacey è stato il protagonista, oltre che produttore, della serie tv House of Cards dal 2013 al 2017. Lo show in questione è un remake di una miniserie inglese del 1990 ed è stata la prima produzione originale di Netflix.
Spacey ha interpretato Frank Underwood, un politico incredibilmente assetato di potere che cerca in ogni modo di raggiungere le più alte cariche del Governo degli Stati Uniti.
Nell'ottobre del 2017 l'attore ha ricevuto molte accuse per molestie e, di conseguenza, diversi progetti sono saltati. La produzione di House of Cards, dopo aver inizialmente sospeso le riprese, ha in seguito licenziato l'attore dal cast.


2) Janet Hubert
Janet Hubert è stata zia Vivian per le prime tre stagioni di Willy, il Principe di Bel Air. L'attrice è stata poi sostituita da Daphne Maxwell Reid, che ha prestato il volto alla zia sino al termine della serie.
Stando alle parole di Janet Hubert, è proprio a causa di Will Smith che sono iniziati i suoi problemi sul set. La donna accusò l'attore di fare troppe "battute" non particolarmente simpatiche e ha inoltre sostenuto che i produttori e il regista della serie non avessero il coraggio di opporglisi.
Will Smith, in risposta alle suddette accuse, ha replicato:
Posso dire che Janet Hubert voleva che la serie si chiamasse "La zia Viv di Bel Air", perché immaginavo che mi avrebbe insultato attraverso la stampa. Lei adesso è arrabbiata, ma lo è sempre stata. Una volta mi disse "Faccio questo lavoro da 10 anni e questo moccioso arriva e ottiene uno show ". Non importa cosa accada, per lei sono una persona orribile.
3) Charlie Sheen
Tra gli "attori serie tv" dalla vita complicata, il nostro Charlie occupa un posto d'onore. Charlie Sheen è stato dal 2003 al 2011 il protagonista della celebre sitcom Due uomini e mezzo. L'attore, durante l'ottava stagione, è arrivato a percepire addirittura 1,25 milioni di dollari a episodio.
Nel 2011, poi, ha salutato definitivamente lo show. Pur non avendo mai condotto una vita perfetta, Sheen era sempre riuscito a conciliare lavoro e "divertimento". Qualche anno fa, poi, ha annunciato di voler partecipare a un programma di riabilitazione, senza però abbandonare il cast.
La Cbs decise allora di sospendere la produzione dell'ottava stagione della serie. Sheen, contrariato, non volle più partecipare al programma riabilitativo e finì addirittura per accusare Chuck Lorre di essere "stupido". Per questo suo comportamento la Cbs decise, dunque, di licenziare definitivamente l'attore.


4) Mischa Barton
Mischa Barton ha raggiunto la notorietà prestando il volto a Marissa Cooper, una delle protagoniste della celeberrima The O.C..
La terza stagione è stata l'ultima per la Barton, che pare sia stata allontanata dal cast a causa del suo comportamento un po' "sopra le righe". La stessa attrice ha dichiarato, a proposito di quel periodo della sua vita, che si trovava in una "spirale senza controllo".
Nonostante questa sia la versione ufficiale che ruota attorno alla notizia del licenziamento dell'attrice, esistono anche alcune voci non confermate. C'è anche chi sostiene che Mischa sia stata allontanata dalla serie per essersi lasciata sfuggire alcuni spoiler, costringendo gli showrunner a una riscrittura. Recentemente, la Barton ha detto di aver avuto due opzioni a disposizione.


5) Shannen Doherty
Shannen Doherty è una delle attrici in lista che hanno fatto più scalpore. Ha raggiunto la fama per aver interpretato Brenda Walsh nella celeberrima Beverly Hills 90210 e Prue Halliwell in Streghe.
Il "brutto" carattere di Shannen, tuttavia, precede addirittura la sua fama. Come ben sappiamo è stata mandata via dal cast di Beverly Hills 90210 proprio a causa del suo essere indisciplinata e litigiosa. Sembra, infatti, che la Doherty non andasse particolarmente d'accordo con le sue colleghe Tori Spelling e Jennie Garth e che gli autori abbiano dovuto stravolgere la trama dopo averla licenziata.


6) Taylor Momsen
Ha interpretato Cindy Chi Lou nel film il Grinch entrando nei nostri cuori a soli 7 anni. In seguito, poi, ha prestato il volto a Jenny Humphrey nel celebre teen-drama Gossip Girl; è stato proprio sul set della serie tv che il suo carattere "ribelle" ha iniziato a dare alcuni problemi.
L'attrice rivendica la scelta autonoma di abbandonare il cast di Gossip Girl, ma alcune voci di corridoio affermano che sia stata licenziata a causa del suo carattere ingestibile. Pare, inoltre, che la piccola Jenny Humphrey fosse molto più interessata alla carriera di cantante che a quella di attrice!


7) Thomas Gibson
Thomas Gibson ha interpretato per ben 12 anni Aaron Hotchner in Criminal Minds, poi ABC e CBS hanno annunciato il suo licenziamento a causa di una lite sul set con un co-produttore.
Già precedentemente sospeso per due settimane proprio a causa di un litigio con Virgil Williams, Gibson è poi stato ufficialmente licenziato. Pare che la discussione sia degenerata in una vera e propria aggressione fisica e che l'attore abbia addirittura colpito lo sceneggiatore con un calcio.
Dopo la notizia del licenziamento, il Washington Post ha riportato le parole con cui l'attore ha detto addio alla serie:
Amo Criminal Minds e ci ho messo anima e corpo negli ultimi dodici anni. Speravo di riuscire a vederne la fine, ma non sarà possibile. Voglio soltanto ringraziare gli sceneggiatori, i produttori, gli attori, la meravigliosa troupe e i fan migliori che una serie possa sperare di avere.
8) Columbus Short
Ora come ora devo confermare la mia uscita da uno show che ho chiamato casa per tre anni, e che vanta il gruppo di lavoratori più talentuoso della televisione oggigiorno.
Queste le parole con cui Columbus Short ha detto addio a Scandal. Ha inoltre speso delle buone parole per la creatrice della serie, Shonda Rhimes, e per la star dello show, ossia Kelly Washington.
L'attore, che stava attraversando un periodo non particolarmente facile, è stato licenziato proprio a causa di alcuni scandali che avevano fatto parlare di lui in modo negativo. Poco prima del licenziamento, per esempio, aveva dato il via a una rissa in un bar dopo essersi ubriacato e aveva addirittura cercato di soffocare un uomo. Dopo essere stato arrestato, Short è stato rilasciato soltanto grazie al pagamento di una cauzione di 50.000 dollari.


9) Isaiah Washington
L'attore è stato licenziato da Grey's Anatomy e ha sempre sostenuto che la colpa, in realtà, non sia stata la sua. La versione "ufficiale" che ruotava intorno al suo licenziamento lo vedeva rivolgere un insulto omofobo nei confronti di T.R. Knight e discutere animatamente con Patrick Dempsey.
Nonostante ciò, durante un podcast è stata nominata una mail tra un avvocato dell'ABC e lo stesso Washington. Queste le parole della suddetta mail:
Eravamo consapevoli di aver gettato Isaiah Washington sotto un treno per salvare Patrick Dempsey. A Shonda Rhimes è stata fornita una storia falsa, diversa dall'accaduto. Si è trattato di un pettegolezzo e di una bugia che è costata a un uomo quasi 10 anni della sua vita.
L'attore, dopo aver affermato che Shonda Rhimes sia "dalla sua parte", ha sostenuto di non avere nulla di buono da dire sull'ABC o sul produttore esecutivo Howard Devine, che ha inoltre accusato di razzismo. Negli anni, come se non bastasse, ne sono state dette tante sul suo licenziamento: compreso il fatto che Washington sia arrivato allo scontro fisico con Patrick Dempsey, mettendogli le mani al collo.


10) Robert Downey Jr.
Nella categoria "attori serie tv riabilitati dopo una vita difficile", Robert Downey Jr. occupa un posto davvero importante. Prima di essere il tanto amato Iron Man, infatti, l'attore non godeva di un'ottima reputazione. Quando entrò a far parte del cast di Ally McBeal, nella quarta stagione della serie tv, era già stato più volte arrestato con accuse che riguardavano il possesso e il consumo di droga.
I produttori dello show gli diedero dunque fiducia ma nel 2001, mentre era in libertà vigilata, un poliziotto lo trovò a camminare per strada sotto effetto di cocaina. A questo punto il produttore licenziò Robert Downey Jr. ed eliminò il personaggio di Larry.