Spesso, quando ammiriamo i personaggi delle nostre Serie Tv preferite o ci affezioniamo molto a loro, trasferiamo tutto questo anche agli attori. Allora ovviamente la prima cosa che facciamo è andare a cercare informazioni su di loro, curiosità, aneddoti… Tra le altre cose, non è raro scoprire che il nome con cui li conosciamo non è quello con cui sono nati.
A quel punto però la curiosità è grande: come si chiamavano prima? Perché hanno cambiato nome? Quando è successo? Che storia c'è dietro? Non sempre si riescono a trovare le risposte a queste domande, ma noi abbiamo fatto del nostro meglio. Abbiamo cercato 15 attori che hanno cambiato nome e raccolto più informazioni possibili per soddisfare la vostra curiosità da stalker seriali. Chissà che non scopriate qualcosa!
1) David Tennant
Cominciamo da David Tennant, ben noto per il suo ruolo come Ten, decimo Dottore in Doctor Who, e come Kilgrave in Jessica Jones. Oltre alle Serie Tv si è dedicato anche a cinema e teatro, con ruoli come Barty Crouch Jr. in Harry Potter e il calice di fuoco e Amleto.
Il suo vero nome è David John McDonald, ed è scozzese. Il motivo per cui ha cambiato nome, per quanto possa sembrare buffo, è a quanto pare comune nel mondo degli attori: al sindacato britannico della categoria, l'Equity Union, era già iscritto un altro David McDonald. Ha dunque adottato il cognome di Neil Tennant, cantante dei Pet Shop Boys. Successivamente, sempre per cavilli tecnici sindacali, ma stavolta negli Stati Uniti, ha dovuto cambiare il proprio cognome in Tennant legalmente.
2) Yvonne Strahovski
Yvonne Strahovski (Sarah Walker in Chuck, Serena Joy in The Handmaid's Tale) ha cambiato nome per un altro motivo abbastanza comune. Nata in Australia, è figlia di immigrati polacchi e all'anagrafe è Yvonne Jaqueline Strzechowski. Ha cambiato cognome perché fosse più facilmente pronunciabile. Strahovski altro non è che la pronuncia polacca del suo cognome di famiglia.
3) Andrew Lincoln
Andrew Lincoln, noto principalmente per il ruolo di Rick Grimes in The Walking Dead, Serie Tv che sta per abbandonare, è uno di quegli attori che sembrano proprio americani. I tratti ci sono, e il cognome anche. Più americano di Lincoln! In realtà è inglese, e il suo vero nome è Andrew James Clutterbuck. Iniziò a utilizzare questo pseudonimo ai tempi in cui frequentava la Royal Academy of Dramatic Arts, a quanto pare perché Clutterbuck gli sembrava troppo dickensiano.
4) Catherine Tate
Gli appassionati di Doctor Who riconosceranno subito Catherine Tate per avere interpretato il ruolo di Donna Noble. Il suo vero nome è Catherine Ford, ma sembra impossibile trovare informazioni riguardo a quando o perché abbia cambiato cognome, tanto meno su come lo abbia scelto. Potrebbe avere forse a che fare col fatto che sia stata cresciuta principalmente dalla madre e dalla nonna e che non abbia conosciuto suo padre, ma sono solo ipotesi.
5) Misha Collins
Quella di Misha Collins, attore americano noto principalmente per il ruolo di Castiel nella Serie Tv Supernatural, è una storia davvero particolare. Il suo nome è Dmitri Tippens Krushnic, ma fin dall'inizio è stato chiamato Misha. Il fatto è che sua madre, che è andata al college in Russia, aveva confuso la pronuncia del nome del suo fidanzato di allora, ovvero il padre di Misha Collins. Il soprannome dell'uomo era Mitja, diminutivo di Dmitri. Avendo capito che il soprannome fosse Misha (la pronuncia è simile) ha chiamato suo figlio Dmitri, scoprendo solo dopo l'errore.
La storia dietro il cognome è più semplice: Collins è il cognome da nubile della nonna materna. Gli sembrava che suonasse meglio di Misha Dmitri Tippens Krushnic. Decisamente!
6) Sasha Alexander
Nata a Los Angeles ma di origini serbe, il vero nome di Sasha Alexander è Suzana S. Drobnjaković. È nota per la sua interpretazione dell'agente speciale Caitlin Todd nella Serie Tv N.C.I.S. e di Maura Isles in Rizzoli & Isles. Sasha è un soprannome che ha avuto fin dall'infanzia, mentre Alexander è il nome di suo fratello. Il nome Sasha è anche un soprannome comune per quelli che in Russia e nei Paesi vicini si chiamano Alexander o Alexandra. Un bel gioco di parole!
7) Finn Jones
Anche quella di Finn Jones è una storia abbastanza comune. L'attore, conosciuto per il ruolo di Loras Tyrell in Game of Thrones e di Danny Rand in Iron Fist e The Defenders, si chiama in realtà Terence Jones. Per evitare di fare confusione con il regista e attore Terry Jones ha deciso di cambiare nome.
8) Chloe Bennet
Chloe Bennet è famosa per il ruolo di Skye/Daisy Johnson nella Serie Tv Marvel Agents of S.H.I.E.L.D.. Ciò che è meno risaputo è che il suo nome è Chloé Wang e che a quindici anni si è trasferita a Pechino, da cui proviene il padre, per diventare una cantante pop. Al suo ritorno negli Stati Uniti si stabilisce a Los Angeles per tentare la carriera da attrice, adottando lo pseudonimo con cui la conosciamo oggi.
9) Aidan Gillen
Aidan Gillen, attore che interpreta l'infido "Dirocorto" Petyr Baelish in Game of Thrones, si chiama in realtà Aidan Murphy, ed è irlandese. Anche se nato in una famiglia di attori – sua sorella è un'attrice e suo fratello un drammaturgo – è l'unico a utilizzare un cognome diverso. Il motivo è semplice: come David Tennant anche in questo caso all'Actor's Guild era già presente un Aidan Murphy, e ha deciso quindi di usare il cognome di sua madre.
10) Amanda Abbington
Il caso di Amanda Abbington (Josie Mardle in Mr Selfridge, Mary Morstan in Sherlock) è -similmente a quello di Catherine Tate – un po' misterioso. Il suo nome è Amanda Jane Smith, ma sembra impossibile trovare le origini del suo nome attuale. Anche il motivo per cui lo abbia cambiato non è noto, ma possiamo fare un'ipotesi forse azzeccata: il cognome Smith è abbastanza comune sia in America che in Inghilterra, patria della Abbington. Lo stesso si può dire del nome Jane. Forse ha dovuto cambiare il nome per evitare doppioni al sindacato (effettivamente esiste un'altra attrice di nome Sarah Jane Smith). Un'altra possibilità è che semplicemente volesse qualcosa di più efficace, dato appunto il cognome piuttosto comune.
11) Mahershala Ali
Mahershala Ali è conosciuto ai più per le parti di Remy Danton in House of Cards e Cornell Stokes in Luke Cage. Se il suo nome già così sembra particolare, è curioso scoprire che quello originario era Mahershalalhashbaz Gilmore. Il cognome è cambiato da Gilmore ad Ali in seguito alla sua conversione all'Islam. Ha invece deciso di accorciare il nome perché voleva che la gente fosse capace di pronunciarlo, altrimenti creare un legame col pubblico sarebbe stato difficile.
12) Winona Ryder
Winona Ryder, attrice molto famosa nel mondo del cinema, ha raggiunto il successo con film come Edward mani di forbice. Fino a non molto tempo fa era quasi scomparsa dalle scene, finché non ha avuto il ruolo di Joyce Byers nella Serie Tv Stranger Things. Il suo nome di battesimo è Winona Laura Horowitz, cambiato in Winona Ryder in occasione della sua apparizione nel suo primo film. Mentre il suo agente parlava con suo padre per sapere quale nome avrebbero scelto, alla radio passò una canzone di Mitch Ryder, da cui presero il cognome.
13) Steven Yeun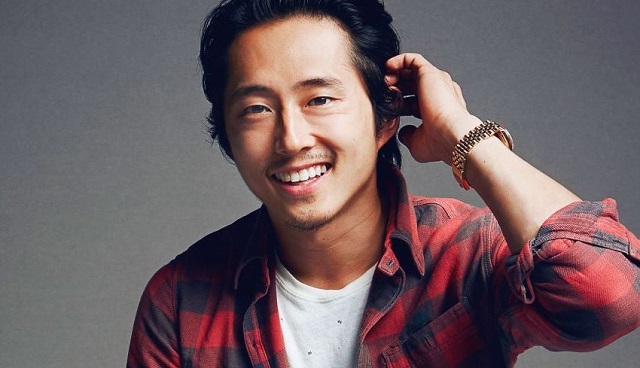 Il vero nome di Steven Yeun – attore sudcoreano naturalizzato statunitense, conosciuto per il ruolo di Glenn Rhee in The Walking Dead – è Yeun Sang-yeop. A differenza di altri attori con nomi dalla pronuncia forse difficile per il pubblico americano, Yeun non ha deciso il cambio per facilitare le cose. I suoi genitori iniziarono a chiamarlo Steven dopo aver conosciuto un dottore che si chiamava così, e Yeun ha semplicemente scelto di continuare a utilizzare questo al posto del nome coreano.
14) Cote de Pablo
Anche Cote de Pablo, la Ziva David di N.C.I.S., come altri suoi colleghi si è trovata a cambiare il nome semplicemente perché gli altri facevano fatica a pronunciarlo. Con una sola differenza: ha adottato il nome con cui la conosciamo ora quando frequentava la quinta elementare. Trasferitasi negli Stati Uniti dal Cile quando aveva dieci anni, si accorse in fretta che i suoi compagni non sapevano pronunciare il suo nome, María José de Pablo Fernández. Decise allora di farsi chiamare Coté, che è un diminutivo cileno per chi si chiama María José.
15) Sam Neill
Sam Neill è un altro attore molto conosciuto sia nel cinema, ad esempio per la parte del dottor Alan Grant in Jurassic Park, sia nel mondo seriale. Ha infatti interpretato vari personaggi in Serie Tv come Merlin, Peaky Blinders, The Tudors, mentre quello più recente è nella meno conosciuta miniserie And Then There Were None.
Il suo nome di battesimo è Nigel John Dermot Neill, ed è nato in Irlanda del nord, anche se, essendo cresciuto in Nuova Zelanda, si considera più neozelandese che britannico. Questo ha in parte contribuito alla decisione di cambiare nome. Neill infatti iniziò a farsi chiamare Sam già quando andava a scuola, in parte perché c'erano molti altri studenti col suo stesso nome, ma principalmente perché pensava che chiamarsi Nigel fosse "troppo lezioso per un parco giochi neozelandese".