C'è un nuovo sceriffo in città! Prime Video è il nuovo servizio di video on demand offerto da Amazon. Esistente già dal lontano 2006, è diventato effettivo nel dicembre 2016, dieci anni dopo, quando finalmente è stato reso disponibile in oltre 200 stati, tra cui ovviamente l'Italia.
Da quello che poteva sembrare un successo effimero, oggi  Amazon Prime Video riesce a tener testa al più grande colosso del suo campo, Netflix, in quello che tra qualche anno potrebbe addirittura diventare un testa a testa ricco di colpi di scena e caccia all'esclusiva.
Dall'ultimo successo targato Amazon (Hanna) fino al precedente risultato vincente (The Marvelous Mrs. Maisel), Prime Video si cimenta anche nei contenuti originali, e lo fa decisamente bene.
Spaziando dai drama alle comedy, il catalogo di Amazon Prime Video è davvero ricco di spunti e di tantissime serie da divorare, alternando veri e propri cult a serie più di nicchia.
È proprio delle comedy che vi voglio parlare oggi.  Amazon Prime Video, infatti, ha dalla sua un gran numero di celebri comedy, dimostrando un' accurata ricerca nel campo seriale di questo genere, riportando nel suo catalogo non tanto gli show più famosi ma quelli sicuramente più apprezzati dagli addetti ai lavori e dai veri intenditori del genere, come 30 Rock o Two and Half Men (Due uomini e mezzo), The Nanny (La Tata) o i Griffin; capisaldi imperdibili.
Facciamo ora una breve lista in cinque punti di quelle che secondo noi sono le migliori serie tv comedy presenti su Prime Video
1) Community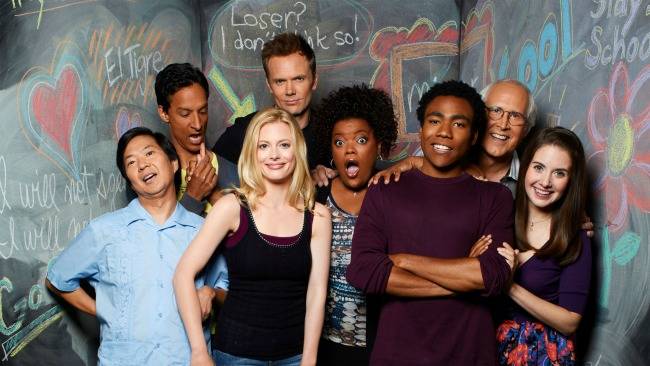 Andata in onda dal 2009 al 2015, Community è un vero e proprio festival del citazionismo cinematografico in formato sitcom. Nonostante in Italia non abbia riscosso il successo meritato, negli Stati Uniti è considerata una delle serie più brillanti di questi ultimi anni, ma con attori quali Gillian Jacobs e Donald Glover non poteva essere diversamente.
Community è la storia di un gruppo di sconosciuti che non hanno apparentemente niente in comune e che diventano complici e sodali grazie al Greendale Community College, che tutti, per un motivo o per un altro, frequentano.
Sarà il racconto di questa insospettabile amicizia il fulcro dell'intera serie, tra incontri e scontri fino a quella strampalata quanto profonda alchimia che si creerà tra tutti i personaggi e ci farà ricredere sul concetto stesso di amicizia.
Una serie dall'umorismo intelligente e quanto mai autoironica, diversa dalle sitcom a cui siamo abituati, con una sola parola: imperdibile.