Un famoso detto recita: ridere è la cura per ogni male. Difficile affermare quanto possa essere vero. Certamente una sana risata non hai mai fatto del male a nessuno, e in The Marvelous Mrs Maisel, piccolo gioiellino Amazon, è l'ingrediente principale che interseca tutti gli avvenimenti. Uno show che fa ridere tutto il mondo da due anni, o quasi tutto. Qualche Paese di eretici la sta snobbando inspiegabilmente, tra cui l'Italia.
È un vero peccato perché la signora Maisel è molto più di una comica, rappresenta l'invito a non mollare mai e a usare le nostre qualità migliori per rendere la nostra vita e quella di chi ci circonda straordinaria.
Miriam, detta Midge, Maisel ha 26 anni ed è sposata con Joel che sogna di fare il comico. Siamo nella seconda metà degli anni '50, in una New York in pieno sviluppo economico e sociale. Nonostante ciò la gente vive ancora a stretto contatto  con il razzismo e il sessismo, il quale viene evidenziato in ogni momento possibile. Un dialogo, un'incomprensione, una frase, una gag divertente, un singolo gesto.
Ogni cosa in The Marvelous Mrs Maisel è un pretesto ben mascherato di critica costruttiva.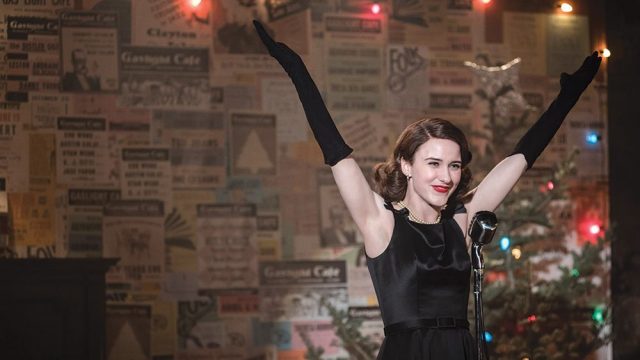 La prima riflessione a cui vuole sottoporci la straordinaria Miriam è quella di seguire i nostri sogni ma pur sempre con cognizione di causa. È necessario avere una predisposizione per determinate aspirazioni professionali se si desidera sperimentarle in maniera vincente ed eccellente. Il marito Joel non fa ridere, Miriam sì. Con Miriam si ride sempre e in qualsiasi contesto: uno scambio di dialoghi con suo padre, una cena in famiglia, un colloquio di lavoro, oppure una confessione in lacrime alla sua nuova amica e manager Susie.
Ogni avvenimento in The Marvelous Mrs Maisel induce a ridere con lei, dal più banale al più importante, dal più triste al più divertente. Lo spettatore non è l'unico ad accorgersene e ad essere travolto dalla sua spontanea e frizzante ironia. È notato anche dalla proprietaria del locale dove suo marito si esibiva, la quale in tutti i modi tenterà di convincerla a diventare una comica.
È interessante e ben poco mascherata la denuncia verso un mondo maschile ancorato a una mentalità patriarcale, ma che tenta a piccoli passi di cambiare. Inoltre vengono evidenziate le incertezze, le insoddisfazioni e le presunzioni di un uomo debole: il marito della nostra protagonista, Joel. Un uomo immaturo, noncurante della fortuna di avere al suo fianco una donna straordinaria. La critica è sempre molto aspra all'interno dei rapporti affettivi e familiari, in particolar modo nei riguardi della persona che più di tutte dovrebbe aiutarci e comprenderci, il partner.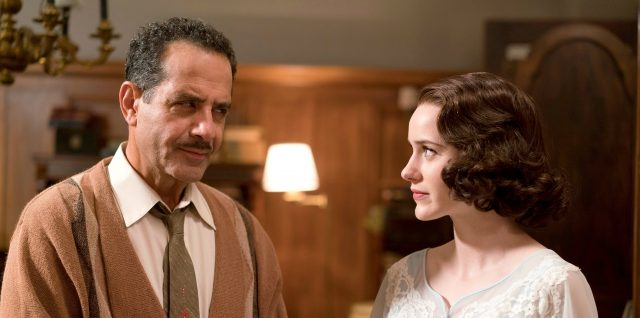 Tutto ciò possiamo percepirlo dai primi minuti del pilot, e questo è un altro grande merito dello show. In The Marvelous Mrs Maisel infatti è presente un perenne sentore di tragedia, si respira nell'aria lo stravolgimento di una vita apparentemente perfetta. Tutto ciò riusciamo a comprenderlo attraverso piccoli dettagli che ci vengono mostrati: un'espressione, un oggetto, un dialogo. È deliziosamente implicito così come lo straordinario talento di Miriam Maisel, che prenderà forma e consapevolezza insieme al pubblico da casa.
Elemento ulteriore di riflessione riguarda senz'altro la determinazione e lo studio necessari per perseguire un obiettivo. Non basta avere una predisposizione. Non è sufficiente scrivere per essere uno scrittore, bisogna leggere tanto e con frequenza. È necessario provare tanti ristoranti per essere un cuoco con un'idea ben precisa di cucina, ascoltare la giusta musica per essere un musicista. Ogni professione e ogni sogno ha bisogno della sua formazione, in grado di poter dare carne e muscoli a un freddo scheletro.
In The Marvelous Mrs Maisel, Miriam tenterà in ogni modo di dare forma al suo progetto, scontrandosi con una realtà, sebbene divertente ai nostri occhi, problematica e frenante per una giovane donna degli anni '50. In questo meraviglioso panorama, costellato di bon ton, tacchi e rossetti, Miriam Maisel ci invita a osare e lo fa con brillante ironia e senza peli sulla lingua. L'attrice Rachel Brosnahan, interprete della nostra protagonista, non a caso vincitrice del Golden Globe come miglior attrice in una serie comedy, regala allo spettatore il perfetto dipinto di una donna in piena rivoluzione sia individuale che sociale.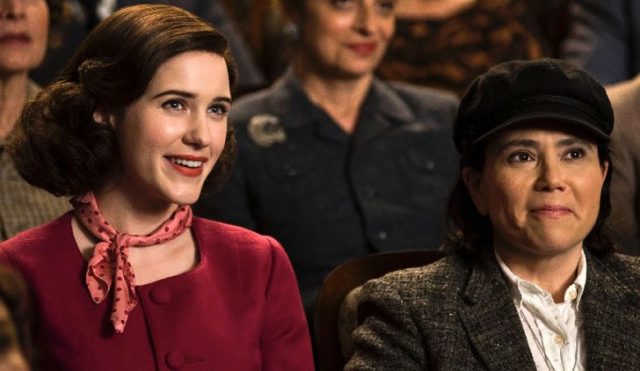 Miriam Maisel è molto più di una comica. È la crasi tra una donna dei nostri tempi e una del secolo scorso. Una donna nata nell'epoca sbagliata che tenta a tutti i costi di farsi strada con le sue idee e il suo carattere sbarazzino e irriverente. È la punta di diamante di uno show imperdibile, maliziosamente divertente, implicitamente riflessivo, subdolamente contemporaneo.
La domanda sorge quindi spontanea: perché in Italia questo piccolo gioiellino è ancora, dopo due anni dal suo rilascio, quasi sconosciuto? Si potrebbe pensare che il nostro pubblico non possa apprezzare un tipo di comicità fuori dagli standard. Tuttavia credo che la risposta sia più ovvia e semplice di qualsiasi analisi approfondita nei confronti dell'utenza italiana.
The Marvelous Mrs Maisel è distribuita da Amazon Prime Video, la quale è ancora visionata da un pubblico ristretto rispetto a colossi della distribuzione quali NOW TV, Netflix o Infinity. È un grande peccato poiché il catalogo in questione offre tanti contenuti di qualità e ogni anno i suoi prodotti risultano sempre più ricercati. Consigliamo di dargli una possibilità.
Tornate anche voi indietro nel tempo e lasciatevi coinvolgere dalla stravagante vita di Miriam Maisel.