And everything under the sun is in tune
But the sun is eclipsed by the moon
Quando, il 10 marzo 1973, il mondo conobbe quel capolavoro musicale dal titolo The Dark Side of the Moon, Roger Waters aveva preso il sopravvento sul suo Mr. Robot. Aveva vinto la lotta con Syd Barrett, il geniale, estemporaneo, folle fondatore dei Pink Floyd. Syd non c'era più. Eppure in un certo senso era ancora lì. In quel concept album, anzi, in quel percorso esistenziale di un uomo in lotta con se stesso, Syd Barrett c'era e con lui la sua essenza irrazionale, la sua drammatica esistenza. Roger Waters non "sconfisse" mai del tutto il suo amico e alter ego. "I maestri sono fatti per essere mangiati, devono essere mangiati e superati". Waters spolpò le carni di Barrett, si appropriò di quella genialità fuori controllo canalizzandola in un percorso logico, lineare, concettuale senza precedenti. Era nato The Dark Side of the Moon.
Syd e Waters. Es ed Ego. Mr. Robot ed Elliot. Il sole è oscurato, Elliot non è più "in sintonia" [tuned]. Lo è stato sempre meno in questa stagione.
Eclissi sull'America. New York, quartier generale dell'E-Corp. Primo piano di Elliot: la telecamera segue passo passo le sue mosse. Gli sta appresso, lo pedina, lo scruta, tenta di carpirne l'essenza. L'eclissi c'è, anche se non si vede. È l'eclissi del protagonista, il lato oscuro della sua luna. Quel ronzio, quel difetto della trasmissione che torna e ritorna nel corso del quinto, magistrale episodio di questa stagione di Mr. Robot è il sintomo della scissione interiore, della perdita del controllo. Se "sotto il sole tutto è in sintonia", ora "il sole è eclissato dalla luna". *Ronzio.
Non si può affrontare l'analisi del quinto episodio scindendolo dal sesto. Non si può parlare del sesto senza legarlo al quinto. Entrambi rappresentano due facce della stessa luna. Rappresentano i due volti di un percorso che in qualunque altra Serie avrebbe potuto tranquillamente rappresentare un finale di stagione. Preparatoria la 3×05, risolutiva la 3×06. In un unico, grandioso piano sequenza lungo quaranta minuti la telecamera affonda lo sguardo nella sede dell'E-Corp. Siamo immersi in questo spazio. La cinepresa si trasforma nei nostri occhi. Volge a destra, a sinistra, avanza, si accoda, si affianca infine si stacca da Elliot.
Se nella premiere di questa terza stagione una one-shot-scene aveva impregnato delle nostre occhiate la sequenza del torneo degli hacker concludendosi sul primo piano di Darlene, ora, nella 3×04 è il quartier generale dell'E-Corp a totalizzare la visione. Con un virtuosismo impressionante Esmail cala totalmente lo spettatore sulla scena trasformandolo in attore sul campo. La quarta parete, compromessa fin dal pilot di Mr. Robot ("Hey, amico") scompare totalmente: Elliot ci guarda faccia a faccia. E mentre continua quel ronzio, quell'interferenza nella visione del mondo, tradiamo il nostro amico ("Non abbandonarmi") passando al "dark side".
La faccia oscura non è però, in questo caso, quella di Mr. Robot, ma di Angela.
La ragazza è ormai compromessa, mossa da un fanatismo e una dedizione per la causa senza precedenti. La maschera che indossa non è altro che il suo "volto oscuro", il Mr. Robot che è in lei. Più o meno coscientemente Angela vive una scissione simile a quella di Elliot: più volte nel corso della stagione la troviamo a sostare, a indugiare con lo sguardo vacuo. Così pure nella 3×06 quando rimane impassibile di fronte a una pistola che le viene puntata contro. Non è necessario ipotizzare, come pure taluni fan hanno fatto, che Angela viva un bipolarismo psicotico del tutto analogo a quello di Elliot. In lei c'è sicuramente, però, un disallineamento, un'interferenza nei suoi "accordi" ('tunes').
L'altra faccia della sua luna si manifesta proprio a metà episodio, a sottolineare anche temporalmente il dualismo che investe ogni cosa.
L'atmosfera si fa rarefatta e contestualmente si carica di tensione fino ad esplodere nelle drammatiche immagini della rivolta. Ci uniamo anche noi ai manifestanti, prendiamo parte alla loro azione vandalica e ci accorgiamo che dietro quei volti coperti c'è la faccia nera della Dark Army. Tutto è strumentalizzato e funzionale agli interessi di Whiterose.
I riottosi ci introducono ad Angela: ci separiamo da loro e seguiamo in un labirintico succedersi di ambientazioni le azioni della ragazza finché il cerchio non si chiude, finché, di fronte a noi, faccia a faccia con il lato oscuro di Angela troviamo Elliot. Fermo immagine. Stacco. Titoli di coda.
Aumenta il ronzio. Aumenta ancora. Anche visivamente la realtà è investita dall'interferenza. Non è più solo Elliot: è tutto ciò che lo circonda. Così il difetto di trasmissione al minuto 42 del sesto episodio coinvolge Angela e Darlene, una di fronte all'altra, espressioni entrambe di due facce della stessa luna. Elliot e Mr. Robot, Angela ed Elliot, Darlene e Angela.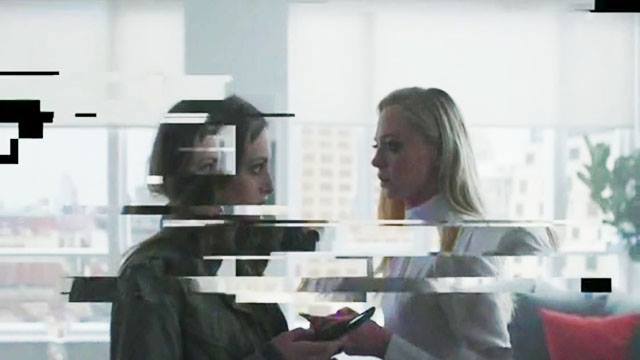 Tutto diventa relativo, ogni elemento assume due volti. Ma prima di tutto, davanti a tutto c'è sempre Elliot e il suo Es.
Come in Fight Club, il protagonista lotta con se stesso, cerca di autodistruggersi, di impedire i suoi stessi passi. In un crescendo carico di tensioni Elliot e Mr. Robot si avvicinano sempre di più, si sovrappongono istante dopo istante, sole e luna in progressivo allineamento, fino a un finale, inatteso – nonché insperato – ricongiungimento. La logica dell'Io ha avuto la meglio sull'estemporaneità del proprio Es: Elliot è riuscito a piegare alla sua razionalità Mr. Robot. Ne ha convogliato le energie riuscendo nel suo intento, salvando gli impiegati della E-Corp.
Tanto Sam Esmail ci ha fatto immedesimare nella realtà ristretta e crepuscolare del palazzo di New York che perdiamo la visione generale e come noi pure lo stesso Elliot. Il finale del sesto episodio svela il vero volto del piano di Whiterose, il "dark side" per troppo tempo celato dietro la luce del sole.
Non è un caso che questa 3×06 si ponga al dodicesimo posto in classifica tra i lavori meglio recensiti in assoluto su IMDb. Non peccheremo di sensazionalismo spicciolo a definirla un piccolo, grande gioiello televisivo. Come pure ad affermare che questo episodio rappresenta una cesura importantissima, forse fondamentale nell'economia dell'intera Serie. Uno spartiacque che apre verso nuovi, imprevedibili orizzonti.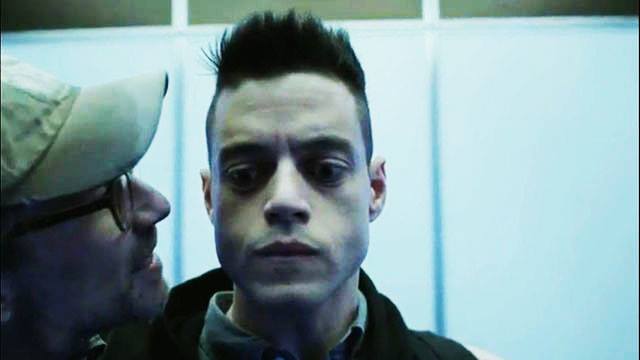 "E ora? Sarò sempre in un limbo senza sapere da che lato ['side', nell'originale inglese] sono davvero? E Mr. Robot? Ora capisce che Tyrell e la Dark Army hanno strumentalizzato la sua presunta rivoluzione? Ha qualche altra battaglia da combattere? E se sì, contro chi combatterà? Contro di loro o contro di me?"
A giudicare dal finale, potremmo trovarci ad assistere a una ricomposizione totale tra Elliot e Mr. Robot nel comune intento di vendicarsi della Dark Army.
Starà a Elliot riuscire episodio dopo episodio a tenere sempre più sotto controllo il suo geniale, estemporaneo, folle Mr. Robot. Starà a lui appropriarsi del lato oscuro della sua luna, canalizzare questa forza primordiale in un piano concettuale. Perché, come afferma l'impiegato nell'ascensore a inizio del quinto episodio: "Ogni inizio è difficile. Iniziare è facile, perseverare un'arte" ("Aller anfang ist schwer. Anfangen ist einfach, behaglichkeit eine Kunst"). Sempre che, a conti fatti, non finiamo per scoprire che "non c'è un vero e proprio lato oscuro nella luna. Di fatto è tutta oscura".
E se il gruppo di cui fai parte inizia a suonare accordi [tunes] disallineati, io ti vedrò sul lato oscuro della luna