È andata in onda stanotte la puntata conclusiva di questa lunghissima e – a volte estenuante – quindicesima stagione di Grey's Anatomy (qui i dettagli sul rinnovo della serie).
Nella stagione ci sono state parecchie mancanze e altrettante scelte che non ho condiviso. Ma ci sono stati anche momenti dolci, belli, altri epici, come la storia di Jo Wilson e la lotta di Catherine. Ma entriamo nel vivo di questo venticinquesimo episodio. Dopo il sacrificio d'amore di DeLuca, scopriamo la reazione di Meredith e altri medici al suo comportamento. Owen, alle prese con la donatrice affetta da agorafobia ha quasi perso la nascita di sua figlia.
Tom non sa che la sua compagna sta giocando alla famiglia del mulino bianco con il dottor Hunt. Nico capisce di avere un problema. Jo chiede aiuto. Maggie e Jackson riescono a inorridirmi anche solo guardandosi. Link e Amelia sono sempre meravigliosi. Insomma, come al solito, in quaranta minuti, Krista Vernoff riesce farci inghiottire una marea di tristezza.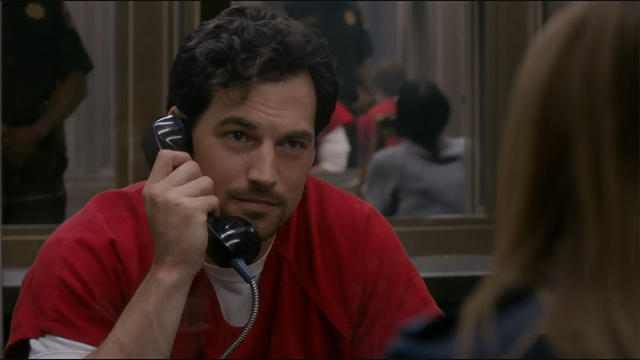 Partiamo dal principio, dalla storyline che è cominciata nello scorso episodio di Grey's Anatomy e per cui abbiamo aspettato così ansiosamente questo: DeLuca e il suo sacrificio. L'azione – seppur cavalleresca – di DeLuca ha avuto le conseguenze che ci aspettavamo: è finito in carcere. (E lasciatemelo dire, il rosso gli dona!) A qualcuno dispiace, io l'ho trovato ridicolo. Non per Andrew, ma per il motivo per cui è finito dentro. Insomma, è ridicolo finire in carcere per aver salvato la vita di una ragazzina che non aveva l'assicurazione sanitaria.
La consapevolezza che questa sia una realtà del sistema sanitario americano mi terrorizza. L'idea che qualcuno possa essere troppo povero per essere degno di cure è spaventoso. È un concetto assurdo, è disumano. Cose del genere non dovrebbero esistere nemmeno nei peggiori romanzi distopici. Ciò che ha fatto Meredith e per cui Andrew si è preso la colpa non dovrebbe essere reato. Salvare la vita di una persona, di una bambina, non può essere un crimine. Nemmeno se farlo è una truffa all'assicurazione sanitaria. Una cosa che, già in principio, dovrebbe essere garantita a chiunque. Cittadino regolare o no.
Insomma, questo pezzo di storia, come avrete potuto intuire mi ha fatto imbestialire. Mi ha indignato, mi ha innervosito, mi ha fatto provare empatia e dispiacere, ma soprattutto impotenza davanti ad una problematica che nel 2019 dovrebbe essere già stata risolta.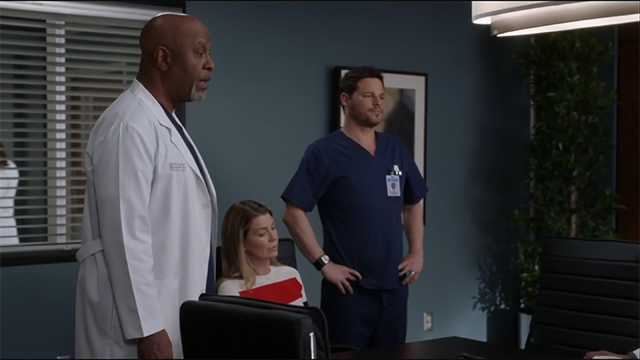 Mi è piaciuto il modo in cui Webber ha cercato di difendere DeLuca davanti a Catherine e Miranda. E ho trovato nobile il gesto fatto da lui, Meredith e Alex. Giustamente si sono presi le loro responsabilità e hanno tentato di aiutare DeLuca a riottenere la libertà e la licenza medica. Ma fare Io sono Spartaco sta volta non ha funzionato. E i tre sono stati licenziati. Che epilogo triste!
Non biasimo Miranda. Nella sua posizione aveva le mani legate, ma spero vivamente che questa faccenda si concluda nel modo migliore possibile. Il fatto che, pur non essendo a conoscenza dei fatti dal principio, sapesse già cosa fosse successo, mi ha fatto sorridere. Non c'è nessuno che possa prendere il suo posto, Miranda Bailey è davvero il cuore del Grey-Sloan Memorial ed è – senza ombra di dubbio – l'unico capo che potrebbe mai avere.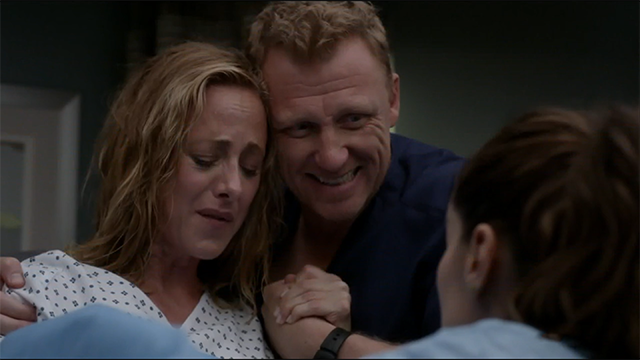 Grey's Anatomy soffre ancora di un terribile cancro, un male che dovrebbe essere estirpato come le erbacce d'estate prima che prendano fuoco. Sto parlando di Owen Hunt. Il dottor Hunt ha avuto la sua fetta di storia e il suo spazio, è arrivato il momento che lasci l'ospedale e sparisca per sempre. Il suo personaggio è diventato sempre più pesante, fastidioso, insopportabile, insofferente e francamente sono stufa.
Signora Vernoff, mi chiedo come mai abbia deciso di mandare via il personaggio di April che potenzialmente poteva ancora dare tanto allo show (prendendo il posto di Owen come primario di chirurgia d'urgenza ad esempio) e di tenere Owen che ha fracassato le scatole. La sua storia mi sembra completa. Può andare via, nessuno sentirà la sua mancanza. Gli sceneggiatori hanno cercato di fare di tutto per renderlo interessante, ma hanno fallito. L'hanno reso più fastidioso e noioso.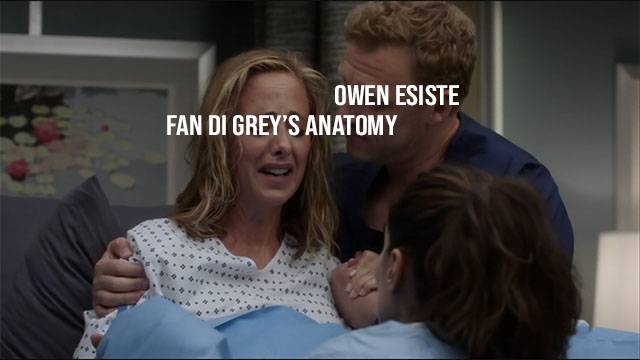 Hanno riportato Teddy per riaprire il triangolo amoroso con Amelia e non ha funzionato. Poi hanno riportato Megan, forse per vivacizzare la storia, e non ha funzionato. Gli hanno fatto avere due figli e problemi relativi alla custodia del primo e non ha funzionato. A questo punto gli sceneggiatori dovrebbero cominciare a pensare che forse il problema non sono le storie, è lui. È come uno yogurt scaduto, non lo si può mangiare e non è buono nemmeno per fare una ciambella.
La Vernoff (qui la sua idea del crossover settimanale con Station 19) vuole liberarsi di ciò che non funziona? Si liberasse di Owen Hunt. Lo show ne guadagnerebbe e forse la sua reputazione potrebbe cominciare a riprendersi. Nelle ultime ore sono usciti i dati degli ascolti e, nonostante Spoiler Tv scriva che gli ascolti di Grey's Anatomy siano risaliti, rispetto all'anno scorso la serie di Shonda Rhimes ha perso 6milioni di spettatori. E questi sono solo i dati degli Stati Uniti.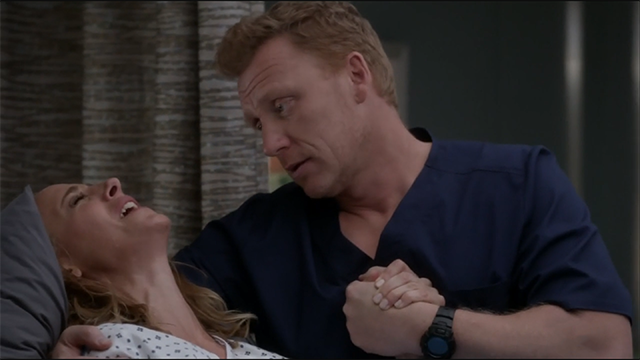 Ma torniamo ad Owen per un secondo. L'unica cosa buona che ha fatto è essere riuscito a proteggere e portare in salvo la donatrice di sangue. Dopodiché l'ho detestato. Ha confessato il suo amore a Teddy consapevole che fosse in una relazione con un altro uomo. L'avesse fatto un altro, l'avrei trovato romantico, ma Owen è egoista. Vuole sempre ciò che non può avere e francamente sono nera per come è stato trattato quel povero Tom Koracick. L'hanno preso in giro e non se lo merita.
Teddy e Owen giocano alla famiglia felice mentre quel povero Tom è a casa a montare la culla e a sistemare la camera della neonata. È stato straziante stare a guardare. Spero davvero che la famiglia Hunt sparisca cosicché Tom possa finalmente trovare qualcuno che lo ami e che lo metta al primo posto.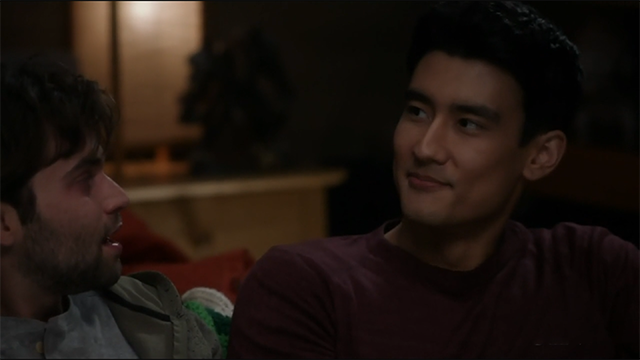 Una storyline che ho amato è quella di Nico e Levi. Avevamo capito che Nico, dopo la morte del suo primo paziente, avesse cominciato ad avere dei problemi. Mi dispiaceva vederlo sfogare la sua frustrazione sulla relazione con Schmidt. Fortunatamente si sono ripresi. Ammetto di essermi commossa per quanto erano belli mentre guardavano My Girl (Papà ho trovato un amico). Innanzitutto c'era la scena del funerale di Thomas J. che trovo estremamente straziante e poi Levi era commosso. E Nico lo guardava innamorato.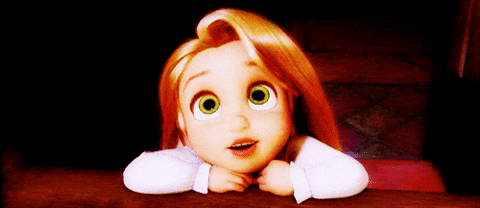 Per non parlare della scena in cui la mamma di Schmidt viene a sapere della relazione dei due. L'ho trovata carinissima. Mi ha ricordato un po' Debbie, la madre di Michael in Queer as Folk. Questo personaggio ha potenziale da vendere. Spero di vederla nella prossima stagione. Potrebbe essere divertente.
E poi ci sono loro, l'altra nota dolente di queste ultime stagioni di Grey's Anatomy: la Jaggie. Una coppia così senza senso e sconclusionata che quasi mi fa mancare quella formata da Izzie e George. TREMENDI. Stanno diventando il mio incubo peggiore. Peggio della faccia di Owen Hunt che spunta di notte dall'armadio perché vuole farti una dichiarazione d'amore. Non so in quante lingue bisogna dirlo per farsi capire dalla Vernoff, ma Jackson e Maggie non funzionano.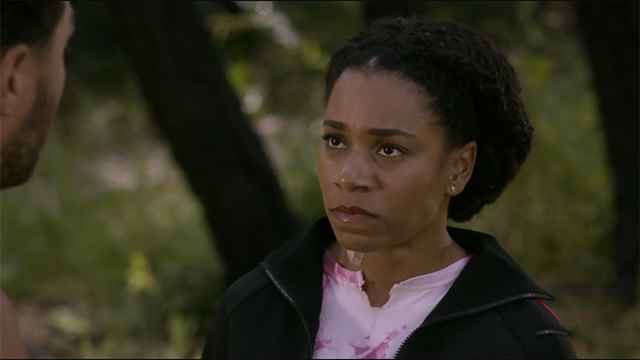 Questo episodio di Grey's Anatomy ne è stato la prova. Sin dalla scorsa puntata non hanno fatto altro che discutere. Sono troppo diversi per stare insieme. Non hanno feeling, non c'è chimica, non c'è complicità. Non hanno nemmeno una buona opinione l'uno dell'altro. Maggie non rispetta Jackson per via della situazione economica in cui si è trovato per nascita. E a Jackson – come alla maggior parte del pubblico di Grey's Anatomy – Maggie non piace. Non gli piace come persona.
Che senso ha tenerli insieme? Quel povero Avery era così frustrato che è sceso dalla macchina e se l'è data a gambe nella nebbia pur di non stare un altro minuto con lei. Mi piace pensare che non ne potesse più della Pierce e sia tornato correndo da April. Fan della Jaggie, se esistete, non prendetevela, ma 'sta coppia fa veramente pena. Fa sembrare allettante la possibilità di bere della cicuta piuttosto che guardarli.
A questo punto della storia, Jackson potrebbe essere anche morto da qualche parte nella nebbia. Poco importa. Era diventato un personaggio inutile. È un'affermazione dura e, in fondo, spero di sbagliarmi. Ma che senso ha tenerlo in Grey's Anatomy se lo tengono solo per fare presenza. Non ha fatto nulla di memorabile, non aveva una storia romantica interessante, né tantomeno quella lavorativa. Di lui ricordo solo due cose: l'ennesima dichiarazione d'amore (indiretta) ad April e quando è stato vicino a Catherine per via del suo tumore.
The one thing that April and I could never see eye to eye on was God. She believed and I never could. And now that I do, now that I really do, it's too late. She's married, she's happy with someone else. I am happy for her, I would never do anything to take that away from her. I am grieving. I'm grieving what we both lost and what my daughter lost. The bad timing.

L'unica cosa su cui io e April non andavamo d'accordo era Dio. Lei credeva e io non ci sono mai riuscito. E adesso che credo, adesso che ci credo davvero, è troppo tardi. È sposata, è felice con un altro. E sono felice per lei, non farei nulla per portarle via quella felicità. Ma sono a lutto. Sono a lutto per ciò che abbiamo perso e per ciò che mia figlia ha perso. Il pessimo tempismo.
E nulla, se non è una dichiarazione d'amore questa, non so quale potrebbe esserlo. Io ci credo ancora #JAPRIL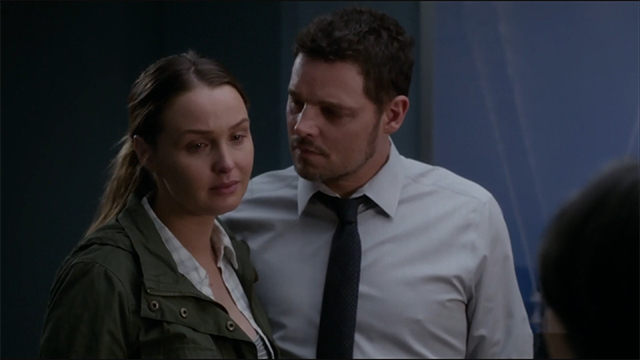 E per concludere vorrei parlare velocemente di Jo e Amelia. Questa stagione di Grey's Anatomy è stata parecchio intensa per Jo. Finalmente è riuscita a chiedere aiuto e lo sta ricevendo da una professionista. Credo in Jo, credo nella sua storia che è stata la più bella della stagione. La più credibile e vera delle ultime tre o quattro stagioni. È stata fantastica! Non vedo l'ora di sapere gli sviluppi e soprattutto di vedere il suo rapporto con Alex diventare sempre più forte.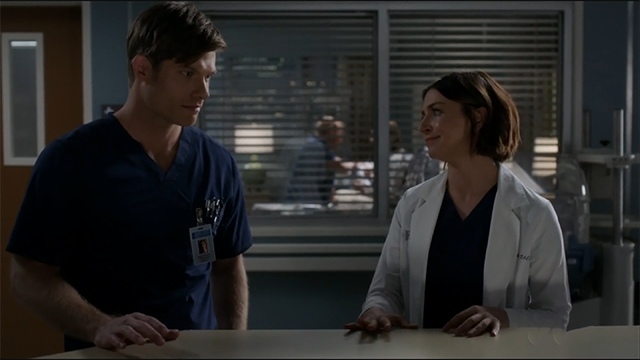 Amelia è stata spettacolare! L'idea di farsi scortare in ospedale da un poliziotto per far partorire Teddy, geniale. Amelia è geniale. Amo quando, presa dalla situazione, comincia a parlare a macchinetta dicendo anche cose che potrebbe benissimo tenere per se. Mi ha fatto morire dal ridere quando ha fatto quel commento su Carina. Esilarante! Spero che tra lei e Link nasca qualcosa di serio e duraturo. I presupposti ci sono tutti, ora non ci resta che aspettare e sperare.
Nel complesso il finale non è stato male. Certo mi sarei aspettata qualcosa di più. Possiamo definirlo mediocre. Certe cose hanno funzionato come la storia di DeLuca, Jo, Miranda, Alex, Levi e Nico. Altre, non hanno proprio funzionato come Jackson e Maggie e Owen e Teddy. Se non ci fossero stati, avremmo avuto un bel finale.
Per questa stagione è tutto, alla prossima
Halleloo!
P.S. Rendiamo Carina DeLuca regular? Grazie.