Bentornati con la recensione della 15×24 di Grey's Anatomy: Drawn to the Blood. Dopo il triste evento crossover della scorsa settimana, culminato nella morte del capo dei pompieri di Seattle, Lucas Ripley, torniamo al Grey-Sloan Memorial per fare i conti con le situazioni già esistenti. 
La storia tra Maggie e Jackson diventa sempre meno stabile. Finalmente Jo riesce a raccontare il suo trauma a qualcuno e DeLuca si sacrifica per la donna che ama. Una donna affetta da agorafobia cerca di compiere un miracolo. Tra Amelia e Link cominciano le prime tensioni e a Teddy Altman si rompono le acque. Nel frattempo Catherine e Miranda sono impegnate in un meeting importante e Alex cerca di salvare la vita del suo paziente dal gruppo sanguigno raro.
Insomma, è stato un episodio pieno quello di questa settimana. Se dovessimo trovare un filo conduttore per tutte le storie raccontate, questo sarebbe il sacrificio.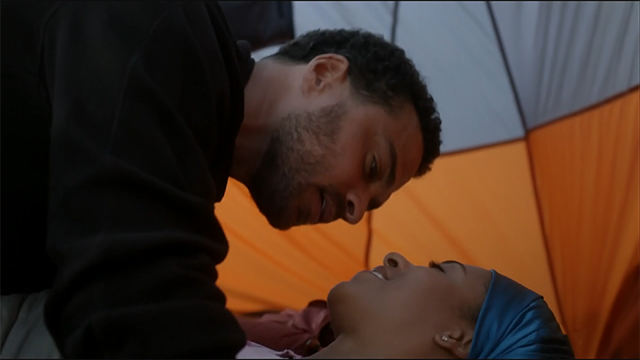 Il sacrificio di Maggie che, per amore (anche se non me la sento di definire amore quello che c'è tra lei e Jackson), segue Jackson in campeggio. Iniziamo proprio da questa coppia, una tra le più discusse e tra le meno apprezzate dal fandom di Grey's Anatomy, me compresa. Quella tra Avery e Pierce mi sembra una forzatura, un voler imporre a tutti i costi qualcosa che non funziona. Come quando da piccoli non volevate prendere lo sciroppo e la dottoressa vi tappava il naso per farvi aprire la bocca e farvelo prendere comunque. La coppia in questione manca di chimica, di credibilità e non mi è ancora chiaro perché Krista Vernoff li costringa a stare insieme.
Ho letto tutta la situazione del campeggio come una prova di convivenza. Jackson ha chiesto a Maggie di convivere e, prima di avere una risposta definitiva, ha proposto questa avventura. Quella che doveva servire ad avvicinarci a questa coppia, a farcela apprezzare, non ha fatto altro che dimostrarci quanto sbagliati siano l'uno per l'altra. Sono persone troppo diverse per stare insieme. Ogni loro scena è imbarazzante. Mi trovo a dover guardare da un'altra parte o a dover mandare avanti veloce ogni qual volta interagiscano.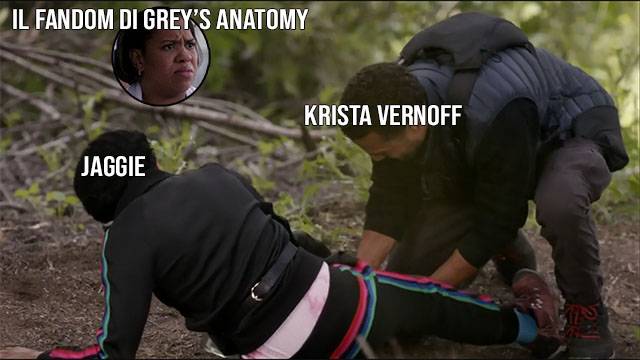 Il mio pensiero costante durante le loro scene è: perché? Perché stanno insieme se Jackson ha più chimica con la specializzanda Qadri di quanta ne abbia con Maggie. E Maggie ne ha avuta più con Ripley nei due secondi in cui hanno interagito durante lo scorso episodio di Grey's Anatomy di quanta ne abbia con Jackson. Continuo a pensare, inoltre, che Maggie non sia abbastanza matura emotivamente per un uomo come Jackson che, a questo punto della sua vita, cerca qualcosa di sicuro, stabile, serio.
Maggie, invece, potrebbe benissimo guardarsi intorno ancora per un po' prima di accasarsi. È giovane, è giusto che sia così. Mi piacerebbe che uscisse con qualche paramedico sexy, qualche super genio come lei, che si divertisse insomma, che vagliasse tutte le possibilità prima di trovare l'amore della sua vita. Peraltro, sono più che certa che Jackson non lo sia. Così come Andrew DeLuca e Nathan Riggs non lo erano. Facciamola divertire sta Maggie Pierce e chissà, magari diventerà anche meno insopportabile.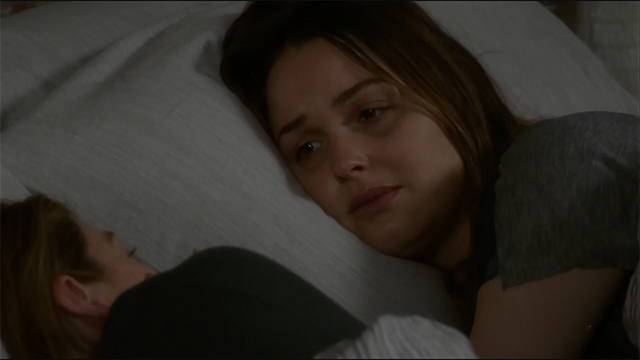 Passiamo adesso a Jo. La sua storia, come ho puntualizzato nelle scorse recensioni di Grey's Anatomy, mi sta piacendo molto. Questa settimana, finalmente la Wilson-Karev ha il coraggio di raccontarsi a Meredith. C'è un momento in particolare in cui mi ha fatto commuovere. È quando dice alla Grey di essere nata con la faccia di uno stupratore. Il trauma è evidente ed è ancora profondo. Parlarne con un'amica è un inizio verso la guarigione, ma avrà bisogno di un professionista che l'aiuti a superare tutto.
Il modo in cui Meredith le è stata accanto, la sua insistenza, la sua determinazione, mi sono piaciute molto. Ammetto di aver storto un po' il naso all'inizio, semplicemente perché non sono abituata a vedere la Grey che si mette a letto con qualcuno che non sia Cristina o Alex per consolarli. Mi sembrava sbagliato. Ma presto mi sono ricreduta. Mi ha fatto piacere vederla lì accanto a Jo che cercava di darle supporto. È riuscita ad aiutarla nel suo piccolo.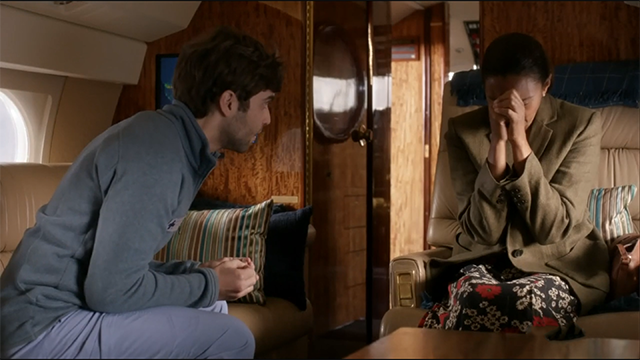 Passiamo al sacrificio più esemplare dell'episodio, quello fatto dalla donna affetta da agorafobia. Nonostante la sua condizione, riesce a volare dall'Inghilterra agli Stati Uniti per poter salvare la vita di un bambino gravemente anemico e bisognoso di sangue. Per quanto possa sembrare banale, la condizione del piccolo è, invece, allarmante in quanto il suo è un gruppo sanguigno rarissimo. Così raro da aver trovato una corrispondenza solo dall'altra parte dell'oceano.
Mi è piaciuta tantissimo questa storia perché ci ha fatto entrare in empatia con la donatrice. Una donna così spaventata dalla rarità del suo gruppo sanguigno da aver paura praticamente di vivere. La sua paura è così raggelante che, a stento, le permette di uscire di casa dopo anni di terapia. E vederla mettersi a rischio in questo modo per riuscire a salvare un bambino, è stato davvero bellissimo.
Avrebbe potuto tornarsene a Londra, ma la visione di quel piccolo sofferente le ha fatto prendere coraggio ed è rimasta. Ha messo a rischio la propria vita finendo anche per trovarsi coinvolta in un tamponamento, proprio come temeva. Spero solo che rimanga illesa così da poter donare il suo sangue. In Grey's Anatomy nulla va mai secondo i piani, ma per una volta, incrociamo le dita e speriamo che tutto vada liscio e che il piccolo Gus riceva il sangue che gli serve.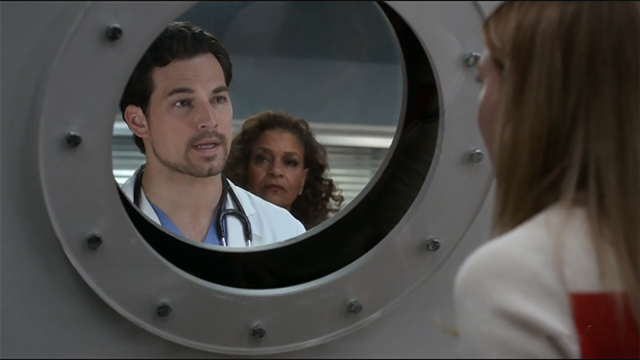 Un sacrificio d'amore enorme è quello fatto da Andrew DeLuca per Meredith Grey. Nello scorso episodio Meredith aveva infranto la legge ammettendo in ospedale una paziente senza assicurazione sanitaria sotto il nome di sua figlia Ellis. Nonostante questo gesto dimostrasse la bontà d'animo della donna, è pur sempre reato. E, in questo episodio di Grey's Anatomy, arrivano le conseguenze e sono pesanti.
Nonostante Miranda e Catherine cerchino di risolvere la faccenda nel modo più giusto possibile, è Andrew quello che ne subisce le conseguenze. DeLuca non mi fa impazzire come personaggio, ma in questo episodio l'ho rivalutato. Ha perso la licenza e rischia la prigione per qualcosa che non ha fatto lui, ma che ha fatto Meredith. L'amore per lei lo porta a mentire e a prendersi la responsabilità di qualcosa più grande di lui. Un sacrificio d'amore gigante, pari solo a quelli di cui si legge nei romanzi rosa.
Il che mi ha fatto pensare a Derek Shepherd e al fatto che lui non si sarebbe mai preso la colpa per Meredith. Anzi, senza pensarci due volte, l'avrebbe buttata sotto il treno. Nonostante fosse uno stronzo senza eguali certe volte, troppo egocentrico, troppo megalomane, mi manca un sacco. Avevi i tuoi difetti, McDreamy, ma ti amo comunque e mi manchi tanto.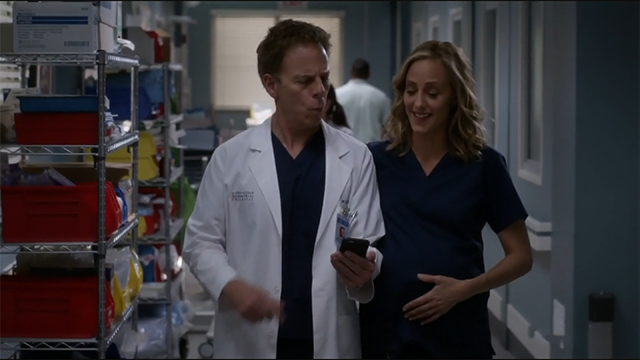 Concludo passando al triangolo NO. Amelia è riuscita a fuggire dalle grinfie di Owen (almeno così speriamo). Teddy c'è ancora dentro e, inevitabilmente, ci si è ritrovato anche il povero Tom Koracick. Adoro ciò che hanno Teddy e Tom, ma mi aspettavo sin dal primo momento che la Altman avrebbe cercato di tornare con Hunt prima o poi. Sapevamo tutti, in fondo, che la situazione "siamo solo amici che crescono insieme un figlio" non sarebbe mai durata.
E mi dispiace un sacco che di mezzo ci andrà Tom. Povero Tom, non riesce proprio a trovare la felicità. Qui siamo ai livelli di mai na gioia di Meredith Grey. Vi ricordo che Tom ha perso un figlio, ha avuto una crisi di fede, è diventato una manwhore (un puttaniere), ha aiutato un sacco di persone e se l'è preso molto spesso a quel posto.
Amelia l'ha usato come palliativo dopo il tumore al cervello, Catherine in passato aveva fatto lo stesso, April idem con patate durante la sua crisi di fede e adesso Teddy. Povero piccolo Tom, troveremo una donna anche per te. Una che ti apprezzi e non ti getti nell'immondizia per tornare da quell'incubo di Owen Hunt.
Qualora Teddy dovesse essere ricambiata da Owen sarebbe la fine! Sappiamo che Koracick è stato confermato come regular per le prossime due stagioni di Grey's Anatomy, il che significa che dovrà assistere a quello scempio che è sta coppia. A meno che qualcuno non faccia il miracolo e mandi Owen, Teddy e la loro bambina ad esplorare nuovi orizzonti altrove.
A proposito, Teddy ha quasi concluso 'sta gravidanza infinita, finalmente le si sono rotte le acque. E le si sono rotte le acque proprio mentre parlava dei suoi sentimenti per Owen con Amelia.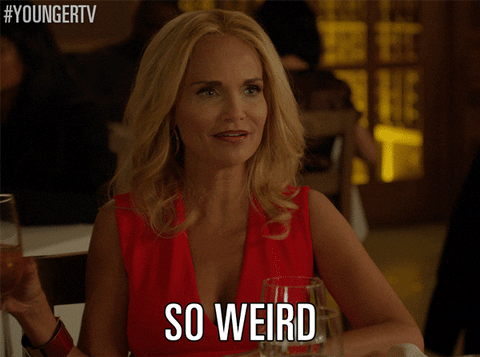 Dall'espressione di Amelia, sembra proprio che la cosa né la stupisca, né la ferisca più di tanto. E per questo sono felice come una pasqua. Sembra proprio che si stia disintossicando da Owen! Non vedo l'ora che cominci la sua storia d'amore col bellissimo, buonissimo e super sexy Atticus Lincoln. Voglio una dichiarazione d'amore bellissima da parte di Amelia. Perché tanto abbiamo capito che Link è già cotto a puntino.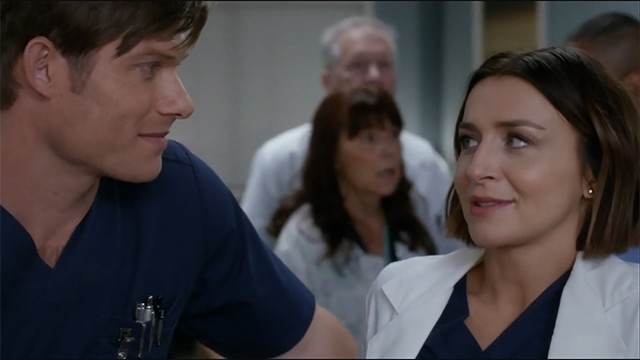 Se non consideriamo i Jaggie, questo è stato un bell'episodio. Non vedo l'ora di vedere come si concluderà la stagione. Andrew penso sia fuori dai giochi, ora dobbiamo solo sperare che la Rhimes o quella vipera di Krista Vernoff ci liberino da Owen e Maggie. Dopodiché sarò finalmente felice. Ok, non proprio… magari se riportassero April Kepner potrei esserlo genuinamente.
Per questa settimana è tutto, alla prossima
Halleloo!