Quattro giorni fa è stata rilasciata la settima ed ultima stagione di Orange Is The New Black e Danielle Brooks già si sbottona durante un'intervista su TvLine.
ALLERTA SPOILER, DA ORA IN POI SI FARANNO RIFERIMENTI A FATTI AVVENUTI DURANTE GLI ULTIMI EPISODI DI ORANGE IS THE NEW BLACK!
Il penultimo episodio dello show è uno di quegli episodi che ti lasciano l'amaro in bocca, il cuore che batte forte e la commozione negli occhi.
La puntata si conclude con Taystee (il personaggio della Brooks) che scopre il corpo inerme di Pennsatucky nella lavanderia a causa di un'overdose.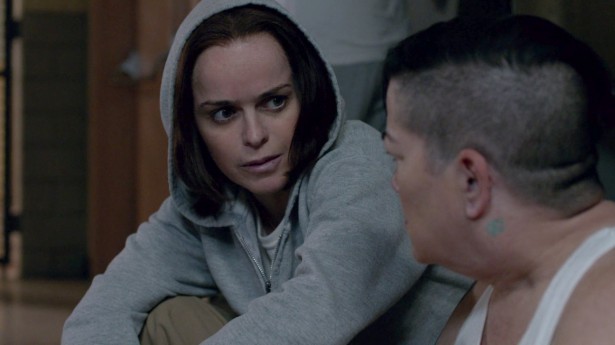 Il rapporto tra Taystee e Pennsatucky era profondo e si era evoluto nel corso del tempo, Danielle Brooks conferma che è stato un colpo al cuore dover girare quella scena.
Ecco le sue parole:
"Non ti mentirò. Stavo pensando, 'Taystee, quante volte devi passare attraverso tutto questo? quante volte devi riviverlo?'. È stato molto. Diventa così difficile su così tanti livelli. Da un punto di vista tecnico, sto cercando di mettermi alla prova. Questa non è la stessa persona, quindi la reazione deve essere diversa, deve avere un peso diverso. Non voglio dare al pubblico lo stesso vecchio pianto e lo stesso vecchio piagnisteo. Voglio che soddisfi chiunque in qualunque sia la situazione."
Danielle Brooks ha voluto mettere alla prova le proprie doti di attrice, ha voluto spingersi sempre un po' più in là e questo episodio di Orange Is The New Black era una bella prova del nove.
Questa sfida è stata molto impegnativa perchè la scena della morte di Pennsatucky conclude una puntata per niente facile per Taystee.
Dopo una sfilza di cattive notizie, come il fatto che la testimonianza di Suzanne non sarebbe bastata per l'esito dell'ergastolo, Taystee decide di farla finita una volta per tutte.
Il suo destino però non era quello, infatti mentre si avvia verso la sua cella una piccola luce fioca e tremolante innesca un flashback di quando era in libertà.
"Fare un flashback nella settima stagione ti ricorda quanta strada hai percorso in questi anni e di come sei arrivato lontano. Io e Samira (Poussey ndr) siamo entrambe fatte della stessa pasta. Ci conoscevamo già da prima di Orange Is the New Black e andavamo nello stesso college. Abbiamo fatto parte di questo viaggio assieme e sono molto contenta di aver avuto quel momento in questa stagione finale, anche se solamente attraverso una telefonata. Mi è bastato ascoltare la sua voce per ricordarmi di tutto quello che siamo riuscite a realizzare in questi anni sia insieme che separatamente."
La numero 12 è stata decisamente una puntata impegnativa da digerire sia per gli spettatori da vedere che per Danielle Brooks da recitare, alla fine è stato qualcosa che avete apprezzato?