The Big Bang Theory si è conclusa questo maggio con la dodicesima stagione, con grande dispiacere dei suoi fan. Questa serie, come altre create da Chuck Lorre, vedeva apparire a fine episodio una "Vanity Card", un messaggio scritto da Lorre stesso e inserito a mo' di editoriale prima del logo della Warner Bros. Television.
Dal momento in cui The Big Bang Theory si è conclusa, la CBS ha subito un duro colpo e gli ascolti sono calati precipitosamente. Il giovedì sera, vecchio giorno di messa in onda della serie, il calo è arrivato addirittura al 34%.
A tenere alti gli ascolti era evidentemente proprio la gang di nerd di The Big Bang Theory, che una volta finita ha lasciato in alto mare le altre serie dell'emittente televisiva. Questo problema riguarda ovviamente anche Chuck Lorre, perché tra le serie che hanno subito il calo di ascolti ci sono anche due sue creazioni, Young Sheldon e Mom.
L'Executive Producer ha quindi deciso di intervenire, usando giusto un pizzico di ironia. Giovedì 14 novembre è andata in onda sulla CBS una particolarissima Vanity Card scritta da Chuck Lorre, che recitava: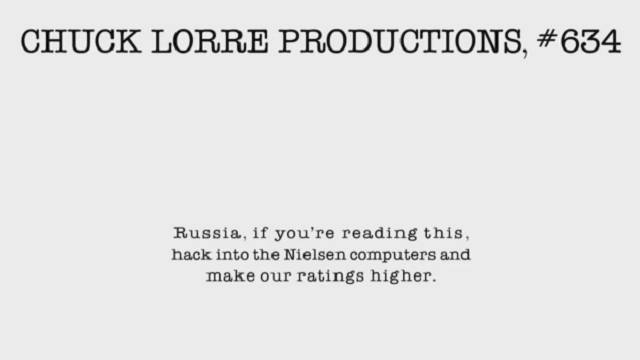 Russia, se stai leggendo questo messaggio, hackera i computer della Nielsen e fa salire i nostri ascolti.
Quando si dice "la tocca piano". Chuck Lorre coglie la palla al balzo non solo per fare dell'ironia sui bassi ascolti della CBS, ma ne approfitta anche per sferrare a Trump un colpo di quelli che proprio non possono sfuggire, facendo riferimento allo scandalo dei presunti voti gonfiati durante le elezioni presidenziali proprio grazie all'intervento della Russia.
E, ciliegina sulla torta, questa pensata di Lorre ha anche funzionato, perché gli ascolti della CBS quella sera sono tornati a salire. Che sia stato puro apprezzamento per l'umorismo made in Lorre? Oppure c'è sotto dell'altro? Ovviamente si scherza.