Chuck Lorre è uno dei grandi maestri della sitcom. Da più di vent'anni le sue serie tv tengono compagnia a milioni di telespettatori e alcune di queste, come The Big Bang Theory e Due uomini e mezzo (qui per sapere come finisce la serie), sono diventate cult assoluti. Oggi però vogliamo parlare di una delle sue ultime fatiche, una sitcom dolce-amara che fa ridere e commuovere grazie a una miscela efficace di humor e drammi inattesi: Mom.
Dopo averci raccontato l'amore che nasce dalle diversità in Dharma & Greg, la vita di una famiglia con una precaria situazione economica in Roseanne e l'essere nerd in The Big Bang Theory, Lorre ha confermato con Mom il suo amore per gli outsider.
Mom è la storia di una famiglia che lotta contro le dipendenze.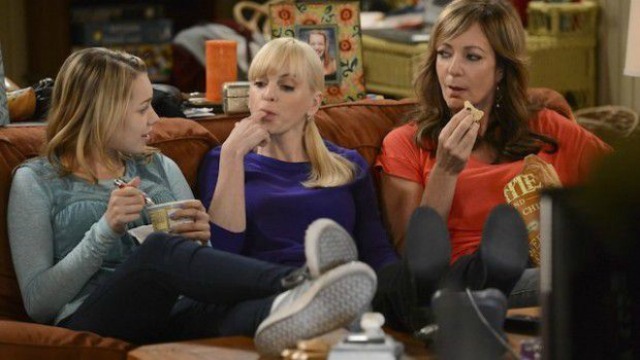 L'alcol, la droga, il gioco d'azzardo: Bonnie e sua figlia Christy Plunkett le hanno provate tutte e nella serie tv proposta da CBS le vediamo fare i conti col passato e liberarsi dalla prigionia dell'assuefazione. Bonnie e Christy si ritrovano a una seduta dell'anonima alcolisti e dopo anni di separazione e guerre intestine intraprendono insieme il percorso che salverà le loro vite.
Lo fanno senza smancerie e riappacificazioni strappalacrime, prediligendo anzi confronti diretti e brutali su quanto entrambe si siano fatte del male. Reciprocamente oltre che individualmente. In Mom le frecciatine ironiche tra madre e figlia diventano una consuetudine quasi catartica per le protagoniste e le rare scene in cui le vediamo impegnate in dimostrazioni d'affetto risultano per questo ancor più significative.
Il marchio di fabbrica di Mom sono i brevi riferimenti delle protagoniste agli anni sfrenati della dipendenza: il narcotraffico, la galera e la bizzarra esperienza di ritrovarsi in Canada dopo una notte brava senza ricordare il motivo. Ma lo show non è solo una serie di aneddoti bizzarri e luoghi comuni sulla droga.
Mom è un inno alle seconde possibilità, all'inclusione e al perdono.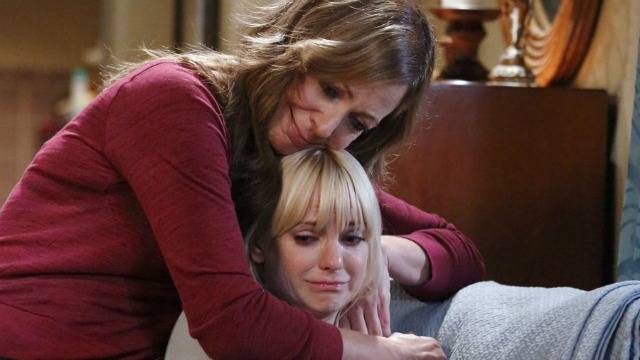 Ribadito attraverso la valorizzazione di un fondamentale assunto comune a molti gruppi di recupero: nessuno deve essere lasciato indietro. Nessuno deve sentirsi solo. La dolorosa realtà delle dipendenze, quali che siano, è raccontata in maniera estremamente accurata nella serie.
Le mille sfaccettature e le complessità che caratterizzano la riabilitazione vengono snocciolate una ad una attraverso le storie delle compagne del gruppo di alcolisti anonimi di Bonnie e Christy. Lo spettro della ricaduta, le difficoltà nel creare una relazione sentimentale stabile dopo la dipendenza e la lucidità nell'affrontare la vita, quando ha bussato alle loro porte per presentare il conto di quegli anni di eccessi.
Bonnie e Christy si sono concesse una seconda possibilità, e poi una terza, fino a quando non è stato evidente che per entrambe i tempi dello sballo erano finiti. Pienamente impegnate nei ruoli di madre e nonna per la prima volta dopo anni, le due protagoniste di Mom hanno ricominciato gradualmente ad apprezzare i piccoli piaceri della vita; come una tazza di caffè con le amiche o una cena fuori.
Christy è tornata ad avere una madre e Bonnie ha ritrovato sua figlia e i suoi nipoti.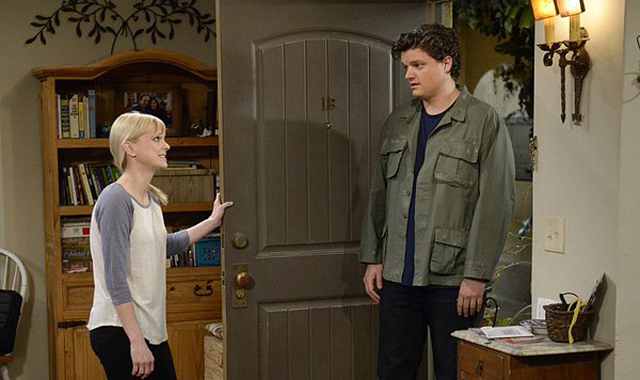 Tutto questo è stato possibile solo grazie alla scelta di concedersi reciprocamente un'altra opportunità. Un nuovo inizio che ha permesso a entrambe di intravedere un futuro che il lungo soggiogamento a droga e alcol aveva offuscato e che, dal momento in cui si sono ritrovate, è divenuto meta del loro viaggio. Così Christy ha iniziato a studiare per diventare avvocato e Bonnie ha trovato l'amore, un lavoro, una famiglia e vere amiche.
L'unione che fa la forza e che diventa un'ancora di salvezza a cui aggrapparsi durante la tempesta.
Nella serie ci viene presentata una rete di persone pronte a sorreggere e aiutare chi si perde nel fondo di un bicchiere o in una siringa, riuscendo a distinguere il tempo dell'ascolto e quello delle ramanzine. Questa caratteristica, apparentemente marginale, racchiude in sé il senso di Mom, chiarito ancor più fortemente nell'episodio 2×20, in cui Bonnie confessa di aver avuto una ricaduta in seguito all'utilizzo di alcuni antidolorifici. Il protocollo applicato dalle sue amiche per aiutarla a superare le prime 72 ore di disintossicazione (solitamente le più dure) prevedeva comprensione e attenzioni.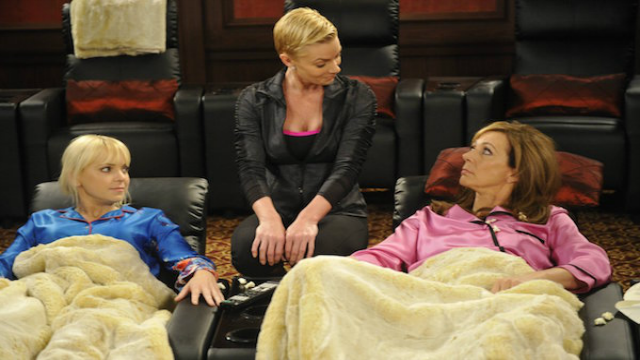 Così Bonnie si è ritrovata ad esser coccolata e viziata, non giudicata e nemmeno allontanata. Le sue amiche e sua figlia Christy avevano creato per lei una catena umana d'affetto per ricordarle quante cose avrebbe rischiato di perdere insieme alla sua sobrietà. La comprensione e l'aiuto sono al centro di Mom, che con il suo umorismo pungente riesce a raccontare storie d'abusi senza creare un'atmosfera sepolcrale.
La trattazione di argomenti delicati come l'alcolismo o la tossicodipendenza, in un format televisivo leggero per definizione come la sitcom, ha rappresentato per Lorre un salto nel buio. Pur essendo un autore navigato e di grande esperienza, il rischio di fornire una narrazione inverosimile o caricaturale era alto.
Ma il risultato del suo lavoro (e delle fantastiche interpretazioni del premio Oscar Allison Janney e Anna Faris) è tutt'altro che approssimativo o surreale. Mom ci ricorda quanto sia importante tendere la mano verso chi ne ha bisogno e quanto duro lavoro serva per riappropriarsi della propria vita. Nei suoi venti minuti, ogni episodio riesce a non tralasciare mai il tema dell'aggregazione e dell'unione, fondamentali risorse finalizzate al recupero e, tra una risata e l'altra, riesce anche a far riflettere sul valore di una seconda possibilità.