Lo showrunner di Young Sheldon, Steve Molaro, ha parlato del buco di trama presente in The Big Bang Theory e di come questo si rapporti al suo prequel. La sitcom, ormai conclusa dopo dodici stagioni, lascia un grande vuoto nel panorama seriale. Ma non solo questo: nell'ultimo episodio, i fan si sono fatti moltissime domande, soprattutto riguardo il discorso di Sheldon.
Il sogno di Sheldon che vediamo crescere in Young Sheldon diventa concreto: finalmente tiene in mano il Nobel. Per questo i fan sono rimasti sorpresi quando non ha nemmeno menzionato il Dr. Sturgis, un professore di fisica con cui Sheldon aveva lavorato durante la sua giovinezza. Durante l'intervista Molaro (che ha lavorato e lavora per entrambe le serie) ha dichiarato che: "Il discorso di accettazione era destinato a onorare la storia di The Big Bang Theory. Non sembrava il momento giusto per invocare personaggi specifici di Young Sheldon".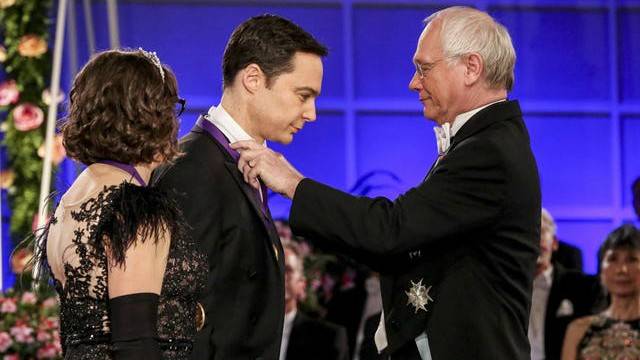 Una cosa del genere potevamo tenerla in conto dato che tra The Big Bang Theory e Young Sheldon la connessione è davvero minima. Condividono lo stesso protagonista anche se in epoche diverse, ma non è l'unico dettaglio che si sono lasciati sfuggire. Più che l'omissione del dottor Sturgis nel discorso di Sheldon, la cosa che lascia di stucco è l'assenza di sua madre. Questa volta non ci sono scusanti: i membri della famiglia Sheldon sono già apparsi nella serie madre durante le 12 stagioni, a differenza del Dr. Sturgis, che è apparso solo in Young Sheldon.
Ma nonostante questi piccoli buchi di trama il finale della sitcom ha colpito il cuore dei fan che ormai da tempo speravano in una chiusura degna di nota. Chissà se scopriremo in Young Sheldon qualcosa che è andato storto tra il Dr. Sturgis e lo stesso protagonista.