Torniamo a parlarvi ancora una volta di Kit Harington e Rose Leslie, una delle coppie più belle delle serie tv nata sul set di Game of Thrones. Lo scorso settembre le due star inglesi hanno annunciato di star aspettando il loro primo figlio, una lieta notizia che è stata accolta con gioia da entrambi i genitori. Di recente, Harington aveva dichiarato quanto desiderasse mettere su famiglia, mentre la bella Leslie ha espresso il suo entusiasmo nell'accogliere il nuovo membro della famiglia in un'intervista per il New York Post. Ma se da un lato la reclusione in casa ha aiutato la coppia a realizzare il suo sogno, dall'altro ha portato ad alcuni disagi.
Così come il resto del mondo, i due attori di Game of Thrones ne hanno dovuti affrontare diversi durante il lockdown causato dalla pandemia.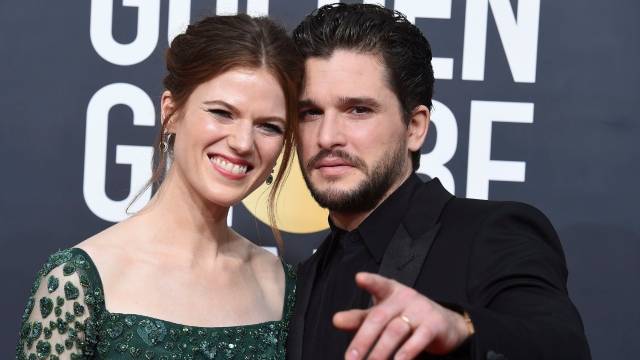 Uno di questi è stato sicuramente la chiusura dei barbieri, che ha costretto l'ex Jon Snow a prendere in mano forbici e rasoio per sfoltire la sua folta chioma. Ma quando è arrivato il momento di concentrarsi sulla nuca, l'attore ha voluto chiedere l'aiuto della moglie per evitare disastri. Una scelta di cui si è sicuramente pentito poco dopo, considerato il risultato finale. Infatti, Rose Leslie ha dichiarato di aver rasato a zero la testa del marito, poiché distratta da una chiamata su FaceTime:
"In quel momento ero su FaceTime con un'amica. Kit mi ha chiesto: 'Puoi farmi tu il retro? Non riesco a vedere dallo specchio'. E io ero così presa dalla conversazione con la mia amica, che gli ho detto tipo: 'Sì sì sì, va bene, come vuoi'. Ho preso il rasoio con la mano sinistra e… Ho scavato troppo a fondo. Ho scavato troppo a fondo! È stato esilarante, ma allo stesso tempo terribile. Fortunatamente stava benissimo con la testa semi-rasata, quindi tutto bene"
Per quanto l'aneddoto raccontato dall'ex Ygritte sia divertente, siamo sicuri che Kit Harington ci penserà due volte prima di chiederle di nuovo di tagliargli i capelli!