Netflix ha annunciato la data di uscita The Haunting of Hill House e ha pubblicato un piccolo video di presentazione della serie. The Haunting of Hill House sarà pubblicata in anteprima venerdì 12 ottobre. Giusto in tempo per Halloween!
La Serie Tv è basata sulla storia con lo stesso nome scritta da Shirley Jackson. Carla Gugino, Michiel Huisman, Henry Thomas, Elizabeth Reasor, Violet McGraw, Timothy Hutton, Julian Hilliard, McKenna Grace, Lulu Wilson e Paxton Singleton faranno parte del progetto. Flanagan dirigerà la Serie di Netflix e questa è un'ottima notizia per coloro che sperano in una nuova versione di questa grande storia. EW riporta anche che la prima stagione sarà composta da dieci episodi. Inoltre abbiamo anche la sinossi ufficiale della Serie Tv e siamo pronti a dargli uno sguardo tutti insieme.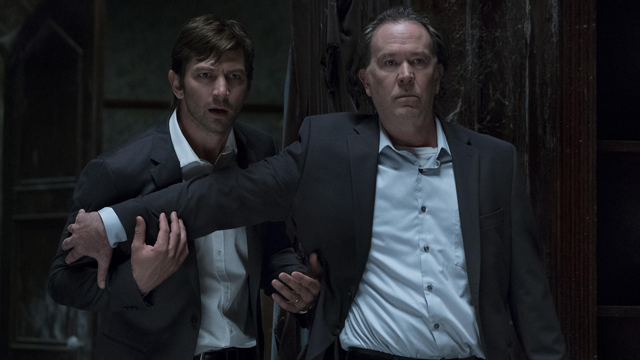 The Haunting of Hill House narra la storia di cinque fratelli cresciuti nella casa dei fantasmi più famosa d'America. Si ritrovano da adulti riuniti dal suicidio della loro sorella più giovane, che li costringe a confrontarsi con i fantasmi del loro passato (alcuni che si annidano nelle loro menti). La piattaforma di streaming mondiale ha incrementato la scia di horror sul suo catalogo, solo due settimane dopo l'uscita di The Haunting of Hill House uscirà anche Chilling Adventures of Sabrina dal creatore di Riverdale Robert Aguirre-Sacasa.
E mentre noi ci pregustiamo il catalogo mensile di settembre, proprio qui, sogniamo ad occhi aperti quello di ottobre con queste due serie horror attesissime dal pubblico. Netflix doveva pur compensare l'assenza di Stranger Things dal catalogo (ancora per un pò di tempo tra l'altro). Immagini e trama e non ci hanno ancora convinti? Allora beccatevi questo video:
Don't you want to come home? The Haunting of Hill House is only on Netflix October 12. pic.twitter.com/xqeLg7Of0E

— The Haunting of Hill House (@haunting) August 27, 2018