Giovedì sera è andato in onda il mid-season finale di How To Get Away With Murder lasciando davanti a noi un enorme vuoto destinato a durare fino all'11 Febbraio!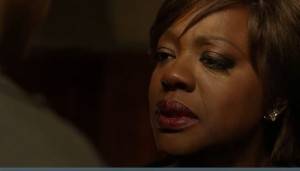 Per placare –almeno un po'- i morsi dell'attesa corrosiva, concentriamoci sulla prima parte della stagione che abbiamo visto e cerchiamo di analizzare i personaggi.
Riflettendo accuratamente ci rendiamo conto che l'unica a non avere commesso (almeno finora) un omicidio in How To Get Away With Murder  è proprio lei, Annalise Keating. Eppure non è innocente: per coprire i veri autori dell'omicidio di Sam, ovvero Wes e gli altri ragazzi, ha praticamente incastrato Nate. Nate era un detective corretto, la cui unica colpa era quella di essere il suo amante.
In questa prima parte di stagione Annalise ha cercato di far scagionare Nate chiedendo ad Eve, un'amante del passato e ottimo avvocato penalista, di difenderlo durante il processo. Nate viene assolto, ma la sua carriera e la sua vita sono ormai distrutte proprio per colpa di Annalise, che in seguito provvede a fargli avere un posto da poliziotto.
Nate la odia per gran parte del tempo ma negli ultimi episodi sembra averla perdonata, tanto da rischiare il suo nuovo impiego pur di favorirla.
La professoressa Keating è odiata anche dai suoi studenti, Wes e Connor: Wes la accusa di essere responsabile della scomparsa e della morte di Rebecca, su cui Annalise si ostina a mentire, e Connor la ritiene la causa principale di tutti i suoi problemi. Diciamocelo, lavorare per lei significa violare eccessivamente la legge e i fatti illeciti hanno coinvolto Oliver troppo da vicino.
Un altro personaggio che nutre un forte sentimento negativo nei suoi confronti è Bonnie, in seguito alla decisione di Annalise di svelare ad Asher il suo passato.
Il fatto che il suo ragazzo conosca ciò che ha vissuto durante l'infanzia fa sentire Bonnie vulnerabile ed esposta, e la sua rabbia le fa dire ad Annalise che avrebbe dovuto essere lei ad essere uccisa in quella maledetta casa, non Sam.
Insomma, Annalise è un personaggio molto odiato, commette innumerevoli errori, ferisce continuamente le persone che le vogliono bene ed è scontrosa e inavvicinabile. Eppure è sempre lì a risolvere i guai di ciascuno.
È riuscita a far uscire Nate da quell'orribile situazione in cui lo aveva messo, continua a proteggere Wes e gli altri per l'omicidio di Sam, copre Bonnie da quando ha scoperto che è stata lei ad uccidere Rebecca e infine organizza una messinscena per far apparire Catherine l'assassino della Sinclair, e non Asher.
Quindi è vero che Annalise ne combina di tutti i colori, ma è anche vero che è sempre pronta a schierarsi dalla loro parte e ad aiutarli nelle situazioni più gravi, disposta pure a prendersi una pallottola in corpo.