Qualche settimana fa, in vista dell'inizio della nuova stagione di Game of Thrones, avevo raccolto qualche dichiarazione rilasciata qua e là da Lena Headey in merito alla sua controparte seriale: Cersei Lannister.
Riguardandole ora, dopo un paio di puntate e alla luce delle teorie che si stanno scatenando sul web circa gli sviluppi della trama in questa settima stagione, mi sono accorto che c'è una frase alla quale avevo dato inizialmente poco conto, ma che adesso assume una prospettiva molto significativa:
Non mi preoccupa la morte del mio personaggio. Ho sempre detto che quando succederà, l'importante è che sia abbastanza gloriosa e violenta e venga dalla persona giusta…
La persona giusta. Nell'intervista Lena cita Arya e Tyrion, ossia i due protagonisti che in tutto il continente occidentale odiano Cersei giusto quel pizzico in più rispetto al resto della popolazione (quel che resta della Montagna a parte).
Troppo facile, troppo scontato.
Semplicemente, un epilogo del genere per la vita della Regina dei sette regni non sarebbe da Trono di Spade.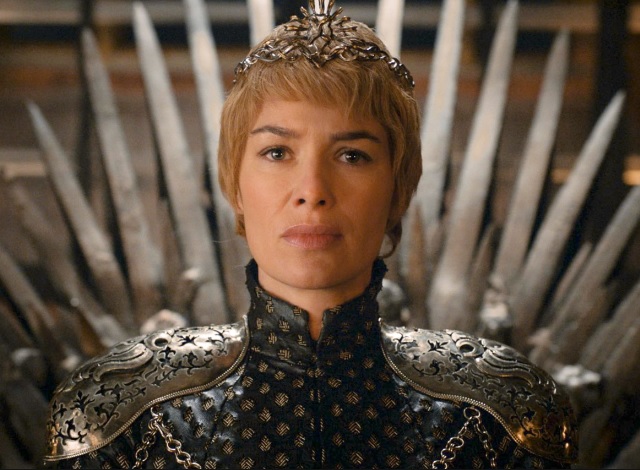 Infatti, c'è un'ipotesi che sta prendendo piede, suffragata da qualche indizio lasciato cadere con furbizia dagli sceneggiatori, la quale vorrebbe che il grilletto, pardon, l'elsa della spada venga stretta dall'unico uomo che Cersei abbia mai veramente amato: esatto, suo fratello Jaime.
LA PROFEZIA DI CERSEI
La profezia che ha accompagnato tutta la vita di Cersei è sempre stata molto chiara. La Lannister avrebbe sposato il Re (flag), avrebbe avuto tre figli (flag) e li avrebbe persi tutti (flag, flag e flag).
Soprattutto, la sua fine sarebbe stata questa:
E quando sarai annegata nelle tue stesse lacrime, il valonqar chiuderà le mani attorno alla tua gola bianca e stringerà finché non sopraggiungerà la morte.
Dove il Valonqar, letteralmente, sarebbe il fratello minore.
Anche in questo caso, Tyrion sembrava essere l'indiziato numero uno, ma un dettaglio del dialogo tra Cersei e Jamie della prima puntata ha fatto drizzare le antenne a tutti i complottisti di Westeros (avvicinandoci alla teoria che avevamo elaborato un anno fa, la trovate qui).
I due Lannister discutono sopra ad un affresco raffigurante il continente occidentale, e la loro posizione è tutt'altro che casuale. Jamie è sopra le Dita (i possedimenti di Petyr Baelish), Cersei sulla regione chiamata The Neck, ossia il "collo".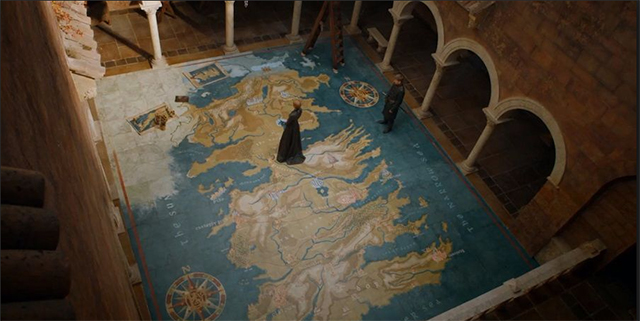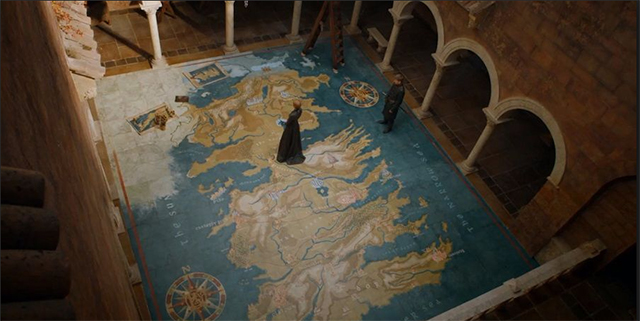 Anche se i due sono gemelli, è noto come Jaime sia nato qualche istante dopo la sorella, pochi secondi che fanno di lui un fratello minore in piena regola.
L'EVOLUZIONE DI JAIME LANNISTER
Ok, ma perché dovrebbe ucciderla? Gli screzi tra i due vanno avanti ormai da diverse stagioni, più o meno dal "party improvvisato" nella camera ardente di Joffrey. Nelle ultime stagioni, da borioso arrogante pieno di sé e senza scrupoli (ricordiamoci che è pur sempre stato lui a gettare Bran da quella torre) il biondo menomato è costantemente diventato più umano, empatico, quasi simpatico.
Al contrario, la discesa negli inferi della follia da parte di Cersei sembra ormai una strada a senso unico e senza possibilità di retromarcia.
Il trono logora chi ce l'ha (per info chiedete ai Targaryen) e l'alleanza con un altro squilibrato del calibro di Euron sicuramente non contribuirà a mettere le cose a posto. Uno scontro ci sarà, è questione di tempo, nonostante i tentativi del comandante dell'esercito di Approdo del Re di salvare il regno della sorella (ultimo dei quali l'alleanza con Randyll Tarly).
Mosse dettate più dall'affetto nei confronti di quello che Cersei era e rappresentava per lui, più che di una stima o da un senso della famiglia. Una dinastia che, per sua stessa ammissione, non esiste più.
E POI?
Supponiamo che davvero Jaime uccida Cersei. Cosa potrebbe fare dopo? A quel punto l'ipotesi più scontata, al netto di quello che penseranno gli eventuali alleati Stark, lo vedrebbe raggiungere Tyrion nella probabile lotta che tutti quelli con un minimo di sale in zucca intraprenderanno contro gli Estranei.
E il suo ruolo potrebbe essere decisivo.
Una teoria ancora più suggestiva infatti riguarda la fantomatica leggenda di Azor Ahai. Sappiamo che per Melisandre questo eletto inizialmente era Stannis, mentre ora potrebbe essere uno qualsiasi tra Daenerys che Jon. Come la preziosa Missandei (inserire faccina coi cuoricini) ha puntualizzato, la parola principe in Alto Valiriano può essere interpretata con entrambi i generi.
Allo stesso modo, nella lingua antica anche le parole Cavaliere e Luce sono molto, molto simili a quelle utilizzate per indicare i sostantivi Mano e Oro.
Mano e Oro, uhm…