Ci sono matrimoni che terminano per molto meno, ma quando si parla di serie tv, e soprattutto di Game of Thrones, nessuna relazione è al sicuro. Nemmeno se sei George R.R. Martin.
Parris McBride, moglie dello scrittore della saga di Game of Thrones, infatti, avrebbe minacciato la separazione se il marito decidesse di far morire nello show una delle sorelle Stark!
L'autore, noto per le sue narrazioni epiche e, al contempo, rigorosamente violente, ha fatto morire la metà dei personaggi della saga di Game of Thrones. Gran parte di questi, sicuramente, sono stai tra i preferiti dei fan, Eppure, su due personaggi, è stata sua moglie a porre un grosso veto, ovvero Arya e Sansa Stark. 
Ah, sua moglie, lei sì che ha il potere!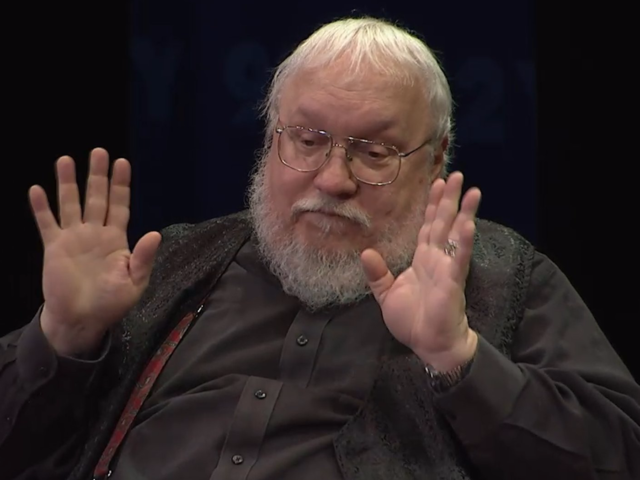 La moglie di George R.R. Martin è stata molto chiara e la cosa si è diffusa anche all'interno del cast. Proprio per questo già nel lontano nel 2015 Maisie Williams, aveva lasciato un'esilarante dichiarazione a proposito della signora Martin:
La moglie di George ha detto che lo lascerà semmai dovesse far morire Arya o Sansa. Mi divertirò dicendogli che, se vorrà restare con la sua dolce metà, dovrà tenermi in vita!
Bene, ecco cosa significa essere una vera fan! A confermare parzialmente tutto questo, sempre in maniera scherzosa, è stato lo stesso scrittore, nel 2016, in occasione di un evento in Messico dedicato a Game of Thrones.
Sì, mia moglie ha un personaggio preferito e ha minacciato di lasciarmi se dovessi ucciderlo, quindi devo stare molto attento!
Come se non bastasse, secondo un recente studio condotto da due epidemiologi alla Macquarie University di Sydney, i personaggi della serie che hanno le maggiori possibilità di sopravvivenza sono proprio Sansa e Arya Stark. Forse le ragazze di Stark hanno davvero un deus ex machina che si prende cura di loro, ed è qualcuno di "molto vicino" a Martin!