Spoiler alert: non proseguite con la lettura se non siete in pari con la visione di Game of Thrones 8.
George R.R. Martin nell'introduzione dei suoi libri scrive: il diavolo risiede nei dettagli, pronto a mordere se non si presta attenzione. Sappiamo che la serie è ispirata alla sua produzione – non si parla di trasposizione fedele – e che di certo le differenze a livello narrativo non sono nate quando il materiale si era esaurito, ma ben prima. Tuttavia quello che ha segnato in negativo le sorti della serie è stata la fretta di concludere Game of Thrones 8, trascurando troppi dettagli, gli stessi che originariamente avevano fatto la differenza tra questa produzione fantasy e tutte le altre.
Nell'ultimo episodio di Game of Thrones 8, l'impressione generale è che si siano presi alcuni momenti iconici della serie per farne una replica stantia e malriuscita. Prendiamo ad esempio Tyrion: viene detto più volte che non è più lo stesso di una volta. Intendiamoci, chiaramente ha subìto un'evoluzione e questo è auspicabile dal punto di vista narrativo, per quanto possa non piacere il suo ottenebramento improvviso. Ma i discorsi che fa a Jon e ai potenti di Westeros sembrano solo pallide imitazioni del passato, senza contare le battute riciclate. Questo agli occhi di un appassionato della serie non passa inosservato.
Glisseremo sulle bottiglie d'acqua e sulle scene banalmente realizzate (come l'omicidio di Daenerys e il suo trapasso avvenuto in due centesimi di secondo) per concentrarci su altro. Cominciamo quindi la carrellata dei 7 momenti più assurdi del finale di serie!
1) Se cade il mondo allora (non) ci spostiamo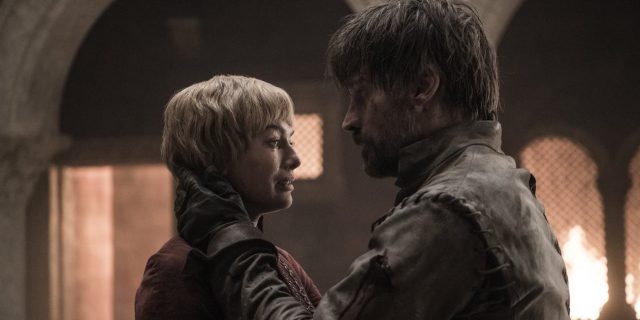 Tyrion, sconvolto dagli orrori del massacro appena compiuto, si dirige nei sotterranei della Fortezza Rossa verso il passaggio indicato al fratello. La cosa che colpisce è che solo la zona in cui era presente la coppia incestuosa sembra essere stata colpita pesantemente dal crollo: bastava fare due passi più in là per salvarsi. Siccome il mondo di Westeros è piccolo e gli incontri fortuiti una garanzia di questa stagione, ecco che casualmente spunta – proprio in cima – la mano dorata di Jaime. Ma il suo cadavere come quello di Cersei dovrebbero essere sepolti dalle macerie, non certo in cima con appena due sassolini a ricoprirli.