Jaime Lannister racconta la scena finale dell'ultima puntata
Come abbiamo visto nella scena finale della quarta puntata di Game of Thrones le cose non sembrano essersi messe benissimo per i Lannister. Primo fra tutti il povero Jaime.
Non sappiamo nemmeno per certo se per Jaime Lannister ci sarà o no un futuro. Sarà morto? Verrà fatto ostaggio a Daenery? Tyrion lo libererà tradendo la bionda madre dei draghi? Sono purtroppo solo congetture, per capirci qualcosa di più possiamo solo aspettare la quinta puntata (che potrebbe arrivare prima del previsto viste le recenti minacce degli hacker). Ne abbiamo parlato QUI.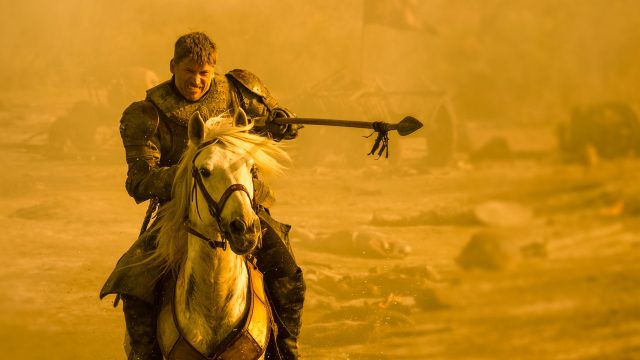 Dopo la puntata è Nikolaj Coster-Waldau, Jaime  in persona a spiegarci qualcosa sul cosa abbia spinto Jaime all'assalto nel finale di 'The Spoils of war'.
Le sue parole precise per definire Jaime Lannister sono state queste:
'Jaime è proprio un idiota'
Non è certo stato il solo a pensarlo. Chiunque, anche il più grande sostenitore della casata Lannister avrà certamente esclamato le stesse identiche parole.
Ma Nicolaj aggiunge, giustificando Jaime per il suo gesto eroico misto folle:
'Jaime ci ha pensato per un secondo. Ma poi si è detto: se ce la faccio, i Lannister avranno la vittoria in mano!'
Sarebbe stato un colpo di scena non da poco, questo è certo. Nonché una bella rivincita per vendicare i suoi poveri compagni di battaglia che se la sono passata meno bene di lui. Eh si perché se il buon Jaime è stato eroicamente salvata da Bronn (eroe indiscusso in The Spoils of War) decine, forse centinaia di Lannister sono finiti alla brace, bruciati vivi da Drogon.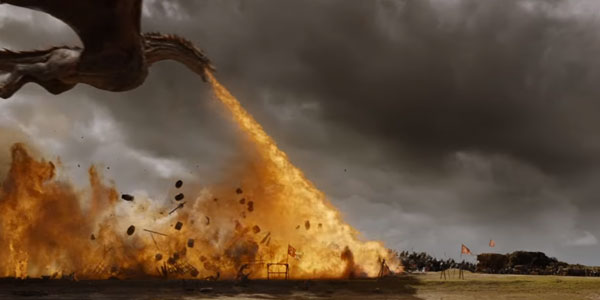 Nicolaj si è espresso così parlando proprio del suo esercito Lannister decimato dalle fiamme di Drogon:
'Nonostante Daenerys sia il buono e i Lannister siano i cattivi, essere bruciati vivi non è il massimo. E' stata una cosa terribile quando questo mostro sputafuoco si è avvicinato ed ha incenerito centinaia e centinaia di uomini che stavano facendo il loro lavoro'.
Non ci resta che aspettare il rilascio della quinta puntata per scoprire cosa ne sarà di Jaime. (Qui i dettagli)
La guerra è appena iniziata ma si prevedono scintille nelle tre puntate finali!