Come telefilm addicted di Game of Thrones dobbiamo ammettere di essere particolarmente suscettibili: la traduzione di Hold the Door non l'abbiamo ancora digerita, con i nostri amici che hanno definito la prima puntata noiosa evitiamo di parlare dell'argomento, e non riusciamo neanche a tollerare più di tanto chi non fa caso a tutti quei più piccoli particolari che fomentano le nostre congetture, o ancora, se leggiamo da qualche parte cose tipo "Jhon Snow" o "Cerci" ci sale il Joffrey della situazione, per non disquisire dell'odio radicato verso certi personaggi (Ramsey, Pycelle, Ditocorto, giusto dei nomi a caso).
Il problema è che Game of Thrones non è un semplice telefilm, ma una religione, uno stile di vita che solo in pochi (anche se in effetti siamo tantissimi: viva noi!) possono amare, ma quando due perfetti sconosciuti scoprono casualmente di condividere la passione per questa serie la nerdaggine parte a manetta, e il mondo se ne vada pure al diavolo, noi godiamo come quando due italiani si incontrano in un paese straniero in periodo di mondiali. Siamo una comunità di folli che nella disperazione e nel tormento riusciamo ad apprezzare anche il lungo Inverno.
#1 Il lunedì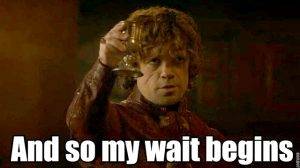 Tutti quanti odiano il lunedì, ovvio, ma per un fan di Game of Thrones è una vera tragedia.
L'episodio è andato in diretta con gli USA alle 3 del mattino, e pochi sono i folli che riescono a guardarla, e anche tra questi ci sarà chi, per un motivo o per l'altro quel certo giorno non è riuscito ad adempiere alla levataccia. Ebbene il lunedì è oscuro è pieno di spoiler, e, per quanto sia legge non scritta che di lunedì chiunque abbia già visto la puntata debba serbare il silenzio stampa, a volte qualche piccolo commento scappa, ed è quindi prassi comune scorrere la bacheca di facebook, o di qualsiasi altro social, con un occhio aperto e l'altro chiuso, così, giusto per sicurezza.
Ma oltre al pericolo spoiler, il lunedì è un dramma anche per quel senso di attesa, la necessità pregnante di trovarsi sul divano alle 21 in punto, senza sgarri, ed ovviamente la premura di allontanare o zittire madri, nonne, padri e fidanzate\i: il momento è mistico e il telecomando diventa lo scettro del potere.