A una settimana dalla fine di Chernobyl (show che ha "abbattuto" tutti i record) non possiamo fare altro che metabolizzare quanto appreso su una storia che ha avuto ripercussioni sul mondo intero.
Una storia non facile, raccontata con dovizia di particolari e ancora molto dolorosa, come dimostra la tristissima notizia del suicidio di uno degli eroi di Chernobyl proprio dopo aver visto la serie tv.
Per quanto sembrino non aver niente in comune Chernobyl e Game of Thrones qualcosa ce l'hanno invece, e sono gli autori di uno e dell'altro a confermarlo (Martin e Craig Mazin): un parallelismo con il cambiamento climatico.
Se ci si riflette, in Game of Thrones l'arrivo degli Estranei viene negato e minimizzato fino all'ultimo momento, come anche in Chernobyl in cui il disastro viene sottovalutato terribilmente.
Gli Estranei ed il disastro nucleare vengono sottovalutati, proprio come alcune forze politiche e figure mondiali stanno facendo con il cambiamento climatico.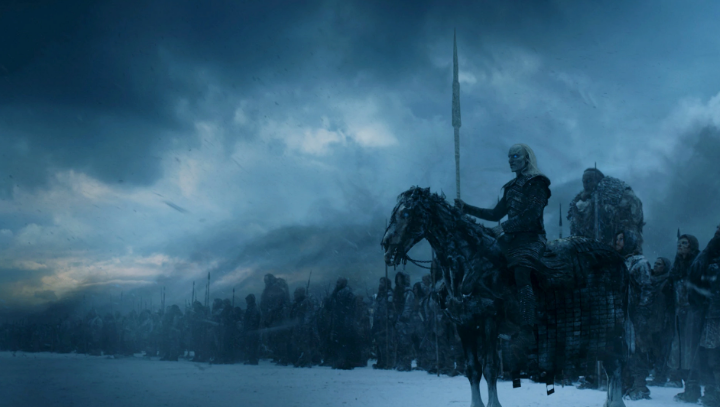 Si sta mettendo in atto il "se non vedo non credo" proprio come nei due show.
Lo stesso Martin, nonostante abbia iniziato a definire le Cronache del Ghiaccio e del Fuoco negli anni '90 (anni in cui ancora si era totalmente inconsapevoli) conferma che il trattamento riservato agli Estranei attualmente è lo stesso per il cambiamento climatico.
Come anche Craig Mazin condivide l'interpretazione applicandola a Chernobyl.
Martin dichiara:
È ironico perché ho iniziato a scrivere Game of Thrones nel 1991, molto prima che si parlasse di cambiamento climatico. Ma sicuramente c'è un parallelo qui. Gli abitanti di Westeros combattono le loro battaglie individuali rispetto a potere, status e salute. E tutto ciò li distrae, così che ignorano la minaccia dell'inverno che sta arrivando e che potrebbe distruggere loro e il mondo. (…) Mentre ci disperiamo e spendiamo così tante energie, esiste la minaccia del cambiamento climatico, che per me è provata dalla maggior parte dei dati e dal 99,9% della comunità scientifica. E che ha il potenziale per distruggere il nostro mondo.
Mazin, applicandolo al suo show, conferma:
La lezione più importante di Chernobyl è che, per quanto ci raccontiamo la storia che vogliamo, facciamo finta che la verità sia malleabile e che possiamo utilizzarla come un giocattolo, alla verità tutto questo non interessa. La verità fa ciò che deve fare. (…) Possiamo raccontarci che il cambiamento climatico non è reale, ma al clima questo non interessa. Le inondazioni, i venti, gli oceani, a loro non interessa, continueranno a fare quello che devono. Al reattore nucleare a Chernobyl non interessava che i sovietici insistessero sul fatto che fosse senza problemi. Ha fatto quel che ha fatto. La verità non è un gioco, e non abbiamo il controllo su di essa.
E allora le domande da porci sono sempre le stesse che facciamo finta di non sapere, forse dopo aver visto ed esserci appassionati a opere così maestose e profonde potremmo avere il coraggio di porre.
Se è così facile renderci conto degli errori colossali che sono stati commessi nel sottovalutare o negare pericoli così importanti nelle serie tv, perchè non ne siamo capaci quando si tratta della nostra realtà?