Il termine disturbante ha subìto grandi mutamenti di significato da quando è nato. Più di duemila anni fa Cicerone lo usava dicendo "disturbat vitae societatem", ovvero ciò che sovverte la società umana. Seneca, invece, lo usava con l'accezione di un qualcosa che sconvolge, non solo in senso lato, ma anche in quello più propriamente fisico. Del resto la particella dis- non è altro che un rafforzativo al verbo turbare. Questo va a confermare che l'accezione che noi oggi utilizziamo della parola "disturbante" non è solo il frutto di una inglesizzazione che ha subìto il termine. Trenta anni fa sarebbe risultato linguisticamente improprio usare "disturbante" per descrivere un film horror, oggi invece è quasi scontato. Il disastro di Chernobyl non sarebbe mai stato definito un fatto disturbante, oggi lo è.
La globalizzazione ha portato la lingua italiana a trasformare in verbo lo sniff sniff dei fumetti di Topolino, perché non cambiare o modificare a proprio uso un termine già italiano? Potremmo discutere giorni e giorni sulla protezione della lingua e sul giudizio delle influenze estere, ma non è questo l'articolo adatto. Ci basta dire che per serie tv disturbante intendiamo una produzione che inquieta il corpo e la psiche dello spettatore, che smuove le paure recondite di chi la guarda e lo porta a "soffrire" (con un milione di virgolette) sia mentalmente che fisicamente. In questo articolo abbiamo cercato di stilare la classifica delle 10 serie tv più disturbanti del pianeta.
10) Hemlock Grove
Partiamo subito forte con una serie tv nata sei anni fa da un adattamento dell'omonimo romanzo di Brian McGreevy. Siamo nella piccola cittadina di Hemlock Grove. La quiete è sconvolta nel momento in cui viene ritrovato il cadavere parzialmente smembrato di una ragazza: Brooke Bluebell. Chi l'ha uccisa? E soprattutto, chi è che tornerà a uccidere? Un qualcosa più che un qualcuno, non si sa di preciso. Nel frattempo ecco la vita di giovani ragazzi, il soprannaturale e famiglie depositarie di oscuri segreti. Tutto questo fa guadagnare un meritato decimo posto a una delle prime produzioni Netflix.
9) Dark
Passiamo a una serie tv molto più recente. Parliamo di Dark, una delle produzioni Netflix più disturbanti tra quelle presenti nel catalogo della piattaforma streaming. La serie tv tedesca ci racconta della sparizione di due bambini dalla città tedesca di Winden. La loro ricerca porterà alla scoperta di oscuri segreti e al disvelamento di verità folli. Morti improvvise di sciami di uccelli, salti di corrente e eventi che si ripetono ciclicamente sono pronti ad accogliervi se vorrete farvi trasportare nel disturbante mondo di Dark.
8) The Haunting of Hill House
Netflix continua a farla da padrona, visto che anche in questo caso parliamo di una serie tv disponibile per gli utenti abbonati alla piattaforma con la scritta rossa. In questo caso, il termine disturbante prende il colore nero dell'horror perché la serie tv ci porta in un mondo terribilmente pauroso. Basata sul romanzo del 1959 di Shirley Jackson, The Haunting of Hill House ci racconta la storia dei fratelli Crain, costretti a tornare nella casa in cui un'estate di tanti anni prima hanno dovuto vivere un terribile avvenimento. I fantasmi del passato sono dietro l'angolo, quelli del presente pure, e sembrano essere ancora più inquietanti.
7) Hannibal
Di tutt'altra pasta è fatta la produzione NBC che occupa la posizione numero 7. Hannibal è una serie inquietante, ma non horror, è disturbante, ma non thriller. Hannibal è un noir psicologico che indaga nella mente di ognuno di noi. Will Graham e il Dottor Hannibal Lecter ci inganneranno facendoci credere di essere nelle loro menti, ma la realtà è un'altra. Saranno loro a insinuarsi nelle nostre. E porteranno insieme a loro ansia, paura, angoscia e terribili segreti. Una serie tv per chi non ha paura di niente e di nessuno, per chi non ha paura che gli si indaghi dentro.
6) Chernobyl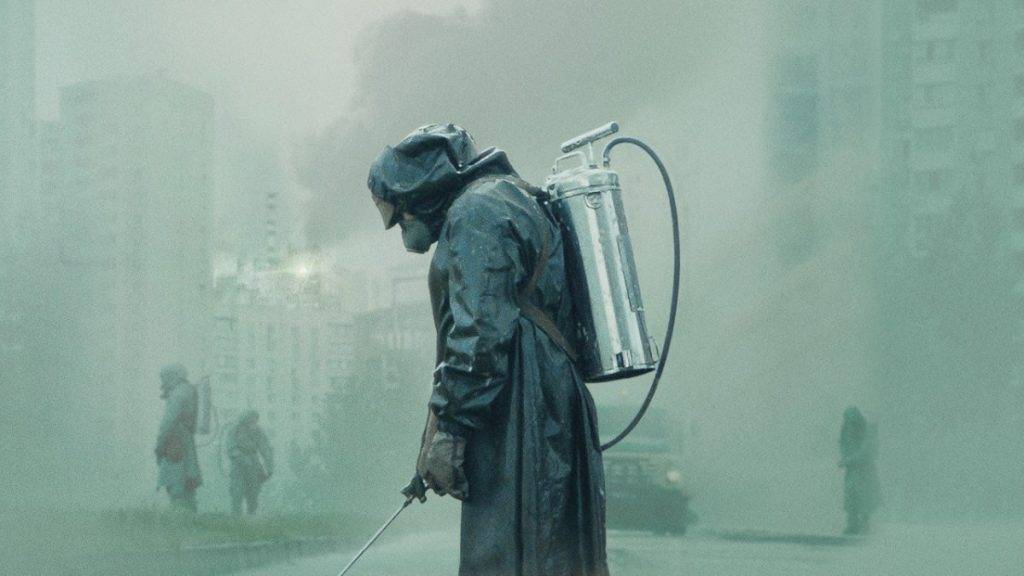 Alla sesta posizione si classifica la serie più recente dell'intera decina. Chernobyl è qualcosa di mai visto prima d'ora sul piccolo schermo. Una docu-serie che sta rivoluzionando il modo di raccontare fatti reali in una serie tv. Il successo di Chernobyl è globale. Ma addentrandoci in quel che fu il disastro, vorremmo forse tornare indietro e non vedere questa serie tv targata HBO e Sky Atlantic. Non vedere quel che è successo, non guardare in faccia la morte. Non vorremmo mai conoscere la sorte delle persone morte nel disastro di Chernobyl, non vorremmo avere quella sensazione di angoscia e quel morso allo stomaco causato dalla terribile e reale verità dei fatti. Chernobyl ci disturba a tal punto da provare rigetto per i fatti accaduti.
5) Black Mirror
Da Chernobyl passiamo a un'altra produzione Netflix. In Black Mirror il disturbante prende le sembianze del futuro distopico che ci fa paura. La serie Netflix è partita in sordina con pochi episodi per stagione, poi, negli anni, ha aumentato il numero di puntate fino ad arrivare alla creazione di un quasi film che permette allo spettatore di scegliere lo svolgimento dei fatti al posto del protagonista. Da alcuni odiato, da altri amato, Bandersnatch rappresenta il punto di non ritorno di ognuno di noi, la realtà virtuale che si mescola alla realtà puramente reale. Black Mirror ci spezza in due perché parla del nostro possibile futuro, e il futuro ci fa paura. Soprattutto se fosse come quello descritto nella serie tv.
4) The Handmaid's Tale
In quarta posizione troviamo una serie tv che definire disturbante è un eufemismo. The Handmaid's Tale ci strugge, ci fa tremare l'anima come la tramontana invernale fa tremare i rami dei poveri alberi spogli. Molte persone, vedendo alcune scene, si sono sentite male. Altre hanno avuto conati di vomito o fiumi tempestosi di lacrime. Il tema trattato dalla serie tv è abbastanza scomodo: la donna, la sua femminilità, i soprusi subìti dal sesso debole e la gravidanza. Temi spesso trattati con quella crudezza che contraddistingue anche la fotografia della serie distribuita da Hulu. Se non avete lo stomaco di acciaio, non guardate The Handmaid's Tale.
3) Love Death & Robots
Apre il podio una serie tv totalmente folle. Parliamo di Love, Death & Robots, un'altra trovata geniale di Netflix. Nei mini-episodi della produzione animata si affrontano molti temi scomodi e lo si fa in modo assurdo. Sesso, morte, fantascienza e violenza sono mescolati nel gran calderone maneggiato da due pietre miliari del cinema come Tim Miller e David Fincher. La serie, vietatissima ai minori, gode della possibilità di trattare argomenti spinosi e spinti proprio perché animata. Questa libertà permette a Love, Death & Robots di raccontare in modo innovativo e quanto mai disturbante storie mai viste prima in una piattaforma digitale.
2) The Twilight Zone
Lì dove normalità e ignoto si mescolano, nasce The Twilight Zone. Una serie del 1959 che è una pietra miliare della fantascienza e dell'horror psicologico. A tratti totalmente disturbante, Ai confini della realtà ci racconta le vite di persone che improvvisamente vengono stravolte dall'incontro con qualcosa di soprannaturale. La paura e l'angoscia permeano la serie tv, la zona d'ombra della sensibilità umana viene pizzicata da questa produzione.
Per riassumere questo capolavoro c'è bisogno di citare la sua tag-line: "C'è una quinta dimensione oltre a quelle che l'uomo già conosce. Questa è senza limiti come l'infinito e senza tempo come l'eternità. Questa è la regione intermedia tra la luce e l'oscurità, tra la scienza e la superstizione, tra l'oscuro baratro dell'ignoto e le vette luminose del sapere: è la regione dell'immaginazione, una regione che potrebbe trovarsi Ai confini della realtà". Buon viaggio.
1) Twin Peaks
Non poteva non essere al primo posto il capolavoro del Maestro Lynch (con la M- volutamente maiuscola). Twin Peaks è un viaggio alla scoperta di altri mondi, è un'introspezione dell'animo umano e delle sue paure più nascoste. La serie tv di David Lynch è un qualcosa di tremendamente inenarrabile. Tutte le nuove produzioni ne risentono, quasi tutte quelle che trovate in questa classifica sono state condizionate da Twin Peaks. L'onirico della mente di Lynch ci trasporta nella cittadina di Laura Palmer, colei che è stata uccisa da uno spirito del male.
Chi ha ucciso Laura Palmer? La domanda psicotica che ha sconvolto i primi anni novanta e che è tornata a sconvolgerci qualche anno fa con la terza parte della serie. Un capolavoro distopico e disturbante, una storia terribile per cui non riesci a dormire la notte. E quella faccia ai piedi del letto, quei capelli lunghi e brizzolati, quello sguardo demoniaco. Nel pronunciare il nome BOB viene la pelle d'oca a una generazione intera.