La diciottesima puntata di Young Sheldon, intitolata A Couple Bruised Ribs and a Cereal Box Ghost Detector, ha chiuso la storyline lasciata in sospeso la settimana scorsa. Non è stata vincente, a mio parere, la scelta poi di dedicare la puntata alla signora Hutchins che è in fin dei conti la versione femminile di Stuart che – ammettiamolo – non era uno dei personaggi più divertenti di The Big Bang Theory (leggi qui 5 cose che non sai della fine della serie). Quindi non è stato sicuramente l'episodio più brillante e divertente di questa terza stagione ma ci ha riservato qualche momento divertente.
Mi sono piaciute molto però le scene che hanno visto protagonisti Georgie e Connie.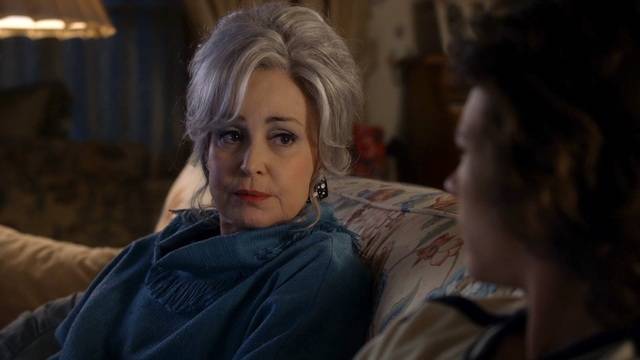 I due, dopo aver avuto un'interessante conversazione sulle relazioni sentimentali, hanno cominciato a riflettere sulla loro situazione. Georgie, dopo aver raccontato che la sua ragazza Jana voleva una relazione seria e che lui non sapeva se si sentiva pronto per questo, ha chiesto a sua nonna un consiglio. Lei lo ha esortato a spassarsela fin quando non si fosse sposato e a non legarsi a nessuna ragazza in maniera esclusiva. Georgie è stato molto felice di aver ricevuto questo consiglio e le ha detto che anche Dale gli aveva suggerito la stessa cosa. A quel punto Connie si è ingelosita e ha cominciato a temere che il suo fidanzato stesse uscendo con altre donne.
Ha chiesto dunque a suo nipote se sapesse qualcosa e non ha ottenuto da lui nessuna informazione se non il fatto che Dale era rimasto molto amico della sua ex moglie. Quando Connie è uscita con il suo fidanzato, allora lo ha messo sotto torchio per scoprire la verità e ha capito che l'uomo si vedeva solo con lei. Allora si sono finalmente interrogati sulla natura della loro relazione e hanno ammesso per la prima volta ad alta voce che stavano facendo sul serio. Anche Georgie ha fatto intendere a Jana quello che provava davvero per lei e le ha detto che, dato che erano ancora giovani, non voleva legarsi a lei in maniera esclusiva. La ragazza però non l'ha presa affatto bene e lo ha lasciato.
Sheldon invece in questa puntata di Young Sheldon ha capito quanto sia importante preservare le amicizie grazie alla signorina Hutchins.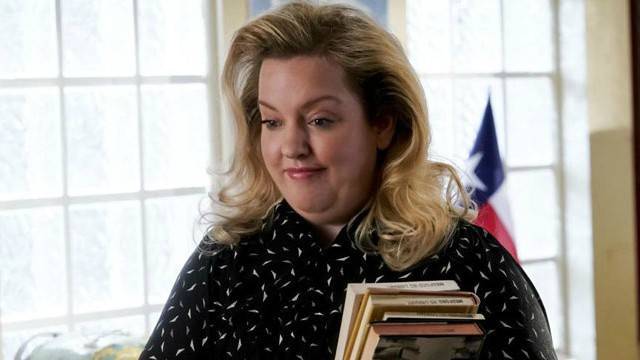 La dolce bibliotecaria è andata, infatti, a vivere a casa Cooper per qualche settimana, dopo che a causa di George ha subito un brutto incidente. L'uomo durante una partita di football, per evitare che restasse sola, l'ha invitata a restare a bordo campo. Ma quando un ragazzo stava per colpire George, lui si è spostato e il giocatore ha preso in pieno la signorina Hutchins, facendola cadere a terra. Il padre di Sheldon allora, sentendosi in colpa, si è molto prodigato per lei e si è addirittura occupato dei suoi due gatti. La bibliotecaria durante il suo soggiorno lì si è ritrovata invece contro la sua volontà coinvolta nel litigio scoppiato tra Mary e Sheldon.
Quando Mary ha scoperto che suo figlio aveva rischiato di far perdere il lavoro a John, gli ha vietato di andare all'Università a seguire i corsi, facendo andare su tutte le furie suo figlio. Gli ha detto, infatti, che non sarebbe potuto andare finché non fosse stato abbastanza maturo. Sheldon allora si è sfogato con la signorina Hutchins e le ha raccontato di come fosse convinto che il suo professore si fosse preso i meriti per la sua idea e ha accusato Mary di averlo messo ingiustamente in punizione. Durante l'ennesimo litigio tra Sheldon e sua madre avvenuto a cena, la bibliotecaria si è intromessa e ha dato un prezioso consiglio al suo piccolo amico.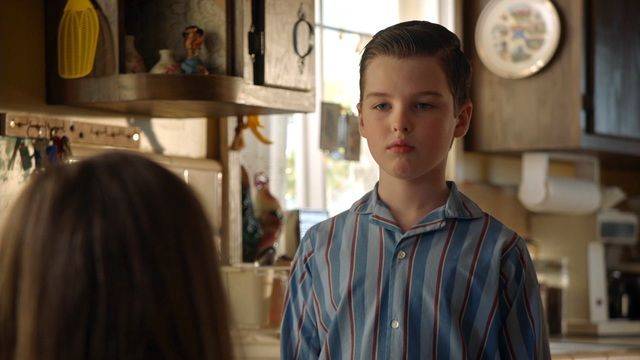 Gli ha detto che qualche tempo prima aveva litigato con qualcuno che era molto importante per lei e che da quel giorno si era spesso pentita di non avergli chiesto scusa quando ne aveva avuto la possibilità. Sheldon ha capito quindi che talvolta non importa chi abbia ragione o torto ma bisogna saper fare ammenda per poter conservare un importante rapporto. Ha chiesto quindi scusa prima a John Sturgis e poi a sua madre e ha ottenuto il permesso di poter frequentare nuovamente le lezioni di Sturgis.
Una puntata molto debole è stata quindi questa soprattutto se paragonata a quelle delle passate settimana. Sono stati pochi momenti in cui abbiamo riso di gusto e il ritmo dell'episodio è stato piuttosto lento. Il personaggio più esilarante è stato, come al solito, quello di Connie che con la sua scenata di gelosia ci ha fatto davvero ridere e che ha brillato nelle sue scene insieme a Georgie. Anche se continuo a fare il tifo per John Sturgis, devo ammettere che stavolta ci hanno mostrato che Connie e Dale funzionano molto bene insieme.
Un altro personaggio che ho veramente adorato in questa puntata di Young Sheldon è stato quello di George. Quello che ha fatto alla sua collega alla partita non è stato certamente molto nobile, ma dopo si è preso cura di lei con tale devozione che gli abbiamo perdonato tutto. Ogni volta ci sta dimostrando sempre di più quanto fosse sbagliata l'opinione che ci eravamo fatti di lui, guardando The Big Bang Theory (scopri qui come è cambiato da una serie all'altra). La scena finale della puntata è stata molto divertente e ci ha mostrato la straordinaria mimica facciale che ha questo attore.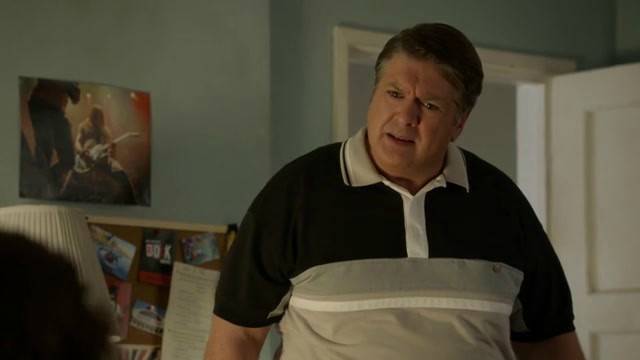 Ma ho apprezzato che Young Sheldon stia raccontando anche i problemi adolescenziali di Georgie: il ragazzo si sta dimostrando sempre più dolce e gentile e sono curiosa di scoprire come andrà a finire la sua storia con Jana. Missy poi è stata particolarmente tenera nella scena in cui ha riconosciuto quanto fosse difficile essere una madre e ha offerto il suo aiuto a Mary. Ora dovremo aspettare il mese di aprile per poter vedere una nuova puntata e spero che la prossima possa essere più originale e divertente di questa.