# #
Volente o nolente – se non siete fan del genere – Orgoglio e Pregiudizio fa parte del bagaglio culturale di noi tutti, ed è indubbiamente il romanzo più celebre di Jane Austen.
Delle sue opere, in particolare di questa, esistono infiniti adattamenti e rifacimenti, persino parodie.
Di Orgoglio e Pregiudizio conosciamo la storica e sognante serie della BBC del 1995, con Colin Firth nei panni di Mr. Darcy – come dimenticare l'epica scena dell'uscita dall'acqua con tanto di camicia bagnata che l'ha consacrato a sex symbol? -, ruolo che poi ha ripreso nella trilogia di Bridget Jones, ispirata appunto all'opera. O ancora, il film del 2005 con Keira Nightley nel ruolo della protagonista Elizabeth Bennet.
Solo quest'anno è uscito il film parodia tratto dal romanzo Orgoglio e pregiudizio e zombie; sempre tra gli apocrifi abbiamo anche il giallo Death comes to Pemberley, che è approdato sullo schermo come miniserie nel 2013. Esiste persino una webserie su YouTube chiamata The Lizzie Bennet Diaries.
# #
Nel calderone di tutti questi adattamenti, di cui in fondo non ci stancheremo mai, ce n'è uno in particolare di cui voglio parlarvi oggi: Lost in Austen. Non è certo tra le trasposizioni più famose di Orgoglio e Pregiudizio, tanto che credo che ad averlo visto dopo la sua messa in onda siamo stati io e un pugno di appassionati della Austen. Nonostante ciò è stato ben accolto dalla critica.
Lost in Austen è una miniserie composta da quattro episodi, trasmessi nel 2008 da BBC One, che a mio avviso spicca tra le varie versioni dell'opera per il twist che decreta la sua brillante originalità. Prima di essere un prodotto riuscito, Lost in Austen è prima di tutto divertente da guardare per le sue premesse: la protagonista di questa versione di Orgoglio e Pregiudizio non è Elizabeth Bennet, bensì Amanda Price (Jemima Rooper), un'impiegata di banca che vive ad Hammersmith, Londra. Sì, nel ventunesimo secolo.
# #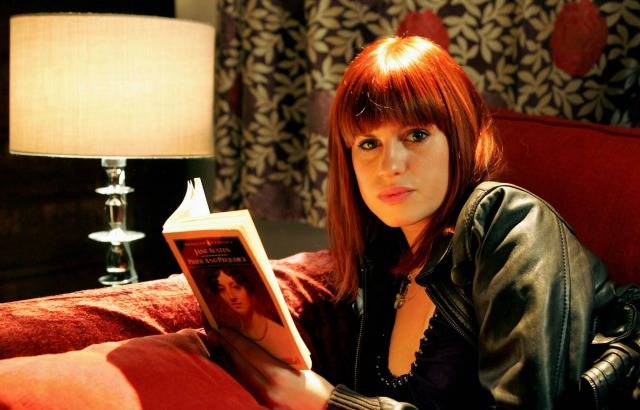 Amanda è una ragazza fuori dal suo tempo, caratteristica che in parte, potremmo dire, la accomuna ad Elizabeth. È follemente innamorata della Austen, e Orgoglio e Pregiudizio è il suo personale appuntamento quotidiano durante il quale può estraniarsi dal mondo reale e vivere in quello apparentemente fittizio di Elizabeth Bennet.
Non a caso il primo episodio esordisce con le parole di Amanda, che ricalcano il celebre incipit del romanzo:
"È una verità universalmente riconosciuta che non vediamo l'ora di evadere. Io evado sempre con il mio libro preferito: Orgoglio e Pregiudizio"
Amanda ama tutto di questo romanzo: la cortesia, il linguaggio, le maniere e la sua storia d'amore, ma più di tutti ama la protagonista. Purtroppo il mondo in cui vive è molto distante dal suo ideale: è un'impiegata di banca ed è fidanzata con un ragazzo disgustoso che le chiede di sposarlo da ubriaco e con un apribottiglie a mo' di anello. Decisamente tutto l'opposto del romanticismo da lei anelato, e proprio come ha imparato dalla sua eroina, non si piega ad accontentarsi di una vita infelice ed un compagno sgradevole, perché sa quanto vale veramente.
Proprio la sera della proposta, però, come per magia si ritrova Elizabeth Bennet nel suo bagno, giunta nel suo mondo attraverso una porticina mai vista prima che collega le loro case. Quest'ultima si ritrova nell'Inghilterra moderna proprio per lo stesso motivo per cui Amanda agogna una vita diversa: curiosa ed insoddisfatta della vita a Longbourn, che le sta decisamente troppo stretta, ricomincia in un posto molto molto lontano.
Così Amanda si ritrova letteralmente Lost in Austen. Viene accolta nella tenuta dei Bennet in veste di amica di Elizabeth, che viene considerata via per un viaggio "in città". Degna di menzione è Alex Kingston, che conosciamo per la sua interpretazione di River Song in Doctor Who, nei panni della signora Bennet.
Il momento della storia in cui Amanda fa capolino dai Bennet è quello in cui l'arrivo dei Bingley a Netherfield è appena stato annunciato ed Elizabeth e Darcy sono ancora estranei.
Amanda si prodiga per far quadrare tutti gli avvenimenti del romanzo ed evitare improvvise deviazioni, cercando disperatamente di "riservare" Darcy per il ritorno di Elizabeth, cosicché la loro storia possa andare come da programma. Non tutto però va per il verso giusto, e la sua bizzarra presenza da forestiera sballa gli equilibri.
Senza dubbio la comicità di Lost in Austen sta nell'inserimento di una giovane donna del ventunesimo secolo in un contesto tra il borghese e l'aristocratico degli inizi dell'800. Pensate ad un modesto reddito di 27 mila sterline del 2008 che incommensurabile ricchezza potesse significare duecento anni fa! O quanto una canzone pop come Downtown di Petula Clark potesse essere astrusa per chi si diletta in esibizioni al pianoforte dopo cena.
Nell'assurdo viaggio di Amanda non mancano le difficoltà, le pieghe apparentemente sbagliate che prendono le vicende, ma in fondo potrebbe rendersi conto che lo scambio con Elizabeth non sia del tutto sconclusionato né casuale.
Lost in Austen narra con la stessa leggerezza ed ironia della Austen l'universo di Orgoglio e Pregiudizio, l'ipocrisia e le regole sociali dei tempi, la smisurata importanza della propria classe sociale, che come un compartimento stagno non ammetteva intrusioni dall'esterno. Il carattere spigoloso e saccente di Darcy è lo stesso, ma in compenso Lost in Austen rivaluta e concede una seconda possibilità a figure negative del romanzo.
Troverete simpatici rimandi alla serie del 1995, tra cui la storica scena di Colin Firth zuppo, e tanti altri giocosi elementi. La fine, poi, è tutta da scoprire.
Insomma, non devo essere io a dirvi di filare a guardare questa Serie Tv, se amate Orgoglio e Pregiudizio!