# #
La maggior parte di noi ha imparato a conoscerlo grazie al ruolo del fisico teorico più strampalato del mondo delle Serie TV: Sheldon Cooper. Grazie alla sua interpretazione del ruolo da protagonista in "The Big Bang Theory", Jim Parsons ha ottenuto quattro Emmy Awards ed un Golden Globe. Lo abbiamo amato (come si può non farlo?), abbiamo riso con lui, siamo rimasti attoniti dinnanzi alla sua strabiliante intelligenza e lo abbiamo osservato sbigottiti quando non riusciva a comprendere le più semplici "convenzioni sociali". Non avremmo mai potuto non parlare anche di lui nei nostri esordi assurdi targati #VenerdìVintage! Ma chi era Jim Parsons prima di diventare per tutti "Sheldon"?
# #
Nato e cresciuto in Texas (sì, proprio come il nostro Shelly!), mostra sin da piccolo il suo interesse verso la recitazione. Ha dichiarato di essere stato molto influenzato da show come "Tre cuori in affitto", "Casa Keaton" ed "I Robinson". Mentre frequenta l'università per ottenere la laurea specialistica inizia ad esibirsi presso l'Old School Theatre, poi si trasferisce a New York per continuare la sua carriera da attore nel migliore dei modi. Tra le sue prime apparizioni "importanti" ricordiamo che ha partecipato alla Serie "Ed" (2002), ha recitato in "Taste" (2004) ed è stato un personaggio regolare nella Serie "Giudice Amy" (2005).
# #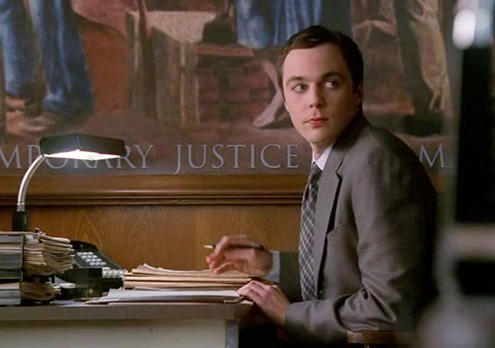 Abbiamo avuto modo di vederlo anche nel mondo del cinema, in "Tu mi ami" (2003), "La mia vita a Garden State" (2004), diretto da Zach Braff (ndr immaginate insieme due personaggi come Sheldon e J.D.? Mi viene da ridere al solo pensiero…), e in "Scuola per canaglie" (2006). Ha recitato anche al fianco di attori del calibro di Morgan Freeman in "10 cose di noi" (2006).
Nel 2007 inizia ad interpretare Sheldon nella Serie TV "The Big Bang Theory", ed a quest'ultima deve buona parte del suo successo televisivo. Basti pensare che nel 2014 è divenuto, assieme ai suoi colleghi Johnny Galecki e Kaley Cuoco, l'attore televisivo più pagato di sempre negli Stati Uniti: guadagna infatti un milione di dollari ad episodio!
Successivamente lo vediamo nel film "Un anno da leoni" (2011), "I Muppet", dove interpreta Walter umano, nel 2014 collabora nuovamente con Zach Braff partecipando al suo film "Wish I was Here" e nel 2014 interpreta Timmy ne "The Normal Heart", il film drammatico diretto da Ryan Murphy.
Ha doppiato un episodio de "I Griffin" (2009) interpretando Sheldon Cooper, ha prestato la sua voce per il videogioco "Marvel Super Hero Squad: The Infinity Guantlet" (2010) per interpretare Nightmare. È stato la voce di Jeep/Carl in "Eureka" (2011) e quella di Oh in "Home – A casa" (2015).
Nel 2015 riceve una stella sulla Walk of Fame di Hollywood e viene nominato l'attore più pagato della TV, con un guadagno di 29 milioni di dollari.
Insomma, il nostro amato Jim Parsons ha avuto non poca fortuna nella sua carriera televisiva e cinematografica!