Molti di voi mi odieranno. Altri ancora saranno d'accordo con le mie parole. Eppure oggi è giunto il momento di dire la mia su una delle Serie Tv tra le più amate e discusse degli ultimi tempi. È giunta l'ora di urlarlo al mondo, in modo che il messaggio arrivi una volta per tutte in modo chiaro e cristallino. Io odio The Walking Dead. Esatto, parlo proprio della trasposizione televisiva dell'omonimo fumetto.  Dopo otto anni ancora tenta disperatamente di portare avanti una storia morta e sepolta da tempo. Deceduta come gli zombie che fanno da sfondo all'intera vicenda, The Walking Dead non riesce più a imporre il giusto mordente e a trasmettere qualcosa allo spettatore che si ritrova dopo sedici puntate all'anno con una sola sensazione dentro: il vuoto.
L'aspetto che più fa rabbia è osservare un prodotto iniziato con ottime premesse. La Serie Tv ha saputo stupire per varie stagioni prima di cadere sempre più pericolosamente nel baratro della noia e della piattezza. The Walking Dead è una grossa occasione mancata o un esempio lampante di quegli show che dovrebbero farla finita ma che invece si ostinano a portare avanti una storia spettro del suo passato.
Fosse stata sempre orribile sarebbe stato diverso, avrei accettato il suo destino più bonariamente.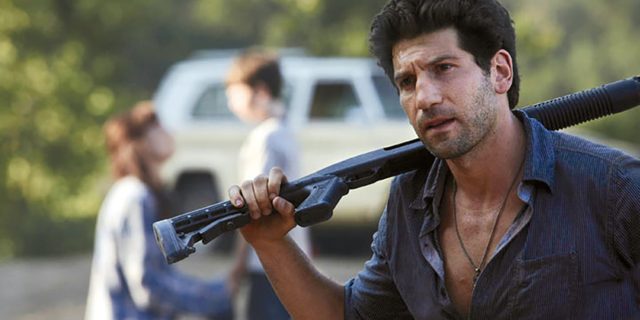 Invece no, The Walking Dead vuole che tu ci creda.
Vuole illuderti che un horror televisivo con gli zombie possa essere all'altezza della sua concorrenza cinematografica e magari farti anche riflettere. La sua crociata per un po' va anche a buon fine. In The Walking Dead difatti si rimane colpiti per la qualità degli effetti speciali e di come i più profondi e selvaggi istinti umani tendano a prendere il sopravvento in una società distopica senza più leggi. Villain carismatici e rapporti personali intricati e travagliati sono stati un altro grande punto a favore del suo passato.
Tuttavia di questo meraviglioso dipinto non è rimasto più nulla se non gli espedienti scenici, i quali risultano un merito relativo (se escludiamo le ultime 2 stagioni dal discorso, ricordate il cervo?). In The Walking Dead la prima cosa a essere morta è la sua sceneggiatura: inconsistente, prevedibile e sempre uguale. In 16 puntate non viene raccontato pressoché nulla. Ai fini della trama basterebbe vedere il primo episodio, l'intermezzo di stagione e l'epilogo.
Tre puntate in totale per riuscire a capire la storia risparmiando almeno 13 ore di tempo, altrimenti buttato.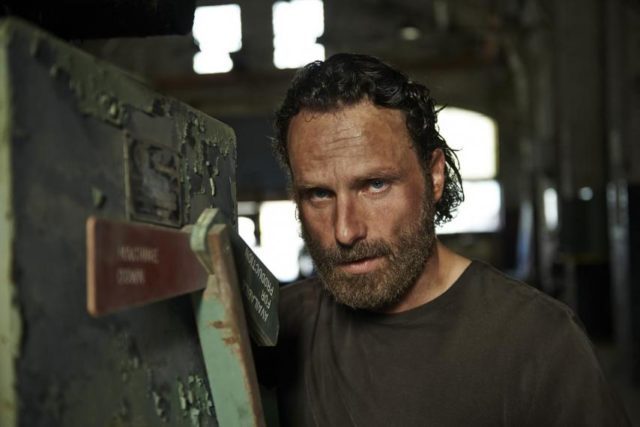 The Walking Dead risulta avere uno schema tanto semplice quanto efficace. Il gruppo si sposta e si aggiudica la fiducia di nuovi sopravvissuti che prenderanno il posto di altri che nel frattempo moriranno. Inizialmente ci saranno attriti e diffidenza ma in seguito tutti riconosceranno in Rick Grimes il più idoneo e carismatico personaggio nel ruolo di un possibile leader e si faranno comandare da lui con imbarazzante facilità. Nonostante egli sia un personaggio odioso che non fa altro che commettere errori. Per un breve lasso di tempo vivranno una vita felice fatta di caccia, coltivazione e autoironia sulla loro triste sorte finché non comparirà un nuovo villain che vorrà ucciderli o depredarli. Più forte del precedente in perfetto stile Dragon Ball.
Ripetete questo copione per tre o quattro volte e avrete anche voi la ricetta per un perfetto The Walking Dead amatoriale.
Come se non bastasse i problemi non riguardano solo la sceneggiatura. La recitazione è tutto sommato mediocre e gli attori sono ben poco carismatici ed espressivi, (chiaramente ci sono anche delle piacevoli eccezioni, ma ormai si contano sulle dita di una mano). Questo badate bene è un problema mai risolto fin dall'inizio. Un rospo che ho ingoiato con fatica poiché illuso di poter vivere altre emozioni, relegando la recitazione in un angolo. Tuttavia, ora che le uniche emozioni sono la rabbia e l'odio è giusto che questo aspetto venga messo alla luce. La recitazione in The Walking Dead è pessima così come la sua sceneggiatura. Nonostante ciò, sarò trasparente e non vi mentirò, in fondo può essere un problema relativo. Difatti per noi amanti degli zombie è importante vederne quanti più possibile fare a pezzi i nostri protagonisti.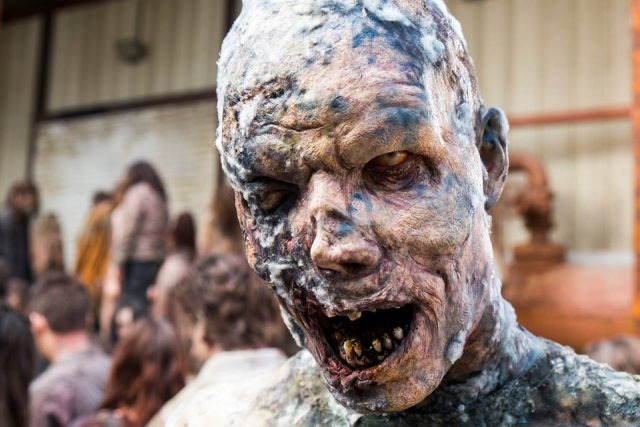 Arriviamo quindi all'ennesima delusione di questo sopravvalutato e pessimo show: gli zombie. Dovrebbero essere il punto centrale di ogni survival horror che si rispetti, soprattutto se il tema è incentrato su queste creature. Invece ancora una volta mi sento pugnalato alle spalle, disilluso da una promessa non mantenuta. Se per le prime tre stagioni possiamo dare un ruolo anche abbastanza rilevante ai vaganti, dopo di esse la situazione cambia drasticamente.
I morti viventi in questa Serie Tv sono completamente inutili, potrebbero benissimo non esistere e la storia andrebbe avanti lo stesso. Non hanno alcun tipo di ruolo o scopo, se non quello di comparire una volta ogni tanto per ostacolare i protagonisti i quali ormai li fanno fuori senza troppi problemi. Non fanno paura, non sono utili ai fini della trama e non subiscono alcun tipo di evoluzione, il che può andare bene per un film, ma per una Serie Tv che va avanti da otto anni mi aspetto ben altro.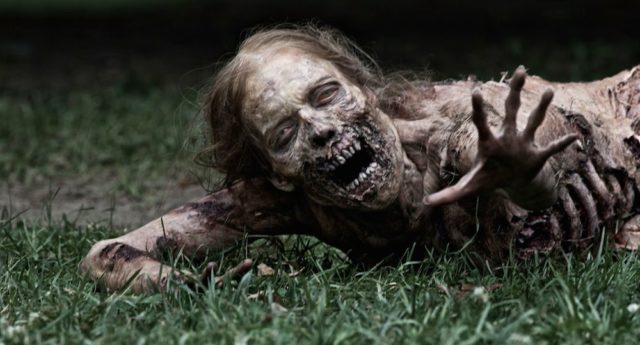 Se vogliamo spostare la nostra attenzione sui rapporti sociali intrapresi dai protagonisti, abbiamo un'ulteriore nota dolente. Spesso le loro interazioni risultano ignobilmente prevedibili e prive di spessore. Al contrario del principio dello show, alcuni personaggi risultano essere delle semplici macchiette posizionate nel plot solo per riempire una sceneggiatura pessima. Oltre ciò abbiamo anche buchi di trama importanti o situazioni potenzialmente interessanti buttate completamente all'aria (Gareth parlo di te!). Inoltre è avvilente non avere uno straccio di risposta sul fulcro dell'intera Serie Tv: come è iniziata questa apocalisse? Probabilmente i produttori hanno intenzione di farcelo sapere nel gran finale a cui assisteranno in pochi se questo è l'andazzo.
Possiamo intuire questo obiettivo nel loro fallimentare progetto di rinascita dello show. Negli ultimi due anni The Walking Dead ha tentato con fatica di riprendersi il suo pubblico con espedienti poco intelligenti. Abbiamo sperato in Negan, un villain che finalmente potesse essere all'altezza, se non superiore, al Governatore.
Speranza deceduta dalla stagione successiva nella quale il nostro antagonista non fa nulla di realmente rilevante se non far sentire Rick e il suo gruppo dei falliti e dei pessimi cuochi.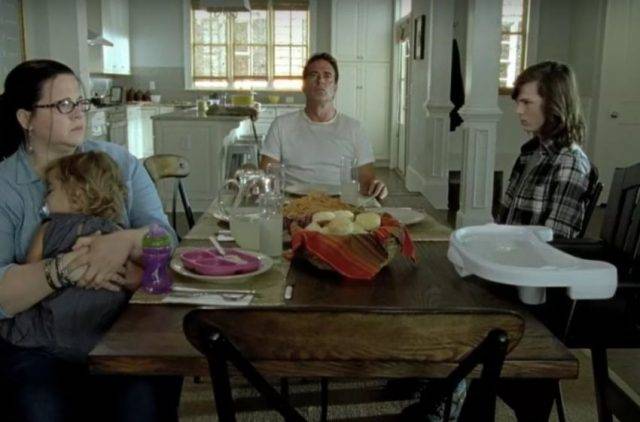 Non dandosi per vinti i produttori hanno deciso che era giunto il momento di far morire qualcuno di importante e così hanno fatto fuori Carl, il figlio di Rick. Questo clamoroso evento ha rimesso sulla cresta dell'onda la Serie Tv per altri mesi per poi farla sprofondare nuovamente nella sua misera e inerme condizione. Persino lo stesso protagonista Rick Grimes ha deciso di abbandonare la Serie Tv (qui scendiamo nel dettaglio e vi raccontiamo la vicenda).
Si sarà stancato anche lui di farsi prendere in giro? Io decisamente sì, mi sono stancato. Proprio per questo motivo ho abbandonato questo show. The Walking Dead rappresenta la prima Serie Tv della mia vita che interrompo. Una Serie Tv che ha deluso tutte le mie aspettative lasciandomi solo un vuoto interiore incolmabile e tanta amarezza.
A questo punto il mio appello è rivolto ai produttori e ai creatori della Serie Tv. Vi chiedo con il cuore in mano di trovare il coraggio di porre fine a questa agonia così come io ho trovato il coraggio di scrivere queste parole.
Vi prego di farlo, per mantenere vivo in me un degno ricordo e per farla terminare con un briciolo di dignità.