Ci eravamo lasciati nella scorsa puntata di The Walking Dead con un quadretto poco allegro.
Comunità divise, zombie parlanti. Riprendiamo esattamente da dove abbiamo lasciato il precedente episodio di The Walking Dead. La situazione non migliora, anzi nella prima parte peggiora letteralmente.
Rosita sviene, disidrata e sfinita. Eugene è disperso. Gli zombie si accaniscono con il loro vociare, ci viene presentato il campo di Daryl, continua la mancanza di fiducia tra Michonne e il gruppo di Magna. Quelle persone le piacciono, la incuriosiscono, ma non c'è niente da fare: se manca non si fanno passi avanti.
Hilltop ci illude che le cose almeno da qualche parte possano andare bene, ma è solo apparenza. L'agricoltura prospera, il centro medico funziona, la gente è in armonia, ognuno ha un compito. Ognuno ha il suo, tranne Jesus, costretto a vivere il ruolo di qualcun altro.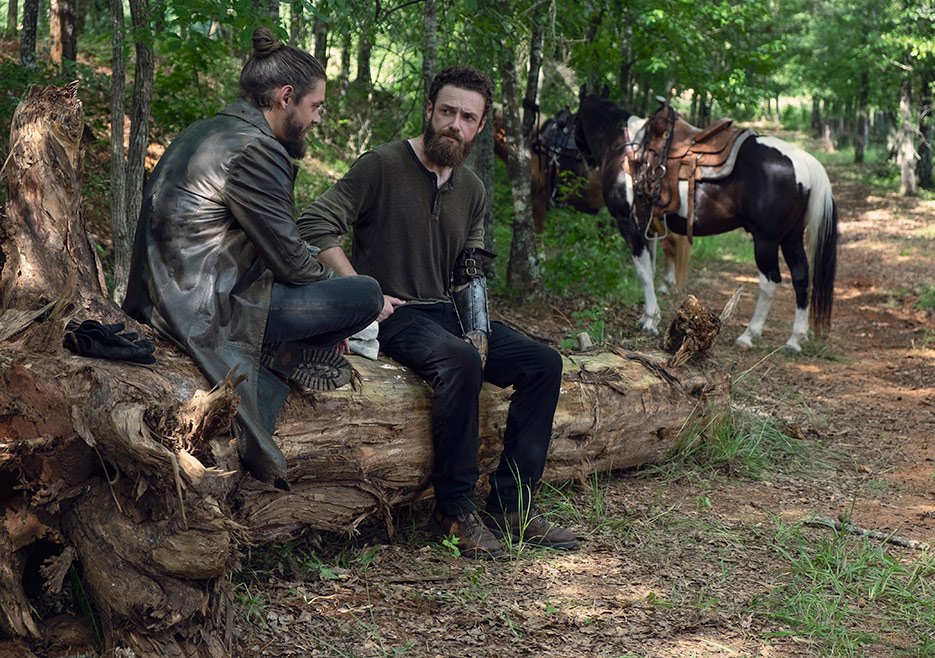 Il sistema non funziona. Mancano i leader.
Impariamo che anche Maggie se ne è andata. E' da qualche parte a vivere con Georgie e ad aiutare nuove comunità. Le parole usate da Carol per descrivere lo stato di Ezekiel altro non sono che uno specchio per la situazione di tutti.
"Sta facendo fatica a voltare pagina"
E' così per tutti. Soffrono, sono persi, sono slegati. Definiscono "strano" il vedersi dopo tanto tempo, non sono aggiornati l'uno sull'altro, hanno segreti e rancori che ancora non possiamo spiegare. Il nuovo gruppo, quello di Magna, non è da meno. Sono commossi e sfiniti da ciò che hanno perso. Sono arrabbiati, tristi, diffidenti.
Al tempo stesso però sono umani e come tali possono decidere di crede in una possibilità. Possono scegliere di essere fiduciosi e aperti. Possono cercare una strada, una "via di comunicazione", proprio come Jesus e Aaron.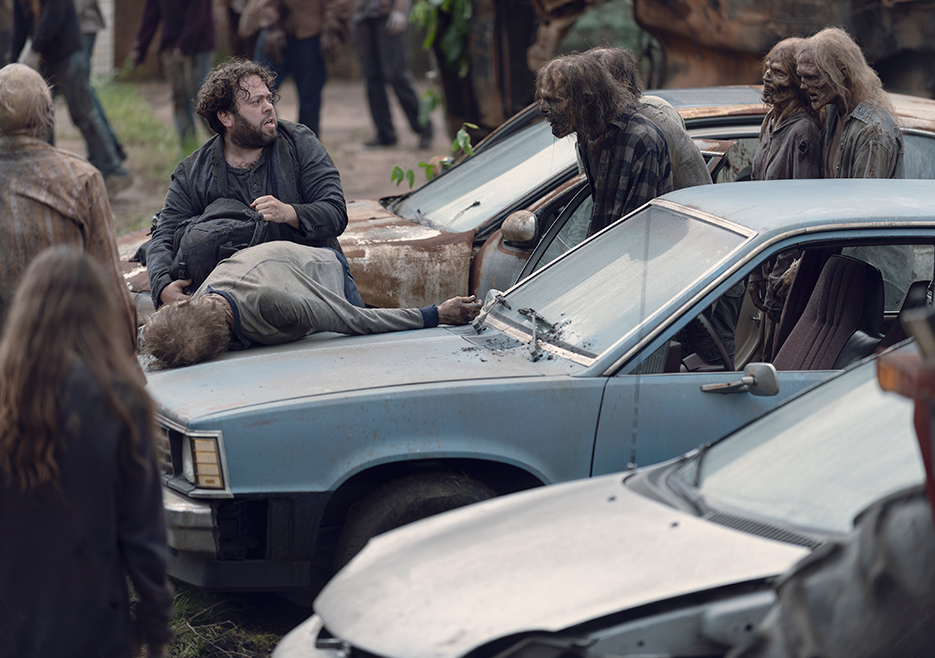 Nel mondo di The Walking Dead questa comunicazione può nascere da tante cose.
Può essere una vecchia amica che ti chiede aiuto, come Carol fa con Daryl dopo essersi presa cura di lui. Il taglio dei capelli è come una piccola rinascita temporanea per l'arciere.
Può essere un ragazzino che ti disobbedisce per farti vedere di che stoffa è fatto. Dapprima Daryl respinge Henry perché non vuole rischiare di legarsi a lui in nessun modo, ma poi è costretto ad arrendersi al fatto che è un compito dal quale non può e non vuole tirarsi indietro.
Può essere un cane che non ti lascia solo e in qualche modo ti aiuta nel tuo scopo. Non importa se il tuo obiettivo è irraggiungibile o se rischi la vita per esso. Se è ciò di cui hai bisogno lo devi fare.
"Non ho mai trovato il corpo, mai"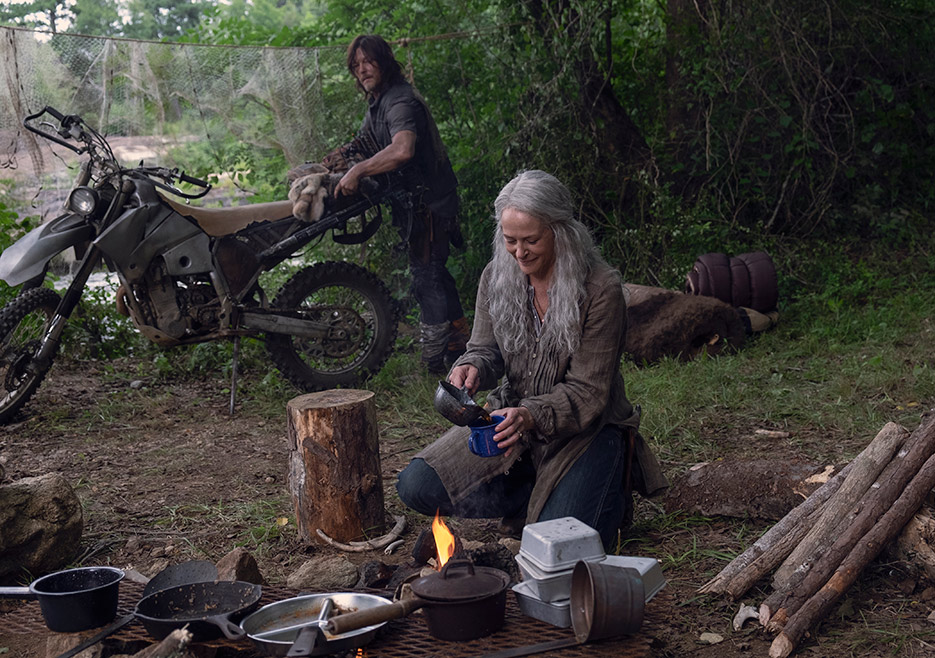 O ancora, quella comunicazione di cui tutti hanno bisogno, può nascere da uno strumento musicale spezzato che con maestria diventa una grande lezione di vita per i nostri sopravvissuti.
La loro risposta alla sconfitta è stata l'unione. Si sono seduti intorno a un fuoco (come raccontava Rick a Negan), si sono scambiati storie sotto forma di musica e disegni. E così hanno creato un'identità comune. E poi..hanno costruito delle comunità e sono cresciuti e quanto più crescevano tanto più i Neanderthal si ritiravano, e poi, dopo un po', sono semplicemente morti.
Dopo la "morte" di Rick sono successe tante cose che ancora non ci è dato sapere. Le X sulle schiene di Michonne e Daryl, le comunità così separate, la partenza di Maggie sono solo alcuni dei sintomi del cancro che rischia di divorare i pochi sopravvissuti.
Sopravvive chi riesce ad adattarsi. Condividere tutto è parte di ciò che ci rende più forti.
Luke conclude la sua spiegazione. Dopo averlo fatto anche lo spettatore si può rendere conto che è tutto reale. E' nel momento in cui i gruppi trovano la volontà e la forza di riunirsi che riescono a vincere e a superare il dolore.
Dopo tanto, tantissimo tempo, è proprio a Hilltop che assistiamo ad una piccola ricongiunzione tra i vari mondi. Hilltop è stata spesso teatro di commoventi riunioni e, anche se questa ha una nota di amarezza, si può dire che "non aspettavamo altro".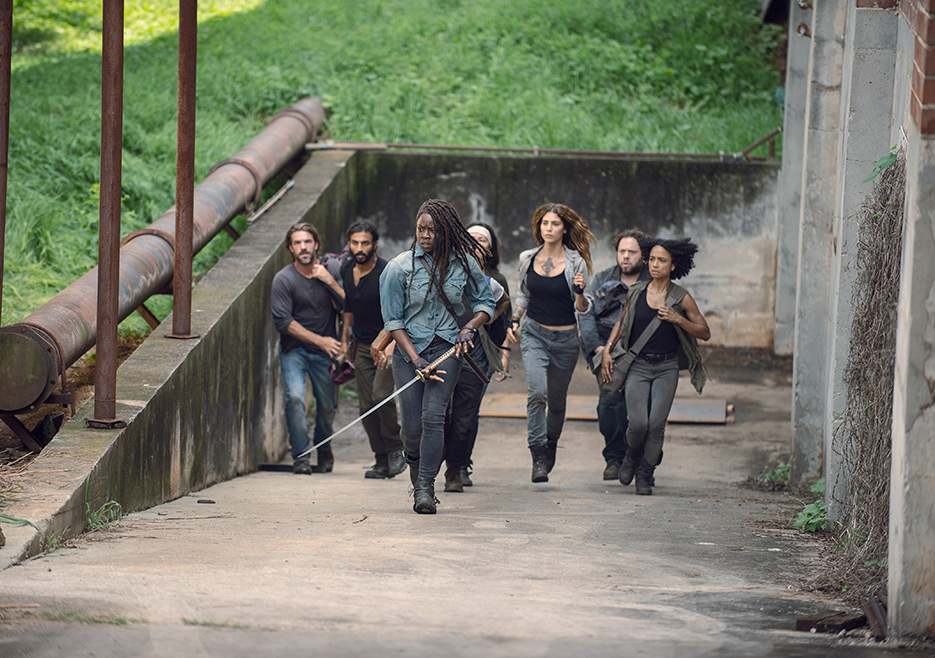 Prima di salutarci, vi invitiamo a passare dalla nostra gemellata The Walking Dead ITA Family. Sulla loro pagina Facebook troverete anche il promo sottotitolato!
Non dimenticatevi di passare anche dai nostri amici di:
Caryl Italia e Dwighty Boy – Austin Amelio Italia
FIGHT the Dead. FEAR the living – The Walking Dead gdr