# #
"Un pezzo, due pezzi, un penny e un decino"
Brividi e io finisco per vedere tutta Daredevil 2 anche se non c'era più Wilson Fisk (che poi alla fine in una puntata comunque è saltato fuori). The Punisher è la cosa migliore non solo di Daredevil 2, ma della Marvel in generale. Almeno per me, almeno per chi lo ha conosciuto dai fumetti e poi se lo è ritrovato magicamente sullo schermo.
# #
I Marines americani lo hanno come mito ed esempio. Ne leggono i fumetti e appendono il suo simbolo nello stanzone. I fumetti di The Punisher sono tra i più venduti tra le varie testate Marvel. Esiste una serie MAX (la versione per adulti dei fumetti Marvel) su The Punisher, scritta da Garth Ennis, che è in pratica un capolavoro. E ogni immagine della nuova serie Netflix mi fa venire un magone inimmaginabile. Empatia per Frank come per nessun altro eroe Marvel. Ma che cosa ha The Punisher in più? Cosa ci fa parteggiare per Frank nonostante i suoi metodi violenti? Cos'è che lo trasforma nell'eroe più adatto ai nostri tempi (qui un articolo sul perché può essere definito un eroe)?
1) Siamo tutti stanchi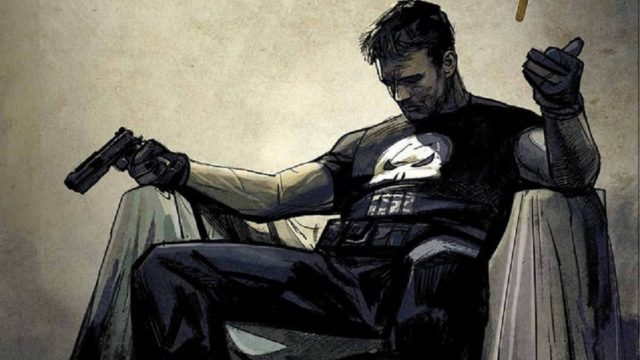 Delle cose che non funzionano, dei compromessi, delle soluzioni a metà, del dover stare sempre a sentire le solite paraculate, di vedere che in qualche modo la fanno franca. Perché sì, è un grande Daredevil che riesce a prenderli senza ucciderli e a farli arrestare. Sì, un uomo superiore. Uno che si eleva. Ma, a volte, vorremmo qualcuno di un po' meno elevato. Qualcuno più arrabbiato, che elimini il bastardo di turno senza dargli la possibilità di nuocere ancora. Nessuno dei nemici di Frank riesce a tornare. Non possono tornare. Perché la sua è una punizione, un'epurazione. Se vuoi un eroe veramente risolutivo, allora chiami The Punisher. Non gli serve niente, solo il nome e il peccatore. E non torneranno più.
# #