La notizia della cancellazione di The Punisher lo scorso febbraio era in qualche modo attesa, visto come gli show nati dal connubio tra Marvel e Netflix in quel periodo soccombevano l'uno dopo l'altro come in un effetto domino. Eppure, per quanto ormai presagita, la notizia della cancellazione non è andata giù proprio a nessuno.
Non è andata giù a Jon Bernthal, interprete di Frank Castle alias The Punisher, che ha detto addio alla serie e al suo protagonista con un messaggio carico di cordoglio, salutandolo come si farebbe con l'amico più caro. Non è andata giù a Eminem, che si è dimostrato un fan dei più appassionati (per capirci: Eminem è apparso in un one-shot dei fumetti di The Punisher per promuovere un suo album) e ha espresso anche lui tutto il suo disappunto sui social.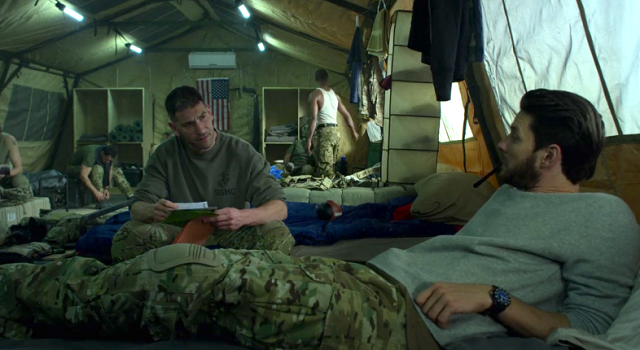 Uno che invece sembra non averla presa troppo male è Ben Barnes. L'attore, che ha prestato il volto a Billy Russo, "tramutatosi" poi in Jigsaw, si è detto contento del fatto che la serie si sia conclusa lì dove è stata interrotta. Il motivo è legato al fatto che alla fine della seconda stagione Billy Russo è morto, presumibilmente una volta per tutte. Queste sono state le sue parole:
Non ero al corrente del fatto che non avremmo avuto una terza stagione al tempo. Ma ora che so che non ci sarà, devo dire che sono davvero contento e onorato, perché questo significa che la mia storia è compiuta. E mi piace davvero raccontare storie e portarle a compimento. Quelle serie che si trascinano per 27 stagioni, e ti trovi con un nuovo problema da risolvere ogni settimana… Non sono proprio il mio genere.
Per quanto forse non condivisibile unanimemente (diciamo che una terza stagione di The Punisher la vorremmo tutti, Jon Bernthal in prima linea) il suo punto di vista è tuttavia comprensibile. Nell'arco delle due stagioni della serie, la narrazione del rapporto di amore fraterno e tradimento tra Frank e Billy è giunta a termine completando il proprio cerchio. Nel momento in cui si è conclusa non era rimasto più nulla da aggiungere. Sarebbe stato inutilmente ridondante riportare Billy tra i vivi (nulla di impossibile per la Marvel) o trovare qualche altro elemento a lui legato da cui far partire una nuova storia.
Sappiamo anche però dal finale della seconda stagione che una terza avrebbe esplorato una direzione completamente nuova. Negli ultimi momenti vediamo un Frank in pieno stile del The Punisher fumettistico, in uno scorcio di un futuro non molto lontano in cui Frank si è totalmente calato nei suoi panni di antieroe, combattendo come solo lui sa fare. E Ben Barnes non ce ne voglia, ma saremmo più contenti se la storia continuasse.