È arrivato il momento di dirsi addio, Alyssa e James hanno rotto quella corda di pretesti e deviazioni che avevano costruito per poter stare nuovamente insieme e sperare di far rivivere l'ebrezza passata e dissolta nell'apatia.
Non ha importanza, è arrivato il momento.
La distanza permetteva a tutti e due di vivere di ricordi travestendoli da realtà, il loro incontro ha celato questo travestimento e devono trovare entrambi un nuovo appiglio per dare un senso alle loro vite.
James si riversa a capofitto nel ricordo del padre, non riesce a superare una perdita così irruenta e gli strascichi di solitudine che ne conseguono. Le ceneri paterne diventano la mascotte simbolica della sua incapacità di affrontare il mondo senza che qualcuno lo porti per mano.
Ben nascosta tra i personaggi sui generis di The End of the F***ing World c'è anche la zia di Alyssa.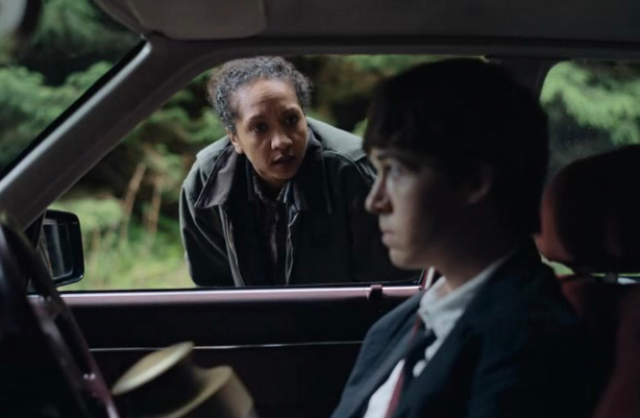 La zia potrebbe passare inosservata, invece, svolge un ruolo importante: è l'elemento razionale che tende a bilanciare gli altri personaggi. È l'unica persona con cui Alyssa riesce a relazionarsi in questa seconda stagione ed è la stessa che, con pacatezza, cerca di aiutare James a trovare un obiettivo che lo faccia andare avanti, una sua personale missione.
I due sembrano incamminarsi con tristezza e calma verso due strade diverse, il tempo della fuga è finito e non possono più permettersi di correre verso mete imprecisate. Devono prefissarsi una direzione da seguire e le direzioni prese da Alyssa e James, questa volta, non sembrano combaciare.
Avevo un nuovo piano, un nuovo scopo. Dovevo voltare pagina.
Ma le pagine del libro di James sono destinate nuovamente a condividere lo stesso inchiostro di quello di Alyssa.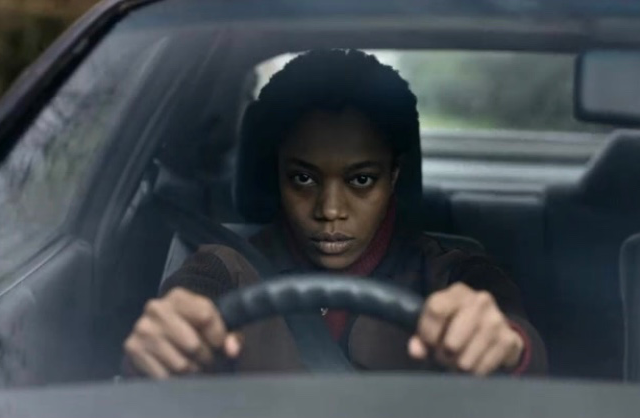 Bonnie sfreccia con la sua macchina alla stessa velocità della sua rabbia e, ancora una volta in questa stagione, è il collante pretestuoso che fa convergere i destini dei due adolescenti.
Parallelamente Alyssa, inconscia di questo nuovo intreccio di trame, affoga nel senso di colpa, le si pianifica davanti la possibilità di una vita dignitosa e tranquilla con un marito onesto e bonaccione. Lei ne è consapevole, ma la vorace voglia di libertà e di un'esistenza fuori dagli schemi e dalle convenzioni non le permettono di scendere a compromessi con se stessa. Si odia profondamente mentre rifiuta l'opportunità di quel futuro stabile che vorrebbe poter accettare andando contro la sua essenza, ma questa volta deve fare la cosa giusta ed è come commettere un crimine.
Non meriti nessuno, perchè tratti male la gente.
Questo è l'episodio delle ferite aperte che, per quanto ci si ostini a tamponare, continuano a sanguinare.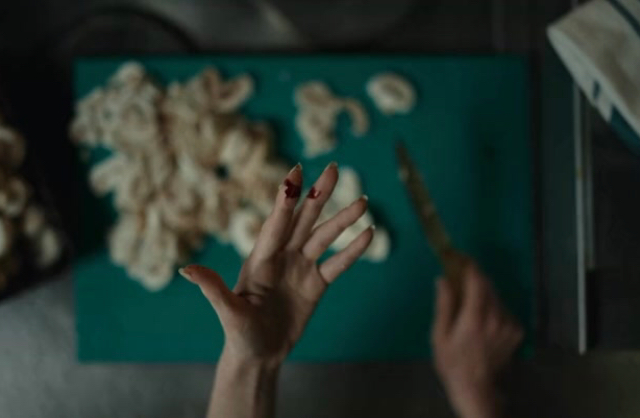 Alyssa, James e Bonnie sono perseguitati dallo stesso fantasma che si ripresenta sotto diverse forme: come senso di colpa per i primi due e come ricerca insaziabile di vendetta per la terza.
Hai dimenticato qualcosa.
È una stagione che si incentra sulla persecuzione dei ricordi. La fine del mondo, del loro mondo, scaturisce e si dipana dalla morte e dalle sue conseguenze disastrose. A nulla serve togliere il cerotto se la ferita è ancora infetta, a nulla serve la narcosi degli antidolorifici quando il dolore si sprigiona dall'interno.
È successo, ti amo.
Ci si addentra nei meandri dell'amore fatale che lega il sangue alla carne e l'ossessione psicotica alla vendetta cieca. Questo è forse l'episodio più intimo di questa prima parte di stagione, i dialoghi sono piuttosto scarni e la colonna sonora introspettiva la fa da padrone, cullandoci in questo viaggio in cui il paesaggio è la psicosi incastonata nella perdizione della solitudine sociopatica.
Il sesto episodio è il dipinto, con tenui pennellate, dell'armoniosità della tristezza.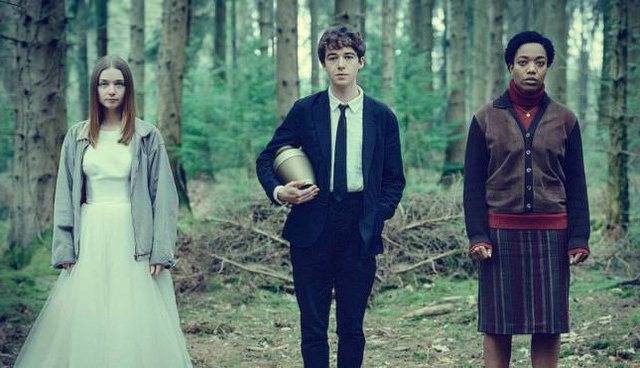 I protagonisti sono ipnotizzati dall'incapacità di provare sentimenti, a loro non importa che sia dolore o gioia, vogliono solo catapultarsi fuori dall'apatia che li irretisce. Fomentano i loro impulsi con masochismo pur di placare i vuoti che li attanagliano.
La loro eterna fuga non è finalizzata a lasciare qualcosa, ma a ritrovare una parvenza di vitalità elettrica. È per questo che, anche se a primo acchito può sembrarci un episodio come un altro, non lo è. L'incoscienza si avvicina sempre più alla consapevolezza, le carte iniziano a svelarsi e viene rappresentata con forza la potenza del bivio.
I nostri tre personaggi si fermano inermi davanti ai bivi delle loro vite, con la necessità di andare avanti e la paura di farlo. Devono inevitabilmente smettere di seguire con indolenza i loro impulsi reconditi e guardarsi in faccia una volta per tutte. Mancano solo due episodi alla fine di questa stagione, quale strada sceglieranno i nostri tre protagonisti per iniziare a curare le loro ferite?