The End of The F***ing World è da poco sbarcato su Netflix, ed è già sulla bocca di tutti. Il perché è facile intuirlo: la miscela di teen drama, cinismo, humor nero e accento smaccatamente british ha fatto breccia nel cuore del pubblico. La vicenda, semiseria e profondamente tragica allo stesso tempo, di due ragazzi rifiutati e incompresi che fuggono insieme, dando il via a una girandola di avventure a metà tra la romantica fuga d'amore e l'horror, è raccontata dal punto di vista di entrambi. Le puntate sono brevi e concise, e riescono a conciliare in 30 minuti una storia complicata e piena di svolte. Gli interpreti sono di buon livello (avete riconosciuto Asha Greyjoy, Justine di Penny Dreadful e lo sfortunato adolescente di Zitto e Balla?), e la storia è cruda e concitata proprio come il fumetto da cui è tratta.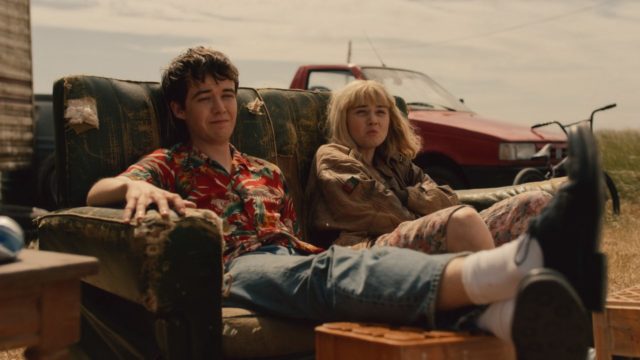 E allora perché abbiamo l'impressione di assistere a un lunghissimo, coloratissimo, spot pubblicitario?
Forse perché la confezione pare pensata troppo per piacere a un pubblico adolescente per non risultare indigesta a un'utenza, come dire, un po' più attempata. Colori accesi, sgargianti, fantasie di omicidio in salsa pop, l'atmosfera comica un po' forzata, la foga di dire tutto subito, di spiattellare i personaggi così, in faccia allo spettatore. La voce fuori campo dei personaggi che intervengono continuamente, ad esempio, finisce per diventare il solito strumento per la confezione di frasi banali, che qualunque adolescente medio scriverebbe nel suo diario, più che un vero mezzo di analisi dei personaggi o, perché no, di abbattimento della quarta parete. Alyssa, ad esempio, è un'adolescente esageratamente tipica, per quanto si tenti di farla passare per  speciale.
Durante la scena al diner, per esempio, si avverte una certa forzatura della sceneggiatura, quasi come se il comportamento eccessivo della ragazza servisse per presentarcela su un piatto d'argento come una schizzata, annullando qualsiasi sfaccettatura del personaggio. Un'evoluzione però c'è, ed è verso la fine che The End of The F***ing World dà il meglio di sé, trasformando una ragazza ribelle in una giovane donna riflessiva ma allo stesso tempo avventata, capace, nella sua follia, di essere molto più razionale di tutti gli adulti che la circondano.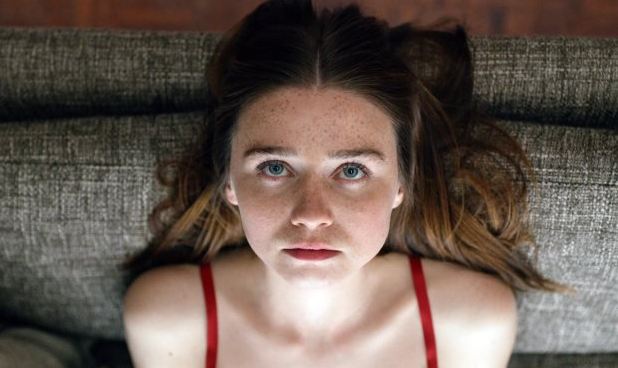 Per James il discorso è diverso. Lui non è un adolescente tipico, ed è messo in chiaro fin da subito: le sue tendenze psicopatiche, viste nel corpo acerbo di un ragazzino, ci fanno però più tenerezza che orrore. Scopriamo poi che la sua apatia è dovuta (chi l'avrebbe mai detto) a un trauma infantile: il suicidio della madre, a cui ha assistito. Si spiega così la sua mancanza (apparente) di sentimenti, e anche il cambiamento innescato dall'omicidio di Clive.
Quella che doveva essere la realizzazione di una fantasia estrema, diventa invece la molla scatenante di un processo di umanizzazione che reintegrerà James tra gli esseri umani.
Alex Lawther è molto bravo a mantenere il personaggio sul filo del rasoio tra brivido e risata, e gigioneggia molto meno di Jessica Barden. Le situazioni che si ritrovano ad affrontare Alyssa e James nel loro viaggio attraverso la periferia rurale della Gran Bretagna sono in realtà viste e riviste. Si va dall'incontro con il pervertito (must dei viaggi di formazione, pensate a Thelma e Louise)  al travestimento, alle scene alla tavola calda, alla delirante rapita a mano (letteralmente) armata al distributore, alla fuga disperata verso la libertà, stroncata da un colpo di pistola (ma è davvero la fine?).
Persino la scena di ballo ci ricorda troppo Pulp Fiction per essere veramente originale.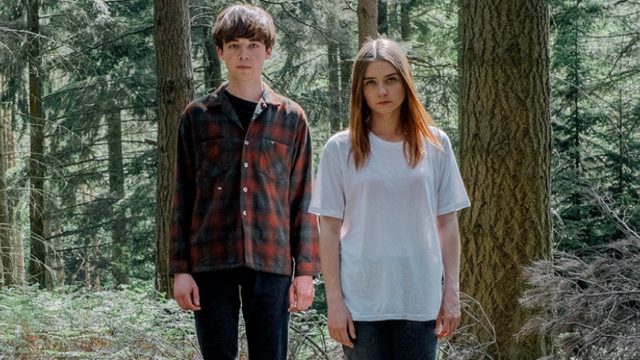 I richiami ad altri film sono chiaramente voluti dagli autori: ma sono presentati in maniera troppo marcata, togliendo freschezza alla recitazione e rendendo le situazioni a volte troppo esasperate. La riflessione sugli adolescenti, d'altro canto, è francamente superflua: bastano i primi due minuti per capire che Alyssa e James sono ragazzi troppo borderline per far scattare un'identificazione. Sarebbe bastata una logica più sottile, una sorta di escamotage alla "banalità del male", per rendere The End of The F***ing World una vera riflessione sul mondo degli adolescenti: non si comportano così perché hanno una vita difficile, lo fanno e basta.
Chiaramente una scelta così radicale avrebbe comportato la rinuncia alle battute catchy, ai rimandi smaccatamente pop ad altri film, all'atmosfera da videoclip e all'uso smodato delle scritte in sovrimpressione. The End of The F***ing World intrattiene molto più di quanto non spinga a riflettere e, nonostante alcuni momenti di incontaminata poesia, spesso abbiamo l'impressione che stia per partire il jingle della bibita che stanno bevendo i protagonisti, o che la telecamera indugi sul vestito a fiori di Alyssa per mostrarci la marca. The End of The F***ing World fa bene il suo mestiere ricordandoci di quanto estremo, incoerente, folle sia essere adolescenti.
E forse la chiave per riaprire le nostre memorie di teenagers sta proprio nei richiami sgargianti, nell'esagerazione, nell'esasperata coreografia, negli stacchetti da pubblicità, che caratterizzano questa Serie.