"Mi chiamo James, ho 17 anni e penso di essere uno psicopatico"
The End of the F***ing World apre in fretta e furia il sipario del suo palcoscenico con parole narranti forti e taglienti. Parole in grado di catturare l'attenzione e che propongono un assaggio di quello che vedremo nel corso di tutta la stagione.  Si impone come prima serie britannica dell'anno targata Netflix che, dopo 13 Reasons Why, punta nuovamente sui giovani. Parliamo di una commedia drammatica dalle innumerevoli sfumature, mantenendo una graffiante ironia e la sua anima pop rock. La crisi adolescenziale, nella Serie tratta dall'omonimo fumetto di Charles Forman, è solo lo strato più visibile di un prodotto che, nonostante la sua breve durata, riesce a raccontare il suo dramma senza sbavature. La Serie Tv, con i suoi otto episodi da venti minuti cadauno, può essere considerata come un lungo film di tre ore da ingoiare voracemente, o assaporare poco alla volta.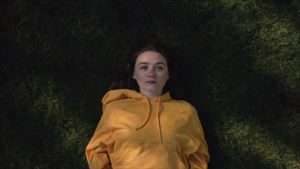 The End of the F***ing World è una storia di follia e disagio on the road.
Una storia non convenzionale di una fuga di due adolescenti, James e Alyssa, i quali cercano di lasciarsi disperatamente alle spalle un mondo che sembra non appartenergli. James è un ragazzo convinto di essere psicopatico e con l'ossessione per gli omicidi. Alyssa è una ragazza nuova in città, lunatica e schiava della tipica rabbia adolescenziale verso il mondo. Una coppia che instaura una connessione, anche grottesca, per il modo in cui si relazionano tra loro.
I due ragazzi decidono di mettersi in viaggio insieme, entrambi per motivi diversi. Alyssa sceglie James come compagno di viaggio per trovare suo padre poiché pilotata da un amore cieco nei suoi confronti. James, dal canto suo, decide di accompagnarla per poterla così uccidere e provare l'ebrezza dell'omicidio. La storia prenderà una piega spiacevole a seguito della manifestazione sempre più latente della psicopatia di  James, delle situazioni che vivranno  e che saranno costretti ad affrontare.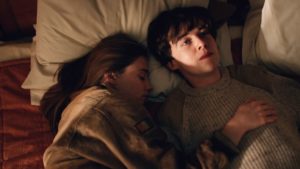 "Essere pazzi in un mondo di squilibrati non è pazzia, è buonsenso"
I due protagonisti non sono volti sconosciuti ed entrambi rappresentano il "politicamente scorretto" nei rapporti sociali. Il disturbato James, interpretato da Alex Lawther, conosciuto dal pubblico soprattutto per l'episodio 3×03 "Shut up and Dance" di Black Mirror, è un ragazzo problematico dal passato ignoto che ama uccidere gli animali, non sopporta particolarmente la compagnia e non sopporta suo padre. La sua co-protagonista Alyssa, interpretata da Jessica Barden, già nota in Penny Dreadful, è una ragazza archetipo dell'adolescenza problematica, prova un amore incondizionato e ingiustificato verso James, è arrogante, non si cura degli altri ne delle cose che appartengono al prossimo. I 2 condividono inoltre una passione per la solitudine e una forte insofferenza nei confronti dei genitori.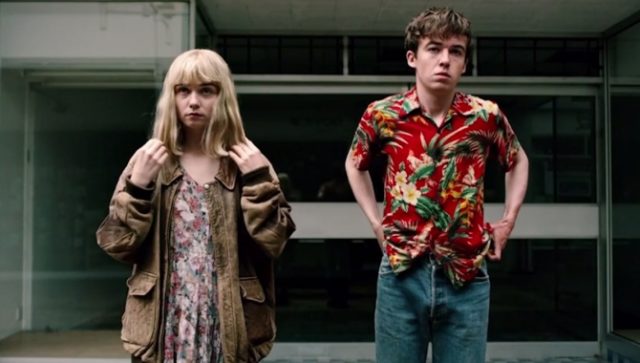 "Tu lo sai di cosa profuma la libertà? Merda di vacca"
Il viaggio dei due ragazzi assume da subito sfumature cupe caratterizzate da un linguaggio scurrile e una narrazione dissacrante. La storia prende i toni di una provocazione contemporanea nei confronti di una società inquadrata e noncurante dei ragazzi che non seguono la strada già battuta per tutti. I genitori sono entrambi presenze passive nella loro vita, ignari di chi siano realmente i loro figli. Sono schiavi delle loro situazioni familiari e chiusi in una gabbia da cui non riescono, o non vogliono, uscire.
Ed è proprio questa la libertà di cui parla Alyssa, il desiderio di non essere inquadrata, di provare emozioni nuove e distaccarsi da un paese, e dei genitori, che per entrambi non significano nulla. Ma cos'è davvero la libertà? Un concetto difficile  da definire che si manifesterà in tutta la sua più cruda realtà. Alyssa e James capiranno a loro spese che essa riguarda qualcosa di molto più grande di loro e dei propri desideri.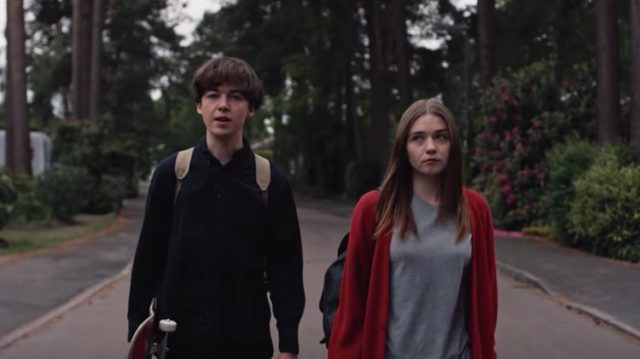 "Con il passare del tempo mi sentivo diverso, come se fossi nuovo, stavamo facendo qualcosa, andavamo in un posto e mi sentivo bene"
In The End of the F***ing World tutta la trama non è altro che un pretesto per raccontare un'interminabile fuga. Una fuga dall'ordinario e dalla noia. In seguito diverrà una fuga dai crimini e infine si trasformerà in una fuga verso un nuovo mondo a loro sconosciuto. In questo viaggio non sarà solo l'aspetto fuggitivo ad evolversi ma anche, e sopratutto, i personaggi. James e Alyssa prendono consapevolezza di loro stessi, allontanandosi dalle persone che erano e scoprendo nuovi aspetti che non credevano potessero esistere. La crudeltà del mondo al di fuori della loro protettiva realtà noiosa e scadente li metterà a nudo con i loro demoni. Sarà una continua sfida tra ciò che credono di essere e ciò che realmente sono.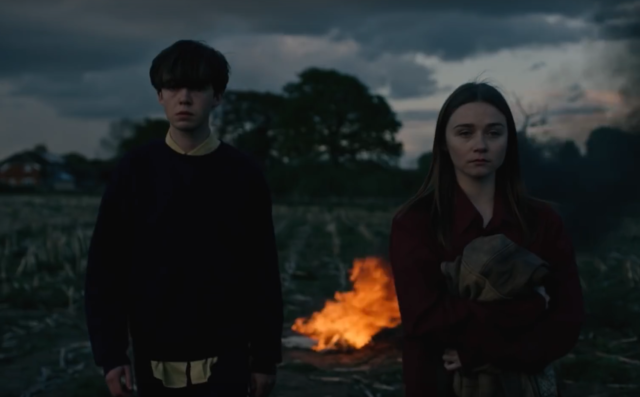 La regia firmata Charlie Covell è buona. Una menzione particolare è doverosa nei confronti della gestione delle scene, brevi e concise, che danno l'impressione di essere tanti piccoli sketch nel racconto globale. La fotografia presenta dei colori spesso spenti che aumentano il disagio nello spettatore e sono un perfetto manifesto delle problematiche narrate. Aspetto davvero fondamentale in The End of the F***ing World riguarda le sue musiche. Come accennato all'inizio, la narrazione presenta una forte anima pop rock, con piccole e leggere sfumature country. La scelta musicale è d'eccezione, un repertorio anni '50-'70 del panorama rock inglese. In particolare la colonna sonora principale della Serie, "Walking all around" è stata curata dal chitarrista dei Blur: Graham Coxon. Apre le danze all'inizio della storia e le chiude con l'ultimo episodio in perfetta armonia con la narrazione.
The End of the F***ing World è, pertanto, un'ottima Serie Tv. Da vedere se si vuole sperimentare il tema adolescenziale da un punto di vista fuori dagli schemi. Scorrevole, ma non per questo meno capace di indurre alla riflessione, rappresenta un ottimo compromesso tra il puro intrattenimento e la profondità di sceneggiatura.