The Boys e la sua seconda stagione si sono concluse sulla piattaforma di Amazon Prime Video ormai da qualche mese, guadagnandosi tra l'altro il titolo di serie più vista e popolare in questo disastroso 2020 dal sito Imdb. Risultato non da poco considerata la strabordante quantità di serie uscite quest'anno che hanno avuto a disposizione molto più tempo per essere viste dagli utenti seriali. Gli stessi bloccati in casa dalle restrizioni causate dal covid 19. Molti di loro infatti hanno seguito con passione ed è entusiasmo le avventure di Butch, Hughie e degli altri irrefrenabili Boys, alle prese con i tentativi di smascherare i temibili Sette agli occhi del mondo.
Aiutati tra l'altro da lei, la bellissima Starlight interpretata da Erin Moriarty. La super doppiogiochista che non lascia che potere e ricchezza la facciano allontanare dai suoi veri ideali, oltre che dal suo amore per Hughie.
In molti ormai la conoscono, ma per chi si fosse chiesto da dove arriva e chi sia la splendida interprete della bionda paladina luminosa, ecco tutto quello che c'è da sapere su Erin Moriarty di The Boys.
Carriera
Partiamo dalle origini, classe 1994 Erin è una newyorkese puro sangue, nata sotto il segno del Cancro il 24 di giugno. Laureata all'Accademia d'arte si è fatta notare nell'universo seriale con ruoli minori in serie come Jessica Jones, dove veniva presa in ostaggio dall'indimenticabile Kilgrave di David Tennant, nella prima stagione dello show di Netflix.
Dopo Jessica Jones, altra serie e altro ruolo, stavolta accanto a due mostri sacri come Matthew McConaughey e Woody Harrelson in quel True Detective della Hbo, pluripremiato a livello internazionale un po' ovunque. Anche se solo per pochi episodi è possibile vedere Erin mentre interpreta Audrey Hart, la figlia del meticoloso detective a cui presta il volto Woody Harrelson.
Quello di Annie January però è il suo primo vero ruolo da protagonista, che nelle vesti dell'eroina tenuta in scacco dalla potente Vought, tenterà insieme ai The Boys di far affiorare la verità in superficie.
La serie di Amazon Prime Video le ha offerto e garantito un passepartout prodigioso per il suo futuro cinematografico come spesso accade quando una giovane, brillante e fascinosa attrice azzecca il ruolo giusto in una serie di successo.
Tuttavia Erin ha già avuto qualche occasione anche sul grande schermo. Ha recitato infatti in alcuni film per il cinema come Vicini del Terzo tipo accanto a Ben Stiller è Vince Vaughn e in Kong: Skull Island nel 2017 accanto a Tom Hiddleston e Brie Larson. Nel 2016, grazie al set di Captain Fantastic condiviso con Viggo Mortensen si é portata a casa una nomination ai Sag Awards come miglior cast di gruppo. Sempre nel 2016 ha recitato in Blood Father accanto a Mel Gibson. Ha continuato nel cinema con L'incredibile viaggio del fachiro nel 2018 per la regia di Ken Scott.
Come dicevamo, però, nonstante il successo di film come Blood Father e Captain Fantastic, è con la serie di Amazon Prime Video nel 2019 che Erin Moriarty trova il successo e la notorietà che la fa conoscere al grande pubblico. Nei panni della sovversiva supereroina dal costume dorato ma dall'aspetto solo apparentemente etereo e delicato, ha saputo incarnare lo spirito più puro dei terribili Sette. Portati sul piccolo schermo direttamente dalle pagine del fumetto di Garth Ennis.
Scontrandosi in tesissimi faccia a faccia con uno dei migliori villain in circolazione negli ultimi anni televisivi, Homelander.
A proposito delle sue prime esperienze lavorative, la bellissima attrice ha dichiarato: la mia è stata una strada piuttosto difficile; ho iniziato la carriera molto giovane, ho avuto la mia prima parte in un film a sedici anni, per questo facevo lezioni private da casa. Da quel momento in poi, ho sempre pensato che se fossi riuscita a guadagnarmi quanto bastasse per mantenermi sarebbe stata la strada più semplice. Dopo aver partecipato a un film per il Sundance, pensavo sarei riuscita a catalizzare il momento, e invece non ho lavorato per un anno e mezzo. Quando è arrivata The Boys, mi sono divertita davvero tanto a prendervi parte e ho pensato, non pensare al futuro, concentrati su goderti questa esperienza meravigliosa."
Insomma non tutta la strada è stata in discesa per Erin prima di incontrare la sua Annie.
Vita privata
Nonostante sul set il suo personaggio e quello di Patriota si disprezzino e tentino di sabotarsi a vicenda, nella realtà i due attori che li interpretano vanno d'amore e d'accordo. Tanto che sul suo profilo Instagram, Erin ha postato una foto con Tony Starr definendolo il suo migliore amico.
Per quanto riguarda i social infatti Erin Moriarty è piuttosto attiva, specie dal 2018, anche se in realtà non svela moltissimo della sua vita privata. Il profilo della giovane di New York infatti si alterna tra scatti molto glamour, frutto di shooting fotografici per riviste e magazine. Scatti molto sexy perfetti per accontentare i fan più esigenti e foto tratte dal set e dalle prime dei film e telefilm a cui ha preso parte.
Una cosa che viene sottolineata spesso tra i ricordi della nostra Erin è sicuramente la sua amicizia con Bonnie Wright, la fulgida attrice che detiene un posto speciale nel cuore di tutti gli amanti di J.K. Rowling e della sua saga letteraria immortale.
Dalle foto che si possono trovare sul suo account Instagram è evidente che sul set di The Boys ha regnato un clima di grande affiatamento tra i membri del cast, specie tra quelli della seconda stagione. Non è difficile infatti trovare foto di Erin scherzosamente abbracciata con Chase "Abisso" Crawford o Aya "Stormfront" Cash ad esempio.
Le foto in cui la nostra Erin e Ginny Weasley si abbracciano durante feste e party in spiaggia sono numerose, segno che non tutti i legami personali di Erin Moriarty sono preclusi alla curiosità del suo grande pubblico.
Molte foto rubate della sua infanzia, foto del suo cane e tante foto che raccontano i suoi primi passi nello show business.
Fidanzato?
Ma per i fan più accaniti e curiosi della bellissima attrice c'è una lampante lacuna nel suo portfolio pubblico.
Nonostante sembra che l'attrice abbia un fidanzato il web è piuttosto sprovvisto di foto "paparazzate" della Moriarty con un possibile ragazzo.
Qualche giorno fa girava addirittura la voce che fosse stata avvistata mentre cercava delle fedi in svariate gioiellerie di New York in compagnia del sedicente compagno, anche se nulla di tutto questo è stato confermato dall'ufficio stampa della ragazza.
Viene da chiedersi se questa segretezza sia un'astuta mossa pubblicitaria per far accrescere l'interesse verso la vita sociale dell'attrice o se sia pura e semplice riservatezza.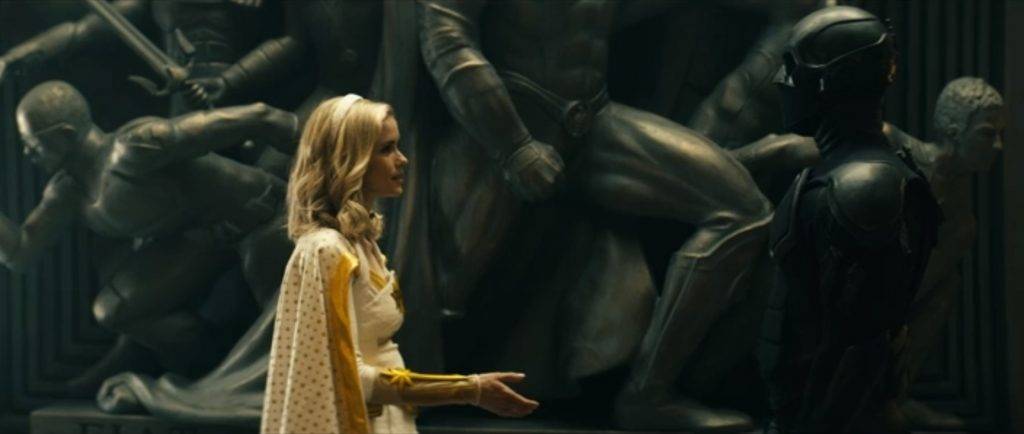 A proposito, invece, delle difficoltà nel rendere credibile il suo personaggio, Erin ha parlato anche dell'impatto che il movimento del #Metoo ha avuto sulla sua storyline. Quando il suo personaggio viene molestato da Abisso, infatti, Erin si è trovata a dover fare delle riflessioni circa il ruolo della donna nel mondo dello spettacolo. Dopo tutto, nonostante il loro lato eroico, quello dei Sette è un mondo radicato profondamente nel marketing ed esasperato dall'esposizione mediatica.
Erin Moriarty al riguardo si è così espressa: "Ci hanno insegnato che, quando si tratta di abusi sessuali, c'è la cosa giusta da fare e quella sbagliata. Quello che mi piace di Starlight è che lei, giovane donna, viene abusata ma, successivamente, diventa una persona ancora più forte, raccontando ciò che ha subito, confessando chi ne è il colpevole (Abisso, interpretato nella serie da Chace Crawford, ndr) e provocando di conseguenza un abbassamento del numero di vittime di abusi sessuali da parte di Abisso."
Insomma la nostra Starlight ha saputo impersonificare al meglio le aspettative.
Nella seconda fortunata stagione di The Boys rilasciata in questo 2020 da dimenticare, sono molte tra l'altro le tematiche sociali che vengono affrontate dal cast, spesso con grande intelligenza e sagacia narrativa. Se infatti nella prima stagione attraverso le molestie di Abisso si è portato a far riflettere il pubblico sulle dinamiche del #MeToo nella seconda si è scelto di mostrare come la rivoluzione che si è innescata sia spesso sfuggita di mano agli sceneggiatori hollywoodiani e non solo.
Il bisogno di mostrare la forza delle donne viene esasperato tramutandosi in una farsa grottesca che finisce per sortire l'effetto contrario a quello che si voleva suscitare.
Tanto che il Girl Power promulgato dalle Spice Girls negli anni novanta risultava molto più efficace. La serie non si lascia spaventare dalla possibilità di scivolare in gaffe sociali, ne tanto meno si preoccupa di scandalizzare. Anzi, decide di provocare lo spettatore in un momento molto sensibile verso le discriminazioni sociali o gli abusi di potere.
Se in attesa della terza – sicuramente irriverente – stagione di The Boys sentite la mancanza della bella Erin Moriarty potete andarla a rivedere negli episodi della serie che l'ha incoronata come celebrità su Amazon Prime Video. O seguirla sul suo account Instagram da dove tiene aggiornati i suoi fan sui suoi nuovi progetti lavorativi. Tipo quello ardito, suggerito dell'attrice stessa, di far uscire un album discografico tutto dedicato alla biondissima eroina Come come abbiamo scoperto nella seconda stagione di The Boys infatti, Erin oltre alle sue straordinarie abilità mutanti possiede anche una splendida voce da usignolo.
Non ci resta che aspettare di vederla e forse presto, ascoltarla a questo punto.