L'umanità ricorre sempre più, nel bene e soprattutto nel male, a una moltitudine di nuovi idoli: la scienza e la televisione, sono solo alcune delle svariate possibilità. Nel caso di The Boys, una delle possibilità sono nientemeno che i supereroi.
La serie mostra infatti un mondo dove esistono uomini dai poteri straordinari, che mettono al servizio della comunità per fare del bene. E non solo: esiste una vera e propria agenzia, Vought-America, che ha il compito di gestirli e di collocarli dove più è necessario. I più importanti sono i Sette, il gruppo dei più potenti, quelli adorati e venerati da tutti. Fra questi, A-Train, l'uomo più veloce del mondo, Queen Maeve, forte e atletica, Translucent, invulnerabile ed invisibile, Abisso, che ha le branchie e comunica con i pesci, Starlight, la nuova arrivata piena di belle speranze e Patriota, il più forte e potente. Questi supereroi sono dei veri e propri divi: le ragazzine hanno i loro poster in camera da letto, i bambini vogliono per Natale bambolotti con le loro sembianze e costumi a tema, uomini e donne li idolatrano e ovunque vadano sono seguiti da uno stuolo di fotografi e giornalisti pronti a intervistarli.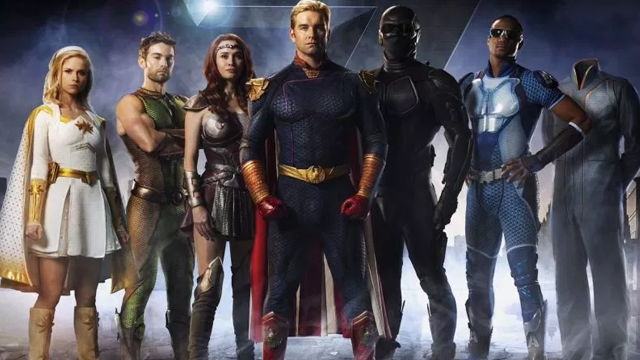 E in effetti, com'è possibile immaginare uno scenario diverso? Anche nella realtà siamo bombardati da immagini di supereroi fittizi, presentati attraverso film e Serie Tv e regolarmente mostrati come "quelli buoni", i salvatori della patria e del mondo.
I Super sono l'equivalente delle star che tutti conosciamo
Conducono una vita agiata, sono perennemente sotto i riflettori, la loro vita privata è gettata in pasto a pubblico e stampa, le loro mirabolanti avventure sono seguite in tutto il mondo. E, proprio come i divi, anche i Super hanno i loro difetti. Anzi, hanno un vero e proprio lato oscuro: non hanno problemi a ricorrere a violenza ingiustificata quando sono in missione, sono completamente soggiogati dalla fama e soffrono di delirio di onnipotenza. Ovviamente le celebrity vengono mostrate in maniera caricaturale, parossistica, portando gli esempi peggiori che si potrebbero trovare. Questo perché, quando scopriamo che dei nostri beniamini del cinema, della musica o della televisione, fanno qualcosa che non ci piace, che potrebbe anche essere qualcosa di poco conto, come una particolare posizione politica, ci sentiamo "traditi", personalmente colpiti.
Perché quindi non mostrare dei divi che non solo sono idolatrati oltre ogni misura, ma hanno anche la responsabilità di vite umane?
Si tratta di un carico enorme per degli esseri umani, anche se con capacità straordinarie. Le sorti di intere nazioni dipendono da loro e il potere che esercitano è immenso: se lo volessero, avrebbero tutti i mezzi per scatenare una guerra di proporzioni gigantesche. Aggiungendo a tutto questo l'adorazione smisurata e incontrollata che il pubblico ha per loro, è inevitabile che i Super siano in realtà qualcosa di estremamente pericoloso. Nel corso della serie, si vede chiaramente come, pur di mantenere il proprio status quo, i supereroi siano disposti a qualunque cosa: picchiare, torturare, uccidere, sacrificare anche la propria felicità, pur di difendere un bene superiore che neanche loro hanno ben chiaro. Perché in realtà nessuno di loro è libero di decidere autonomamente: chi tira le fila è Madelyn Stillwell, a capo della Vought-America. Sceglie lei come i Super si devono comportare, cosa devono dire nelle dichiarazioni ufficiali e addirittura come si devono vestire. E tutto questo per tutelare gli interessi dell'agenzia e per le sue mire politiche.
La cosa più grave è che la maggior parte dei supereroi non è in grado di controllare i suoi poteri
Sono pur sempre degli esseri umani, che devono gestire dei poteri enormi e non si rendono conto, a volte, di quanto possano essere letali. Quindi, l'altro problema è la quantità spropositata di vittime che i Super mietono inconsapevolmente, costringendo così la Vought a sborsare ingenti somme per mettere a tacere i familiari delle vittime o le vittime stesse, qualora avessero la fortuna di essere ancora vive.
Insomma, i Super sono l'unione parossistica di divi, politici senza scrupoli e obbedienti marionette sacrificate sull'altare dell'ambizione e del denaro. Attraverso questi personaggi, The Boys è riuscito a mostrare una visione chiara e crudele della società in cui viviamo, concentrando in loro tutti i peggiori difetti del nostro mondo, a cominciare dalla venerazione spropositata e ingiustificata nei confronti di persone che sono pur sempre dei comuni mortali, come tutti noi. E, come tali, sono fallibili e in grado non solo di sbagliare, ma anche di compiere consapevolmente cattive azioni. La questione che viene sollevata dalla serie è molto semplice: il problema sono loro o siamo noi?
Perché se i Super non risultassero intoccabili e infallibili, non sarebbe un grosso problema se sbagliassero qualcosa. E, con un carico di aspettative inferiore, neanche loro si comporterebbero in maniera sconsiderata, consci del proprio potere.
I Super non sono altro che il frutto della società attuale
Così come noi, nella vita reale, adoriamo politici, attori, cantanti, modelli, nel mondo di The Boys sono i Super quelli adorati e al centro del mondo. Ma è stata la stessa umanità a sentire il bisogno di creare dei nuovi idoli, sperando che questo possa dare loro un senso di tranquillità e di sicurezza. Come se delegare ad altri la soluzione dei problemi potesse confortarci dal caos dell'esistenza.
La grandezza della serie è proprio questa: mostrare la realtà che ci circonda in maniera parossistica, raccontando però verità profonde.
La società attuale è costellata di finti idoli, di "surrogati di Dio" che noi stessi eleviamo come tali e che non siamo in grado di accettare nelle loro inevitabili fragilità. E The Boys ha il coraggio di mostrarci proprio i difetti di coloro che adoriamo, portando così a un'inevitabile e rovinosa caduta dall'Olimpo.
Ancora più innovativa è la scelta dei "buoni": coloro che si prefiggono l'obiettivo di contrastare questi prodotti di una società malsana sono i The Boys, un gruppo di emarginati che generalmente vengono relegati nei gradini più bassi della scala sociale: un ex agente dell'FBI fallito, un killer professionista, un padre di famiglia con poche pretese, il commesso di un negozio di elettronica, un'immigrata clandestina ex combattente. Sono dei veri e propri anti-eroi che però, stanchi dell'ipocrisia di un mondo che idolatra persone spregevoli o, nel migliore dei casi, inconsistenti e arroganti, decidono di ribellarsi.
Eppure anche loro non sono del tutto buoni: hanno un lato oscuro e sono animati da un accecante desiderio di vendetta che impedisce loro di accorgersi della realtà circostante. Non vogliono salvare il mondo, ma screditare coloro che giurano di proteggerlo. Ma, come per tutte le Serie Tv particolarmente riuscite, questi personaggi vengono amati proprio perché sono assurdamente "sbagliati". Nessuno si immedesima con modelli perfetti, ma tutti provano empatia nei confronti di chi mostra la sua umanità. E i Super suscitano repulsione proprio perché la nascondono disperatamente, ostentando un'aura di divinità che sono perfettamente consapevoli di non possedere.