Il genio di The Big Bang Theory Sheldon Cooper e il donnaiolo di Friends Joey Tribbiani non potrebbero essere più diversi di così l'uno dall'altro, non è vero? Certo che sì. Eppure c'è un piccolo elemento che, probabilmente, molti telespettatori non hanno mai notato e che accomuna incredibilmente i due personaggi delle sitcom.
The Big Bang Theory e Friends sono due delle serie tv più conosciute e amate di sempre, e per molti aspetti potrebbero anche sembrare simili. Entrambe hanno come protagonisti un gruppo di ragazzi che affronta la vita adulta passo dopo passo, tra difficoltà e risate, senza mai fare a meno dell'amicizia. Come ben sappiamo, nonostante le premesse delle due sitcom fossero molto simili, i personaggi con cui abbiamo a che fare sono molto diversi. I protagonisti maschili di The Big Bang Theory, per esempio, sono dei nerd che amano i film, i videogiochi, la scienza e tutto ciò che riguarda il mondo dei Supereroi.
L'incredibile caratterizzazione dei personaggi sia in una serie che nell'altra, tuttavia, ha permesso al pubblico di affezionarsi incredibilmente a entrambi i gruppi di amici.
Tutti, nel corso delle stagioni, hanno mostrato i loro punti di forza e le loro debolezze. Dopo aver visto entrambe le sitcom, ci sentiamo un po' come se i protagonisti che abbiamo guardato crescere per svariate stagioni fossero anche nostri amici. Ed è anche per questo che se pensiamo a Sheldon Cooper e Joey Tribbiani, la prima cosa che ci viene in mente è che sono totalmente differenti l'uno dall'altro.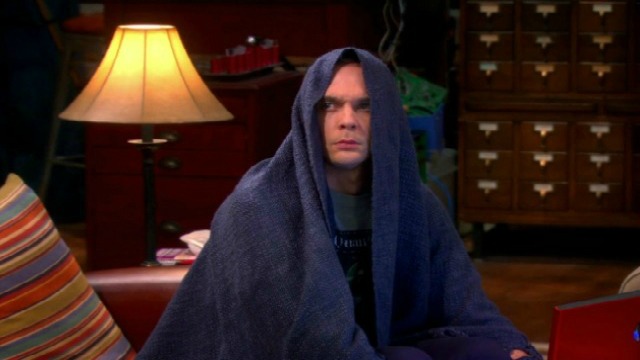 Sheldon è sempre stato descritto come un vero e proprio genio che, nonostante l'incredibile intelligenza, nella maggior parte delle occasioni trovava difficoltà a interagire con altre persone. È stato soltanto grazie a Leonard che ha trovato dei veri amici che sono rimasti al suo fianco anche quando lui non faceva altro che disprezzarli, ed è stata la sua ragazza Amy ad aprirgli gli occhi una volta per tutte nell'ultimo episodio della sitcom e a farlo ragionare sul proprio comportamento.
Joey, invece, è esattamente l'opposto di Sheldon: ingenuo (forse un po' troppo), molto bravo a socializzare, è sempre l'anima della festa. Non potrebbe fare a meno dei suoi amici, a cui molto spesso esprime il suo affetto senza remore.
Nonostante siano apparentemente così differenti l'uno dall'altro, c'è un aspetto che accomuna Sheldon di The Big Bang Theory e Joey di Friends: un quasi morboso attaccamento a un punto in particolare del loro appartamento.
L'"affetto" (se così vogliamo definirlo) del fisico teorico per il proprio posto sul divano è ben noto a tutti. Sheldon lo aveva già scelto ben prima di conoscere Leonard, spiegando in seguito a chiunque gli chiedesse il motivo di tale decisione: "D'inverno quel posto è abbastanza vicino al calorifero da rimanere tiepido, ma non così vicino da causare sudorazione. D'estate è nel bel mezzo della brezza creata dalle finestre aperte là e là. È di fronte alla televisione secondo un angolo che non è così diretto da scoraggiare la conversazione, né così lontano da creare una distorsione della parallasse. Potrei andare avanti, ma credo di aver spiegato le mie ragioni"
Questa risposta, diventata col tempo iconica per caratterizzare Sheldon e lo stesso The Big Bang Theory, non si discosta molto da quella data anche da Joey durante il 13esimo episodio della 7ima stagione di Friends, intitolato "The One Where Rosita Dies".
Quando Rachel si trasferisce dal ragazzo dopo la decisione di Chandler e Monica di vivere insieme, lei cerca di spostare "Rosita" (la poltrona di Joey) dal solito posto, ma lui rifiuta categoricamente la proposta: "No. Rosita non si muove. Ti faccio notare che è alla stessa distanza dal bagno e dalla cucina, nonché all'angolazione ideale per evitare i riflessi di Lou". Lou, per chi non lo ricordasse, è il nome che Joey aveva dato al televisore.
Nonostante l'affetto di Sheldon per il proprio posto sia stato più volte rimarcato nel corso delle stagioni, dalle parole del protagonista di Friends comprendiamo che neanche lui cederebbe il posto della sua Rosita molto volentieri. Le motivazioni date da quest'ultimo saranno sicuramente meno specifiche, ma… il concetto è assolutamente chiaro!