"La più sorprendente scoperta che ho fatto subito dopo aver compiuto sessantacinque anni è che non posso più perdere tempo a fare cose che non mi va di fare!"
All'apparenza non c'entra nulla con The Young Pope, recitava così un annoiato ed elegante Tony Servillo, nel film Premio Oscar La grande bellezza. Benché il regista partenopeo abbia una ventina di anni in meno del suo Jep Gambardella, dubito seriamente perda tempo a fare "cose che non gli va di fare". Già questo è un buon punto di partenza.
Paolo Sorrentino è la manifestazione vivente di quanto Oscar Wilde considerava auspicabile: "Non importa che se ne parli bene o male, l'importante è che se ne parli". C'è chi lo ama e lo idolatra e chi lo detesta, chi considera i suoi lavori come la quintessenza del cinema e chi come un'accozzaglia casuale di intellettualismi insensati.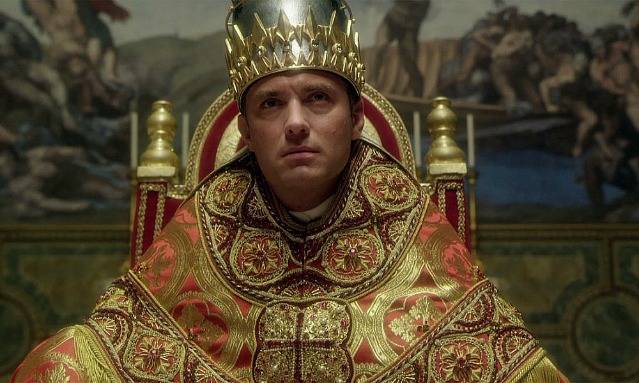 Indipendentemente dalla fazione di appartenenza, alla notizia che Sorrentino avrebbe girato una Serie Tv, la curiosità si è impadronita di parecchia gente. A giugno, dopo l'uscita del trailer una domanda sorgeva spontanea:
A quale altro pazzo sarebbe potuto saltare in mente girare una Serie Tv sul Papa, con Jude Law come protagonista? Chi si sarebbe potuto immaginare un Papa tanto giovane, bello, seducente, che noncurante fuma sigarette e si inginocchia di fronte a una schiera di camion?
(Encomiabile il modo in cui il regista riesca a concepire delle immagini tanto assurde da poter dare ragione sia a chi lo trova insensato, sia a chi lo considera geniale: la linea di demarcazione è così sottile…).
Dopo aver visto i primi due episodi di The Young Pope posso affermare con certezza che non ho mai visto nessuna Serie Tv tanto assurda. Se da un lato l' "assurdità" (intesa nel suo significato complessivo) è una cosa che ci si aspetta da Sorrentino, il modo in cui essa è declinata ci stupisce comunque. Da un lato, lo stile del regista è immediatamente riconoscibile in quella mescolanza di grottesco e intellettuale; dall'altro lato, nella stranezza del suo modo di girare riesce sempre a sorprendere lo spettatore.
Il Papa che vediamo in questa The Young Pope è, di primo acchito, piuttosto immaginabile (sapendo da quale penna nasce): anomalo in tutto, seducente, viziato (è tabagista e, a colazione, beve solo Coca-Cola Cherry Zero), ambiguo, imperscrutabile, estremamente attento alle logiche di potere e comunicazione da un lato, distante da tutto ciò che è il modo tradizionale di gestire queste logiche dall'altro; sembra essere un moderno riformatore, e al contempo si dimostra estremamente conservatore.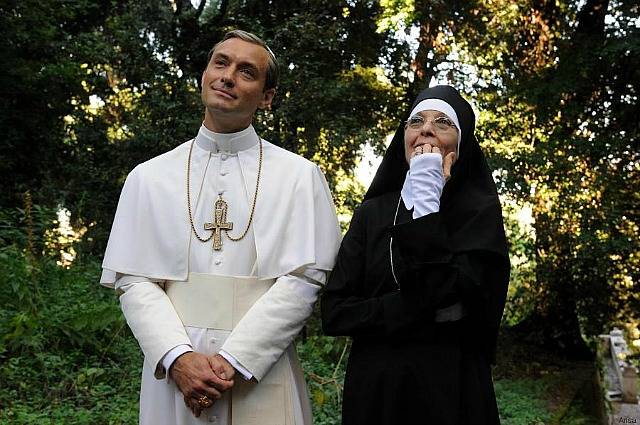 Il primo episodio di The Young Pope e tre quarti del secondo ci si mostrano assurdi all'inverosimile, ma ci danno anche la parvenza di sapere cosa accadrà. Proprio questo è il passaggio in cui il talento sorrentiano prende forma e forza: dopo aver disseminato la narrazione di indizi che continuano a sollecitare la nostra curiosità circa il reale carattere dei personaggi e che ribaltano la nostra opinione di questi, arriviamo all'acme (la prima omelia di Pio XIII) e quello che sentiamo non è quanto avremmo potuto immaginare. Di più. Sorrentino crea una struttura simmetrica: la fine del secondo episodio è esattamente il ribaltamento dell'inizio del primo. (Attenzione, seguono spoiler) Da una parte abbiamo il sogno della prima omelia: è giorno, il bel volto di Jude Law è visibile nel suo splendore, sta per piovere, il discorso del Papa verte sui concetti di libertà e felicità, c'è un'esplicita condanna alla presa di posizione tradizionale della Chiesa Cattolica (Lenny, questo il nome di battesimo del Papa, inneggia alla masturbazione, all'uso di contraccettivi, al divorzio, all'aborto, ai matrimoni omosessuali, all'amore tra preti: la libertà è l'unica strada verso la felicità), a fine predica il cielo si spalanca su un sole meraviglioso e sembra che i fedeli stiano assistendo a un miracolo; dall'altra, nel finale del secondo episodio, l'omelia avviene alle 21:00, del Papa (su sua esplicita richiesta), si percepisce solo la silhouette e il discorso che fa non è quello dell'uomo liberale del sogno, ma è addirittura medievale per non dire veterotestamentario. Tutti sono sgomenti, a omelia conclusa il cielo tempesta e un fulmine forma una crepa laddove dovrebbe esserci la casa di Dio.
Per analizzare nel dettaglio quanto abbiamo visto non basterebbero dieci articoli. Dire di avere un'idea circa The Young Pope sarebbe prematuro. I punti di debolezza e quelli di forza rilevati finora sono tipicamente sorrentiniani (per fare due esempi, la lentezza e l'attenzione al dettaglio) e, probabilmente, verranno usati sia dai detrattori che dai fan per sottolineare quanto questa serie sia un fallimento o un capolavoro. Indubbiamente è interessante. Va tuttavia ricordato quanto essa sia un'opera di fantasia e quanto, nonostante questo, quelle "interferenze nella radio vaticana" siano, molto probabilmente, vicine alla realtà.
Che Lenny Belardo sia un santo, il diavolo o la manifestazione più vera dell'uomo e del suo dramma lo scopriremo. indubbiamente egli è, come dichiara, una contraddizione. Come Dio, come noi.
Un saluto agli amici di Seriamente Tv!