Quando guardiamo una Serie Tv, è inevitabile immedesimarsi nei personaggi che popolano il piccolo schermo. Noi ridiamo con loro, piangiamo con loro e soffriamo in attesa di scoprire il destino dei nostri amati protagonisti. In molti show i momenti negativi spesso sono maggiori di quelli positivi. Basti pensare a Vikings.
Tra le azioni più vili che qualcuno possa compiere c'è sicuramente il tradimento. Quel personaggio non ne sta tradendo solo un altro. Anche i fan si sentono ingannati, feriti e delusi. Tradire la fiducia di qualcuno è come rompere un vaso: si può provare a rimetterlo insieme ma non tornerà mai come prima e quella crepa non svanirà mai. Non è detto che non si possa essere perdonati ma ci vorrà del tempo per ricostruire un rapporto di fiducia. Ed è quello di cui parlo in questo pezzo, elencandovi i 5 tradimenti che ci sono rimasti proprio sullo stomaco nelle Serie Tv.
1) Callie e Arizona (Grey's Anatomy)
Partiamo proprio da Grey's Anatomy. Callie e Arizona sono una delle coppie più belle dell'intera Serie Tv. Loro sanno che cosa vuol dire combattere per quello che si ama: sono due donne lesbiche nel mondo della chirurgia, dove da sempre predominano gli uomini.
Le due però si sono tradite a vicenda. Nel corso della settima stagione di Grey's Anatomy, Arizona parte per l'Africa e la sua assenza è veramente un gran peso da sopportare per Callie. Non vuole rimanere sola e chiede a Mark di vivere con lei. Peccato che finiranno a letto insieme e Callie rimarrà incinta. Le due ragazze per fortuna si chiariscono ma arriva il famoso incidente aereo della nona stagione. Arizona perderà una gamba, cadendo in depressione. Non riesce a perdonare alla sua ragazza di averle amputato la gamba e va a letto con la dottoressa Boswel. Nonostante tutto, sono comunque rimaste grandi amiche ma ci mancano terribilmente!
2) Ragnar e Lagertha (Vikings)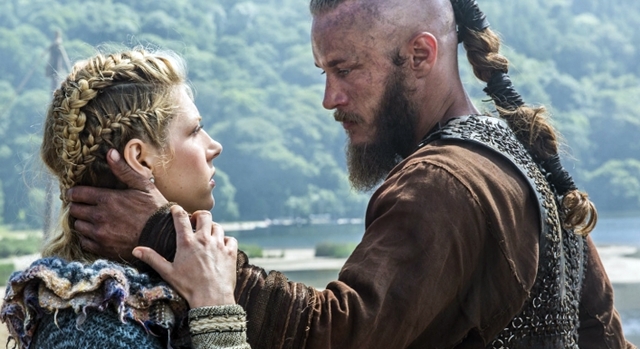 La storia d'amore tra il vichingo Ragnar e la shieldmaiden Lagertha ci ha rapito fin dal primo momento in cui abbiamo visto Vikings. Entrambi sono nati da semplici contadini, entrambi guerrieri che sono riusciti a diventare dei sovrani. La loro intesa era semplicemente perfetta e si capiscono al volo, con solo uno sguardo. Il loro legame era così forte che niente poteva spezzarlo. O almeno così credevamo.
Tutto cambia nella vita della coppia quando la loro figlia muore. Lagertha non è in grado di dare a suo marito dei nuovi eredi e ciò non lo aiuta a riprendersi dal lutto. Ed è in questo istante di vulnerabilità che Ragnar cede al fascino di Aslaug, una bella donna dal sangue nobile. Trascorreranno una notte insieme dove Aslaug rimarrà incinta. Quest'ultima riesce a donare a Ragnar i figli che desidera ardentemente, ma il prezzo sarà alto. Lagertha non gli perdonerà mai questo tradimento tanto che se ne va insieme al figlio, lasciando un Ragnar in preda alle lacrime. E da quel momento in poi, Vikings non sarà più la stessa serie.
3) Tyrion e Shae (Game of Thrones)
Con l'arrivo di Shae nella vita di Tyrion Lannister, il Folletto aveva finalmente trovato l'amore. Shae è un'ex prostituta e dama di compagnia della moglie di Tyrion, ovvero Sansa Stark. Una donna estremamente intelligente e abile nel tessere trame. Potrebbe essere un semplice cliché: lui è il rampollo di una nobile famiglie, lei una semplice ragazza dei bassi fondi. Eppure è stato uno degli amori più belli di Game of Thrones, finché è durato. Tyrion ha rischiato tanto portando Shae ad Approdo del Re ma lei non lo ha ricambiato con la stessa moneta.
Infatti, vuoi per gelosia oppure perché Cercei aveva promesso a Shae una casa e un matrimonio con un cavaliere, quest'ultima lo ha tradito. Ha accusato pubblicamente Tyrion di aver ucciso Re Joffrey ed è andata a letto con l'odiatissimo Tywin Lannister. L'unica consolazione è stato vedere come Tyrion ha vendicato quel tradimento. Accecato dall'ira, prima ha ucciso Shae e dopo si è occupato del padre.
4) Connor e Oliver (How to Get Away with Murder)
Una delle poche coppie che si salvano in How to Get Away with Murder è quella composta da Connor e Oliver. I due non hanno bisogno di parole per capirsi, conoscono i difetti e i pregi l'uno dell'altro e si amano nonostante tutto.
Inizialmente però Connor si era avvicinato a Oliver solo per rubargli dei documenti necessari per un caso. Non avrebbe mai pensato di innamorarsi di quel timido esperto informatico. Oliver non poteva credere che un ragazzo sexy e affascinante come Connor fosse interessato a lui. Infatti l'idillio dura poco. Connor lo tradisce per procurarsi delle informazioni per Annalise. Non era una relazione esclusiva: è così che il ragazzo si giustifica. Con il cuore spezzato – come il nostro – Oliver lo caccia via, nonostante Connor ammetta di provare qualcosa per lui. Per fortuna successivamente i due si sono chiariti, regalandoci una di quelle relazioni che ci spinge a credere nell'amore vero e autentico.
5) Willow e Oz (Buffy the Vampire Slayer)
Il primo grande amore di Willow è stato Oz, un ragazzo che suona in un gruppo musicale. Nata come una ripicca verso Xander, Willow scoprirà piano piano di provare realmente qualcosa per il chitarrista. Ciò viene confermato dal suo desiderio di rimanere con lui nonostante scopra che Oz è un licantropo. E Oz farà altrettanto quando Willow bacerà Xander mentre sono prigionieri di Spike.
La loro storia va avanti all'interno della Serie Tv e i due si iscrivono allo stesso college. Lì Oz incontra Veruca, una donna lupo. Nonostante provi a resistere ai suoi impulsi, una volta trasformato, Oz scappa dalla gabbia e si accoppia con la giovane licantropa. Quando Willow scopre il tradimento, è come se mille coltelli le si conficcassero nel cuore. Oz decide di lasciarla perché non riesce a controllare i suoi istinti animali. Ok, dopo arriva Tara e la storia d'amore con Willow è assolutamente epica ma, tuttora, si fatica a perdonare Oz per quello che ha fatto!