Attenzione: evitate la lettura se non volete imbattervi in spoiler sulla settima stagione di Game of Thrones
La vide distesa nel talamo del fato in una notte tragica e non poté fare altro che privarla del respiro vitale. Il giovane leone, devastato dal dolore, perse la testa e la violenza sembrò essere l'unico palliativo. Spinse al passo falso uno dei più abili strateghi mai impegnati nel famigerato Gioco dei Troni come l'amore fa con ogni uomo. Annebbia la visuale, oscura le possibili conseguenze e lascia spazio solo alla passione della causa. Fino a rinunciare ad un gelido esilio che gli avrebbe dato una seconda occasione, sporcarsi le mani col sangue di un leone, il vecchio, versato vanamente in un effetto domino imprevedibile e gettarsi nell'ombra di una nuova era senza alcuna garanzia.
Tyrion sa, cosa significa amare. E ne conosce ogni risvolto, nel bene e nel male. Ha un'idea precisa di quanto pesi il dolore per la perdita di una moglie clandestina, violata vilmente da un manipolo di uomini senza anima per ordine di un padre padrone. Tyrion sa, cosa significa amare una seconda volta. L'ha vissuto follemente, fino a ritrovarsi in bocca il sapore amaro del tradimento. Perdere il controllo, per questo. E diventare ingestibili, anche quando si è maestri del raziocinio. Quando l'amore è vero, il prezzo da pagare è carissimo. Lo si prova sulla propria pelle e non si può far altro che guardare negli occhi chi ti è più vicino  e consigliare l'allontanamento prima che sia troppo tardi. Il Primo Cavaliere lo sa, ed è preoccupatissimo per la romantica Daenerys.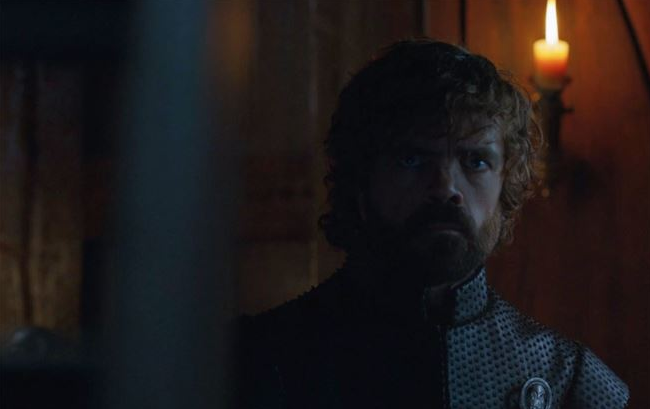 Nel momento in cui si è consumata la genesi dell'amore tra la Madre dei Draghi e il Re del Nord, molti si sono domandati che senso potesse avere l'espressione corrucciata dipinta sul volto di Tyrion. Gelosia? No, non ce lo aspettiamo. Un senso di colpa legato ad un presunto complotto intavolato con l'odiata sorella? Non ci sorprenderebbe. Potrebbe aver mentito a Cersei come Cersei ha fatto con lui, ma non vogliamo pensarci. Non ora. Cosa avrebbero voluto urlare quegli occhi? Abbiamo un'altra opzione: la consapevolezza di un rischio e del possibile prezzo da pagare. Le conseguenze dell'amore, quello vero, sono molteplici e trovano in Game of Thrones una conclusione che rasenta l'oggettività. Potrebbe scorrere del sangue, ancora una volta. Potrebbe andare male, perché Martin non è un cultore delle fiabe a lieto fine. Perché dovrebbe andare così? Valutiamo le possibili conseguenze.
La condizione straordinaria nella quale si trovano i nostri protagonisti, culminata con l'abbattimento della Barriera da parte degli Estranei, ha stravolto le dinamiche politiche abituali. Solo così si spiega l'alleanza Stark-Targaryen, arrivata prima dell'esplosione dell'amore tra i due Re, e il negoziato con Cersei, portata ad approfittare della situazione solo per una follia senza alcun fondamento razionale. I problemi da risolvere, però, devono ancora arrivare: il Nord saprà accettare la genuflessione del proprio sovrano a favore di una casata storicamente nemica? E l'eventuale matrimonio? Come reagirà Sansa? La validità del presupposto iniziale (la minaccia"estranea"), capace di portare ad un armistizio con gli odiatissimi Lannister, potrebbe essere minata nella sua credibilità dalla nascita di una relazione sentimentale che poco ha a che vedere con la lucidità necessaria in una fase del genere.
Tyrion, inoltre, tiene in grande considerazione il pensiero di Varys. Avevamo già citato questo passaggio a proposito della possibile dipartita di Ditocorto (poi concretizzatasi nell'ultimo season finale di Game of Thrones) e risulta particolarmente pertinente anche in questo caso: "Quando vedo a cosa il desiderio riduce le persone e a che cosa ha ridotto questo Paese, io sono contentissimo di non provarlo. Inoltre l'assenza di desiderio lascia la mente libera di perseguire altri fini". Il Lannister, conscio del fatto che rappresenti l'unico argine di Daenerys prima della pazzia (concetto rimarcato nell'ultimo dialogo con Cersei), teme che i sentimenti nascenti possano condizionare negativamente le decisioni future di una sovrana inesperta, instabile e spesso irrazionale. Le sue, e quelle dell'alleato più prezioso che si ritrova, unica luce in fondo al tunnel della Lunga Notte.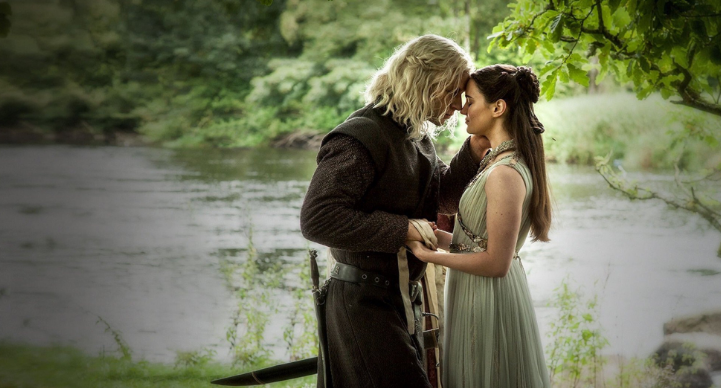 A proposito della Grande Guerra, non si può non considerare per l'ennesima volta la famigerata profezia legata all'Azor Ahai. Tyrion non crede granché alle leggende, noi sì. Secondo il mito, la nuova alba sorgerà sulle ceneri di una moglie defunta, estremo sacrificio per sconfiggere il nemico. Qualche giorno fa avevamo ipotizzato una futura morte di parto di Daenerys (ne abbiamo parlato nella recensione di The Dragon and the Wolf, la trovate qui), ma non si può escludere a priori che possa essere un omicidio a mettere un punto finale sulla loro storia. Da parte di Jon, oppure della sua amata. Per quale motivo? Immaginarlo è al momento impossibile, ma la suggestione non è campata in aria. Ce lo dice la storia di Game of Thrones, ricca come poche altre di amori spezzati dal sangue (si pensi a Jon, Daenerys e Tyrion con Ygritte, Khal Drogo e Shae), e relazioni foriere di immani tragedie (il matrimonio di Robb e Talisa causò lo sterminio delle Nozze Rosse).
Il caso più eclatante in questo senso è però la storia di Rhaegar Targaryen e Lyanna Stark, il cui amore è descritto da Bran, probabilmente non a caso, in sovrapposizione a quella di Daenerys e il figlio Jon. Questa vicenda, infatti, fu una delle cause scatenanti della ribellione del futuro re Robert e della fine del dominio dei Targaryen su Westeros. Troppe battaglie sono state combattute più o meno consapevolmente in nome di un bacio rubato al destino. Troppo sangue è scorso per assecondare un amore fatale, tanto puro quanto pericoloso. Come quello di un drago che abbraccia un lupo, oppure di un nobile con l'ultima delle prostitute. Tyrion sa, cosa ha sentenziato la Storia. Quando si ama qualcuno profondamente, c'è sempre un prezzo da pagare. Un debito, a carico degli individui e talvolta di interi popoli. Tyrion sa, cosa significano quei corpi nudi avvolti in un sorriso appena accennato, impaurito ed eccitato. Distesi nel talamo del fato in una notte che un giorno potrebbe risultare tragica. Il leone maturo, forgiato dalle lacrime del tempo, sa che si ama sempre la persona sbagliata. Ma quei due non gli daranno ascolto: loro, per ora, non sanno niente.
Antonio Casu