# #
"Mia: Non odi tutto questo?

Vincent: Odio cosa?

Mia: I silenzi che mettono a disagio… Perché sentiamo la necessità di chiacchierare di puttanate per sentirci più a nostro agio?

Vincent: Non lo so, è un'ottima domanda.

Mia: È solo allora che sai di aver trovato qualcuno speciale. Quando puoi chiudere quella cazzo di bocca per un momento e condividere il silenzio in santa pace."
# #
La scena la conoscete tutti. Siamo al Jack Rabbit Slim's e a un tavolo a forma di auto sono seduti Mia Wallace e Vincent Vega. Il film è Pulp Fiction di Tarantino. Il regista italo – americano ha colto pienamente l'essenza del silenzio, ha spiegato in quattro frasi quello che è il suo ruolo, la sua pesante eredità. Il silenzio non è un momento di imbarazzo, è un momento di conoscenza. In questo articolo proveremo a riflettere sul rumoroso fragore che esplode nelle serie tv nel momento in cui nessuno parla.
Simon e Garfunkel sono diventati famosi grazie al suono del silenzio, hanno venduto milioni di dischi, sono stati i pionieri della dottrina del non detto. Nella nostra vita, nella nostra quotidianità siamo attorniati da rumori, stridii e crepitii maleducati che ci opprimono. Qualcuno uno volta ha detto che "Il silenzio è la gentilezza dell'universo", oggi proveremo a capire il suo ruolo nella modernità.
# #
In questo articolo cercheremo di trovare quindi un senso ai silenzi nel piccolo schermo, ai momenti, alle pause che compongono alcune serie tv. Pensate a un monologo famoso, pensate a un discorso tra due persone, pensate a una domanda senza risposta. Quante volte il silenzio è piombato in queste situazioni? Quanto è stato importante?
Rust Cole, un silenzio che dona risposte
Provate a trasportare il silenzio in alcune serie tv famose. Immaginate Rust Cole di True Detective, immaginate i suoi interrogatori, i suoi silenzi interrotti da frasi filosofiche o semplicemente dall'aspirare l'ennesima sigaretta. Adesso pensate al rumore sordo di una lattina di birra schiacciata con forza che irrompe nel nulla. Il compito di Rust è quello di porci delle domande, quello del silenzio, in questo caso, è quello di darci risposte.
I detective che lo interrogano assistono inermi a una lezione di vita, a un profeta che insegna. I silenzi non vivono solo tra le mura di una centrale di polizia, ma sono disseminati in qualsiasi scena della serie tv. Il silenzio cresce e si disperde ovunque: in un paesaggio paludoso della Louisiana, in uno scantinato in cui sono rinchiusi dei bambini, nella casa spoglia di Rust.
Twin Peaks, l'incredibile sovrannaturalità del silenzio nelle Serie Tv
Passiamo a un'altra serie tv che ogni amante del silenzio non può perdersi. Parliamo ovviamente di Twin Peaks, la creazione nata dalla mente sconfinata di David Lynch. Soprattutto nella terza e ultima stagione ci sono lunghi momenti in cui lo spettatore assiste al brusco rumore dell'assenza di parole. La puntata numero 8 è quasi totalmente muta, è un misto di immagini psichedeliche e soprannaturali che spaventano chi le osserva senza alcun bisogno di proferire parola.
Anche gli ultimi minuti della serie tv vedono protagonista il silenzio. Questo accompagna la macchina con dentro il Detective Cooper e Laura Palmer fino a Twin Peaks, in un viaggio interminabile allungato proprio dall'assenza di parole. Nel finale vero e proprio le frasi e i rumori sono pari allo zero, ne abbiamo solo uno, traumatico, disturbante e terribile. L'urlo che proviene dalla gola di Laura dopo aver sentito quello che viene dalla grande casa bianca dove ha vissuto fino alla sua morte.
Vic Mackey, una diga di silenzio squarciata dal fiume della confessione
Altra serie tv, altro silenzio. Ci troviamo in una stanza per interrogatori, una detective bionda dagli occhi che ti guardano l'anima sta parlando. Ha un registratore e chiede all'uomo che le sta davanti se è pronto, se può schiacciare il bottone REC. L'interrogato è Vic Mackey, la serie è ovviamente The Shield e il silenzio è uno dei più pesanti mai apparsi nel piccolo schermo.
Dopo le ultime parole della donna la telecamera fissa l'uomo, lo analizza, possiamo vedere ogni minima espressione del volto. Possiamo vedere, ma non sentire, perché per un tempo che sembra interminabile l'uomo non riesce a proferire parola. Sospira, inarca le sopracciglia, ma non parla, quasi bloccato da un negazionismo delle cose compiute. Buffo direte voi, che una delle scene più belle della serie tv, più adrenalinica e dinamica di sempre, sia costruita interamente su un silenzio.
Picnic at Hanging Rock, la foresta silenziosa e traditrice
Australia. È il giorno di San Valentino del 1900, le studentesse dell'Appleyard College di Melbourne e la loro governante si ritrovano vicino ad Hanging Rock, un gruppo roccioso dell'entroterra australiano, per pranzare insieme. La gita fuoriporta si tramuterà presto in tragedia quando alcune di loro decidono di allontanarsi.
La serie tv in questione torna a creare paura, sbigottimento ed estraniazione proprio attraverso i silenzi. I paesaggi quieti, la corsa ovattata delle ragazze completamente muta, le distorsioni del cielo roseo e i primi piani carichi di terrore di Hester Appleyard. Questi sono solo alcuni esempi in cui il rumoroso silenzio della serie tv ci opprime e terrorizza. Guardando Picnic at Hanging Rock siamo trasportati in mezzo alla natura, in mezzo alla foresta oscura e silenziosa. Ci troviamo in un luogo leopardiano denso di sovrumani silenzi e profondissima quiete.
The Handmaid's Tale, quando il silenzio fa riflettere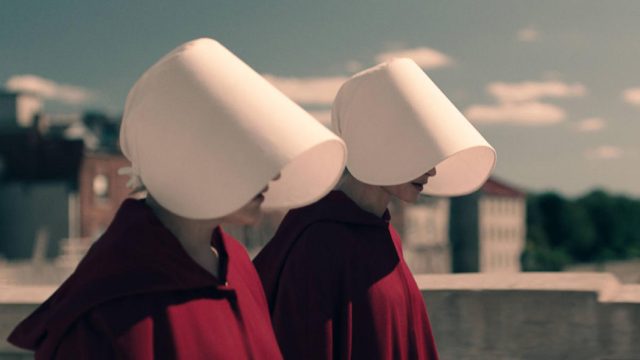 Last but not least, una delle serie tv che hanno fatto più discutere negli ultimi anni. Parliamo di The Handmaid's Tale. La produzione Hulu è dura e colpisce direttamente lo stomaco. Tratta temi pesanti e scottanti come quello della fertilità e della sessualità, della violenza e del male necessario per arrivare al bene comune. Le vicende prendono vita in atmosfere cupe, crude e surreali. Le grida si mescolano ai silenzi ingombranti.
Nelle prime puntate assistiamo all'ingresso (forzato) di Diglen nelle Ancelle e alla nascita di un rapporto tra lei e Difred. Tutto si sviluppa attraverso uno dei dialoghi più forti della serie tv, in cui le due iniziano a conoscersi e a eliminare pregiudizi che l'una nutriva verso l'altra. Più che conoscersi attraverso le parole dette, le due lo fanno attraverso quelle taciute. Attraverso quei silenzi che troppo spesso caratterizzano la sopportazione di angherie e molestie subite dal sesso femminile. Silenzi che fanno riflettere.