La seconda stagione per una serie Tv è sempre un terno al lotto. Essa rappresenta il momento decisivo che segnerà la fortuna o la disfatta del prodotto: di solito è per questo motivo che le seconde stagioni cercano di mantenersi sul sicuro migliorando i punti di forza e modificando ciò che nella prima stagione non aveva convinto. È la stagione in cui le prime ship cominciano davvero a prendere vita, in cui il rischio si corre ma non in maniera eccessiva. Diciamo pure che per le Serie Tv si tratta di una stagione in cui bisogna calibrare il tiro, in attesa di quella svolta decisiva che è la terza stagione.
Fermarsi a una seconda stagione è una delle sconfitte più brucianti, significa aver sprecato un'occasione, essere buone per il rinnovo ma non abbastanza per andare avanti. Non sempre la causa della cancellazione sta nella Serie Tv stessa però. A volte si tratta di scelte (anche abbastanza opinabili) da parte del canale che non se la sente più di puntare su quel prodotto.
Ecco a voi 10 serie Tv da due stagioni che noi vi consigliamo vivamente di vedere!
1) A YOUNG DOCTOR'S NOTEBOOK
Questo piccolo gioiellino purtroppo è conosciuto davvero da pochissime persone. Ispirata ai "Racconti di un giovane medico" di  Michail Bulgakov, la Serie Tv ha come protagonista Vladimir Bomgard, interpretato da giovane da Daniel Radcliffe e da adulto da Jon Hamm. Egli un medico ormai affermato a Mosca che rivive i giorni in cui era ancora un dottore inesperto e pieno di sani principi. Attraverso gli appunti del suo taccuino il Vladimir adulto ritorna agli inizi, al suo arrivo in un piccolo ospedale di campagna dove la modernità fatica a trovare il suo posto. La Russia di Bulgakov prende vita attraverso il taglio realistico della narrazione, la cruda ironia e due interpreti d'eccezione.
Il giovane e l'anziano Vladimir rappresentano non solo due momenti drasticamente diversi della sua stessa vita ma anche due facce della medicina, la vecchia e la nuova scuola. 
2) DIRK GENTLY'S HOLISTIC INVESTIGATION AGENCY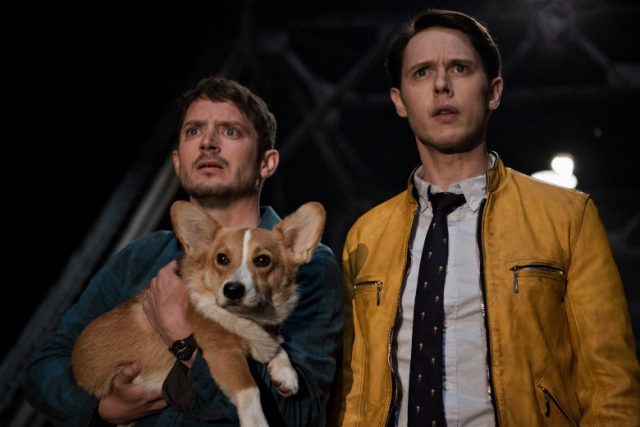 Tristemente cancellata dopo due sole stagioni e in realtà poco conosciuta e apprezzata è Dirk Gently, Agenzia di investigazione olistica. La Serie Tv ha per protagonista il personaggio nato dalla penna di quel geniale folle di Douglas Adams (che ci ha regalato tra le altre cose "Guida Galattica per autostoppisti"). Insieme al suo riluttante aiutante Todd, Dirk Gently, un eccentrico detective olistico, si caccia in mezzo alle avventure più assurde risolvendo i misteri più bizzarri, come mondi oltre l'immaginazione e bande di vampiri succhia energia. Le due stagioni sono unite da un filo rosso ma ognuna vede i due protagonisti intenti a risolvere un mistero apparentemente insensato e illogico.
Se ancora non avete visto questo capolavoro: che state aspettando? E ricordate: "Everything is connected"
3) GALAVANT
In onda sulla ABC e cancellata ingiustamente dopo due stagioni, Galavant era una Serie Tv geniale che davvero in pochi sono riusciti ad apprezzare. Fresca, divertente, avventurosa, magica e musicale. Si perché la Serie era un fantasy musical in cui in ogni puntata i nostri beniamini si lasciavano andare a balletti, assoli e acrobazie. Se pensate che fossero semplici canzonette vi sbagliate di grosso. Il cavaliere Galavant decide di andare a salvare l'amata Madalena dalle grinfie di King Richard, accompagnato dallo scudiero Sid e dalla Principessa Isabella. Dimenticate tutto quello che sapete di film medievali perché Galavant prende ogni singolo elemento per centrifugarlo e trasformarlo in qualcosa di nuovo e sorprendente. 
Umorismo, cuochi paurosi, "club per soli uomini", incantesimi e un messaggio positivo di gioia e lieto fine.
4) SENSE8 
Otto sconosciuti da diverse parti del mondo entrano improvvisamente in contatto telepatico tra loro, scoprendo di essere il prossimo step dell'evoluzione umana e che qualcuno di molto pericoloso sta dando loro la caccia. Otto persone diverse tra loro per etnia, lingua e orientamento sessuale scoprono così di essere legate da un unico destino.  Una delle Serie Tv più corali degli ultimi tempi, Sense 8 è un vero e proprio affresco dell'umanità, un viaggio alla scoperta di se stessi e di cosa significhi essere umani. La Serie Tv è assurda nella sua complessità e unicità, frutto delle menti geniali dei fratelli, anzi sorelle ormai, Wachowski. Gli stessi che hanno creato il mondo di Matrix per intenderci. Sense8 oltre alle due stagioni ha anche uno speciale conclusivo.
5) THE EXORCIST
Ispirata all'omonimo film cult degli anni '70, la Serie Tv vede protagonisti due preti molto diversi tra loro ma uniti da un comune obiettivo: salvare una giovane ragazza dal male che sempre più si sta insinuando dentro di lei. Mentre Marcus è un esorcista con molta esperienza e un doloroso fardello sulle spalle, il giovane e ingenuo Tomas non conosce bene le insidie del demonio. Senza spoilerare nulla, la Serie Tv ha più di un punto in comune con il film  originale e vale la pena di essere recuperata, soprattutto per tutti gli amanti dell'horror là fuori.
Noi consigliamo la visione già solo per la presenza di Ben Daniels. 
6) CHANCE
Un altro adattamento da un romanzo è la Serie Tv di Hulu con protagonista Hugh "House" Laurie.  Chance è un thriller psicologico che vede protagonista Eldon Chance, un neuropsichiatra forense di San Francisco il quale si ritrova immerso in un mondo pericoloso di poliziotti corrotti, malattia mentale, identità spezzate e violenza, mentre cerca di aiutare Jaclyn Blackstone, una paziente che soffre di un disturbo di personalità multipla. Oltre a questo, Eldon deve fare anche i conti con una vita personale complicata e abbastanza incasinata. Nonostante le grandi attese e la spinta da parte del canale, la Serie Tv non si è dimostrata il successo sperato ed è stata cancellata dopo due stagioni.
Un dramma oscuro che scava a fondo nella psiche umana e negli angoli bui di questa. 
7) THE KNICK
Il Dr. Thack (battuta tra 3,2,1 …) è il primario del Knickerbocker Hospital di New York. Uomo affascinante e geniale ma dipendente dalla cocaina, un problema che fa poeta maledetto e di tanto in tanto serve a dare al protagonista quella problematicità in più. Thackery opera con innovative tecniche chirurgiche che molto spesso non trovano l'approvazione dei suoi colleghi, ma questo non lo tange perché i suoi unici obiettivi sono salvare la vita ai suoi pazienti e iniettarsi un'altra dose di cocaina liquida. Un uomo che non cerca di sostituirsi a Dio ma piuttosto di distruggerlo tramite l'arma della scienza.
Clive Owen interpreta questo personaggio che purtroppo ci ha tenuto compagnia solo per due stagioni. 
8) WAYWARD PINES 
Moltissimi gli elementi in comune con Twin Peaks, a cominciare dalla cittadina dell'Idaho che dà il titolo alla Serie Tv. Anche qui abbiamo un tranquillo e accogliente paese di montagna che nasconde segreti da incubo, salvo poi che i segreti in questione sono meno onirici e più fantascientifici del cult di David Lynch. Nello show, prodotto e diretto da M. Night Shyamalan, Wayward Pines diventa una prigione da cui il detective Ethan Burke, interpretato da Matt Dillon, non riesce a scappare. L'agente ci arriva per indagare sulla scomparsa di due colleghi, fra cui la sua amante Kate. Dopo un incidente in auto, Burke si risveglia in ospedale, accudito da un'infermiera che potrebbe fare a gara con Kathy Bates di Misery non deve morire.
Una prima stagione partita con il piede giustissimo, una seconda assolutamente superflua ma noi per correttezza non possiamo non segnalarvi una Serie Tv così particolare.
9) AGENT CARTER
Creata da Christopher Markus e Stephen McFeely per la ABC, la Serie Tv trova posto all'interno del Marvel Cinematic Universe dopo gli eventi di Captain America – Il primo Vendicatore. A New York nel 1946,  Peggy Carter deve bilanciare il suo lavoro d'ufficio alla Strategic Scientific Reserve (SSR) con la missione segreta affidatale da Howard Stark, incastrato con l'accusa di aver venduto armi letali al miglior offerente. Per ripulire il nome dell'uomo deve trovare i veri responsabili e recuperare le armi. L'incredibile e versatile Hayley Atwell riprende uno dei personaggi femminili più tosti del MCU. Purtroppo la Serie Tv non è andata oltre due stagioni.
Non solo supereroi vestiti con tutine attillate ma anche donne coraggiose pronte a tutto per difendere i propri ideali. 
10) LOOKING
Looking ruota intorno a tre amici che vivono a San Francisco. La Serie Tv è nata con la chiara intenzione di raccontare in maniera veritiera e onesta la tematica LGBT. I protagonisti sono infatti tutti e tre omosessuali e tra intrighi vari ed eventuali, il pubblico è portato ad appassionarsi sinceramente a tutte le vicende. Anche se la storia di Patrick e Richie ha un posto speciale. Alla fine della seconda stagione i fan si sono trovati di fronte però a una mezza conclusione e la storia d'amore tra i due rimane un grande punto interrogativo. Come nel caso di Sense8, quindi, il finale inteso come un film serve a riprendere le fila e a dare una degna conclusione a tutte le vicende lasciate in sospeso.
Un prodotto che per certi versi può ricordare Girls ma senza quegli isterismi newyorkesi.