Il mondo delle Serie Tv è bello perché è vario. Sono un po' come un enorme centro commerciale, dove chiunque può trovare ciò che preferisce in base alle sue esigenze.
Serie Tv diverse danno origine a generi diversi, e dunque anche ad ambienti diversi. Che si parli di fantasy o di vita reale, ci importa poco: lo spettatore viene accontentato e tutti vivono felici e contenti. 
Ma si sa, le Serie Tv sono anche lo specchio dei tempi, perciò non è affatto inusuale vedere delle storie ambientate esattamente nella stessa epoca che conosciamo noi.
Questa cosa di certo arriva a variare nel corso degli anni. Le prime Serie Tv andavano a mettere in evidenza luoghi e ambienti che rispecchiano alla perfezione il periodo in cui sono ambientati. Happy Days ci porterà a dare uno sguardo ai da poco passati anni '50 e '60, così come Fame – Saranno famosi ci catapulterà nei primi anni '80. 
Allo stesso modo, ogni volta che ci troveremo a guardare un episodio di Dawson's Creek o Sex and The City, ci sentiremo in piena atmosfera anni '90.
Perché dobbiamo ammetterlo: la generazione degli anni '90 è cresciuta con delle Serie Tv ben precise, che non solo erano lo specchio dei loro tempi. In alcuni casi mettevano in evidenza delle realtà che sembravano essere note a tutti, e in cui si sperava che il pubblico si riconoscesse.
E così, dopo avervi elencato tutte le Serie Tv che sono ambientate negli anni '80 (e potete trovare l'articolo completo qui), oggi vi andremo ad elencare i telefilm che sono stati ambientati negli anni '90. 
Lo so, siamo davvero di fronte ad un grande momento di nostalgia, e non è neppure giovedì! Perciò, siamo tutti pronti a fare questa camminata nel viale dei ricordi e a vedere quante Serie Tv ricordiamo?
1. Full House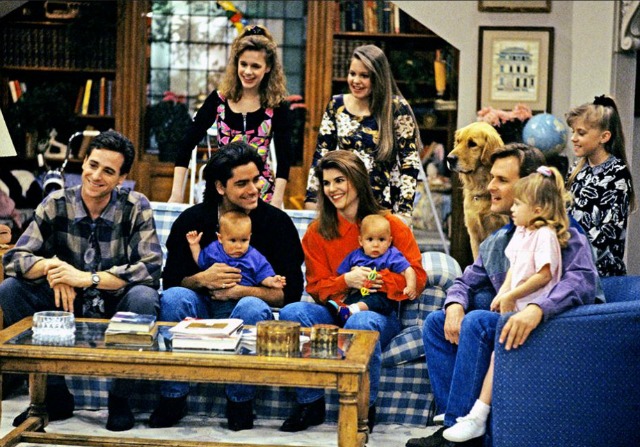 Cominciamo questo elenco con il botto, parlando della Serie Tv che lanciò, ai tempi, Mary-Kate e Ashley Olsen, i  cui nomi inseriti nella sigla facevano pensare che si trattasse di un'unica persona. Ho da poco riscoperto questa Serie Tv su Netflix, tradotta in italiano come Gli amici di papà, e me ne sono innamorata.
Ambientata tra la fine degli anni '80 e l'inizio degli anni '90, il telefilm racconta le vicende di Danny Tanner, padre di famiglia rimasto vedovo, che chiede aiuto ai suoi due amici, Joey e Jesse, per crescere le sue figlie: DJ, Stephanie e Michelle. I due si trasferiranno quindi a casa dell'amico per… Beh, diciamo solo molto tempo.
Le Serie Tv è andata avanti per la bellezza di otto anni, ed è stata talmente amata dal pubblico che si è pensato bene di farne un reboot. Su Netflix infatti si può trovare Fuller House, ovvero Le amiche di mamma, tutt'ora in corso.