Qualche tempo fa, mentre oziavo su Tumblr, mi sono imbattuta in un blog meraviglioso. Un ragazzo spagnolo (Iñaki Aliste Lizarralde) ha sviluppato un hobby particolare: riproduce esattamente le piantine (o planimetrie) degli appartamenti più famosi dei film e delle Serie Tv. Tutte le planimetrie sono interamente riprodotte a mano. Ecco qui le riproduzioni degli appartamenti più famosi delle Serie.
1) HOW I MET YOUR MOTHER
Una delle piantine riprodotte da Iñaki è quella dell'appartamento storico di Ted Mosby in How I Met Your Mother. Quel divano rosso è inconfondibile.
2) THE BIG BANG THEORY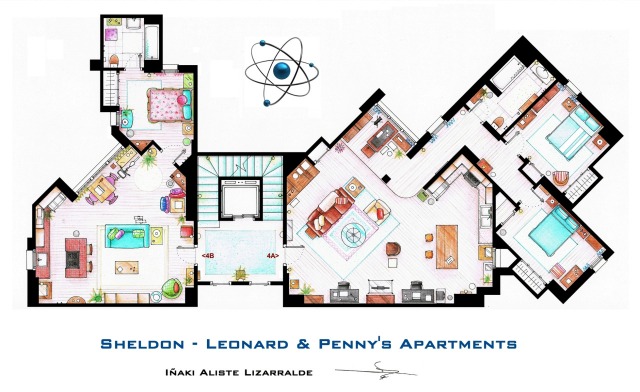 Tra le piantine da lui riprodotte c'è anche quella degli appartamenti di Penny, di Leonard e Sheldon di The Big Bang Theory. Quante volte abbiamo visto Sheldon bussare insistentemente alla porta di Penny in quel corridoio? Ogni singolo dettaglio è riprodotto minuziosamente dall'artista.
3) DEXTER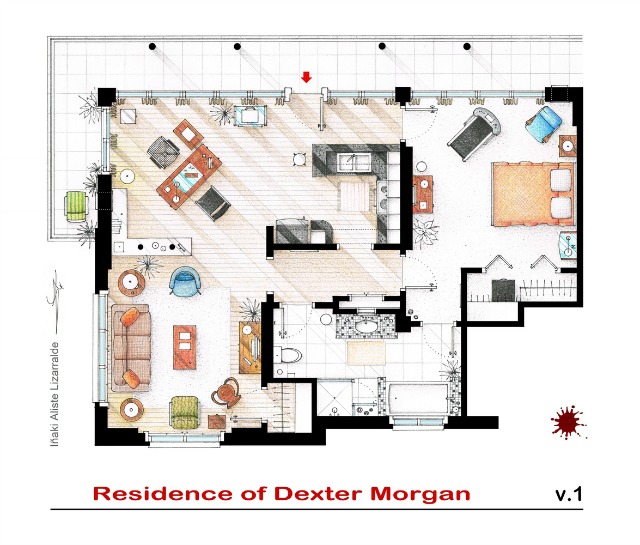 Un'altra tra le piantine riprodotte è quella del misterioso e tenebroso Dexter Morgan. Iñaki ha disegnato due planimetrie diverse di questo appartamento non avendo abbastanza materiale per riprodurre esattamente il bagno, ha provato a rappresentarlo a grandi linee.
4) FRIENDS
Chi di noi non ha mai sognato di vivere con Monica e Rachel o con Joey e Chandler? Iñaki ha riprodotto tra le varie piantine anche quella dei due appartamenti più famosi della televisione, quelli di Friends.
5) SHERLOCK
E tra le piantine delle Serie Tv non poteva che esserci anche quella dell'appartamento dell'investigatore più celebre e affascinante della letteratura e della televisione, Sherlock Holmes.
 6) WILL & GRACE
Un altro appartamento iconico è quello della Serie Will & Grace. Tra le piantine disegnate da Iñaki c'è anche questa.
Come avete potuto vedere, i suoi lavori sono meravigliosi. La cura che mette nei dettagli è spaventosa e bisogna ricordare che sono interamente disegnati a mano e colorati con semplici colori a pastello. Tra gli appassionati di Serie Tv hanno riscosso molto successo e l'autore (Iñaki Aliste Lizarralde) ha deciso di venderle su Etsy.
Se l'hobby di Iñaki vi ha incuriosito, vi invito a visitare la sua pagina Tumblr dove troverete altre piantine di appartamenti famosi.