Quando guardiamo una Serie Tv, è inevitabile affezionarci ai personaggi che popolano quel mondo. Questo grazie soprattutto all'interpretazione dell'attore che ne ricopre il ruolo. Spesso quella parte è costruita in maniera così perfetta che è impossibile non associare immediatamente quel determinato attore a quel determinato personaggio. Ma, talvolta, capita che alcuni personaggi vengano eliminati o sostituiti da altri interpreti (Game of Thrones docet).
Questo non è un fatto eccezionale. Capita più spesso di quanto non crediamo. I motivi possono essere molteplici: tensioni sul set, sovrapposizioni di impegni, attori che si stancano dei propri ruoli, esigenze di copione o semplicemente la vita prende il sopravvento. Sostituire un personaggio non è mai una cosa facile, qualsiasi sia il motivo. Certe volte è una cosa positiva ma altre volte ci colpisce come un pungo allo stomaco. Tuttora, guardando le 10 Serie Tv in questo elenco, facciamo fatica ad abituarci all'idea di questo cambiamento.
1) Game of Thrones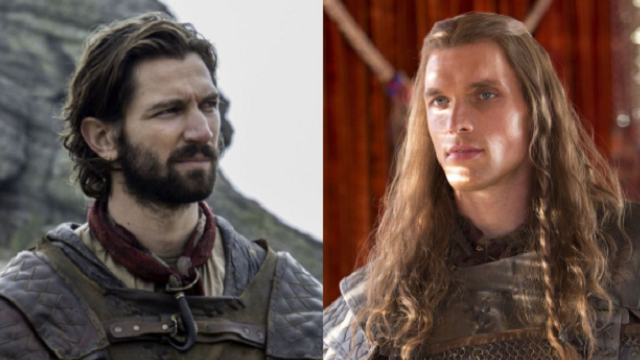 A causa del numero elevato di personaggi in Game of Thrones (qui il finale ideale), è difficile tenere d'occhio tutti gli attori che transitano in questa Serie Tv. Non è un caso che, nel corso delle stagioni, vari personaggi siano stati interpretati da attori diversi: ad esempio la principessa Mycella, suo fratello Tommen, la Montagna e il Re della Notte. Ma la sostituzione più clamorosa è sicuramente quella di Daario Naharis.
Mercenario, consigliere e amante di Daenerys Targaryen, Daario aveva il volto di Ed Skrein. Dopo appena una stagione in Game of Thrones, l'attore ha abbandonato lo show per il ruolo di protagonista in The Transporter Refueled. Il suo posto è stato preso da Michiel Huisman. I due attori hanno un aspetto completamente diverso: capelli lunghi e biondi, viso duro e sbarbato il primo, capelli corti, più scuro e barbuto il secondo. Un aspetto che non ha reso facile ai fan comprendere che il personaggio era lo stesso!