Fino a pochi anni fa le teorie del complotto, le grandi cospirazioni erano appannaggio quasi esclusivo del mondo americano. Dalla morte di grandi personaggi pubblici come John Fitzgerald Kennedy, Martin Luther King o Elvis Presley alla veridicità dell'allunaggio. Dall'attacco a Pearl Harbor all'11 settembre. Non ci interessa in questa sede indagare le cause, a volte plausibili altre meno, che hanno spinto alla nascita di queste posizioni quanto evidenziare come, invece, nel vecchio continente questo modello comportamentale abbia impiegato più tempo a diffondersi. In Italia poi fino a qualche decennio fa predominava il famoso "muro di gomma", termine coniato in riferimento al disastro di Ustica. La situazione però è cambiata anche da noi. Il mondo delle serie tv non poteva restare indifferente a questo tema. Prodotti come Black Mirror, ad esempio, hanno saputo cogliere e alimentare questo bisogno.
Come spesso accade le serie tv seguono con una certa distanza temi trattati precedentemente dal cinema. In questo caso ci basti pensare a pellicole come J.F.K. di Oliver Stone o Capricorn One di Peter Hyams rispettivamente sulla morte del presidente Kennedy a Dallas e sull'allunaggio del Apollo11. Però quando le serie tv arrivano a trattare certi temi, direttamente o indirettamente, riescono a mostrare una profondità e un coinvolgimento addirittura superiore al cinema.
In questo caso vedremo una selezione di serie tv che non necessariamente parlano direttamente del tema del complotto ma che per la loro struttura, trama o messa in scena solleticano nel pubblico, in noi, le più intricate teorie del complotto. Non solo Black Mirror quindi.
Vediamo allora quali sono le 7 Serie Tv non necessariamente distopiche alla Black Mirror che ci faranno sentire decisamente complottisti:
1. THE PRISONER (1967)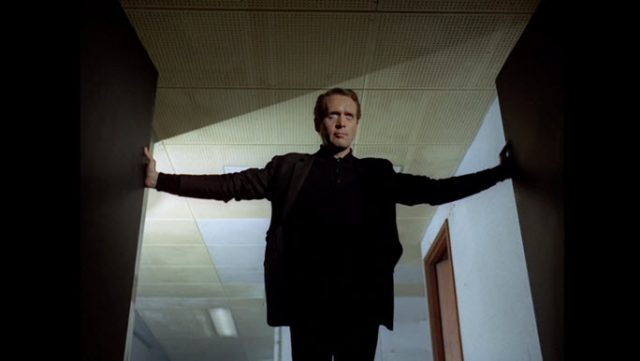 The Prisoner è una delle rappresentazioni più affascinanti del lato oscuro dello spionaggio internazionale. Ma è anche molto di più. The Prisoner, nel 1967, riesce a creare un'amalgama probabilmente insuperata di esoterico, filosofico, geopolitico e fantastico, oltre a funzionare perfettamente come critica agli assunti fondamentali dell'uomo moderno e progressista, come mai prima d'allora si era vista in televisione. E probabilmente come non s'è più vista.
Semplificando in modo barbaro una delle trame più complesse e affascinanti delle televisione si può dire che The Prisoner narra le vicende di un agente dei servizi segreti britannici che, avendo deciso di lasciare l'Agenzia, viene drogato e rapito per scoprire i motivi che hanno portato a questa scelta. Il protagonista non ha, e non avrà per tutta la serie, un nome. Solo un numero: 6. Numero 6 si risveglia in un villaggio idilliaco che funge da "pensione" per agenti in possesso di informazioni sensibili. La cupola che controlla questo villaggio cerca di piegare la mente dei "prigionieri" al fine di ottenere le informazioni necessaria a catalogarli o piegarli al loro destino. Il protagonista però non accetta questo, non accetta di essere un numero. Di rinunciare alla sua identità individuale.
The Prisoner costringe lo spettatore a precipitare in un vortice complottista che dalla scala individuale si estende a quella globale. Lo fa in modo raffinato e avveniristico se si tiene conto di quando è stata realizzata. In ultima analisi, The Prisoner affronta il tema dell'uomo moderno e della sua società. Un nichilismo assoluto incastonato in una spystory. L'intrigo è fuori e dentro noi. Dove "noi" è inteso sia come la nostra immedesimazione nei personaggi che noi come pubblico che vive le vicende raccontate. Se volete perdervi in un complottismo totale che degenera fino alle più intrinseche radici dell'Uomo, non potete perdere la visione di The Prisoner.