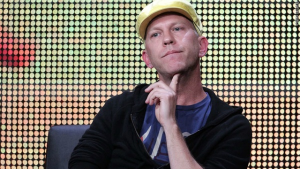 Certo, il titolo non vi sembra nuovo, anche se non mettereste la mano sul fuoco nell'affermare che lo avete già sentito. Più che altro sembra la storpiatura di qualcosa di già sentito. Forse vi riferite ad American Horror Story, e, ragazzi, sotto un certo punto di vista ci avete preso: questa serie è firmata Ryan Murphy (un nome, una garanzia!). Anche la formula rimarrà quella della serie orrorosa più in voga del momento; si tratta infatti di una serie antologica: ogni stagione rappresenterà una storia a sè stante. A noi piace dire anche le banalità, se vanno dette, e quindi concentriamoci un secondo sul titolo. È raro che si pensi ai titoli delle serie tv. O meglio, spesso, il titolo si carica di significato solo grazie al contenuto della serie. Un esempio per tutti? Twin Peaks, significa qualcosa solo alla luce della storia della cittadella e della brutta fine di Laura Palmer. Twin Peaks diventa BOB, diventa Gordon Cole, Dale Cooper e compagnia bella. "Twin Peaks" inizia a significare qualcosa solo alla luce di quella che è la storia (e che storia!) di Twin Peaks.
Non vale lo stesso per American Crime Story e per la sua, ormai nota, antesignana. La formularità del titolo ci dice tre cose importanti:
1. Ci stanno per raccontare una storia (tratta dalla realtà o fiction, poco importa). E noi siamo lì, davanti allo schermo, proprio per questo, no? Per farci raccontare una storia.
E' un storia criminale. Ecco che abbiamo già ristretto il campo. Non si tratta di una storia qualsiasi: stiamo per vedere una storia noir, una storia nella quale sia stato consumato un delitto.

E' una storia americana. Il che significa: probabilmente si ambienterà nel continente scoperto da Colombo, ma, "America" significa anche "nostra cultura", "nostro immaginario".
Quindi, ricapitolando, Murphy ci sta dicendo: Bambini, stasera vi racconto una storia criminosa che si svolge in un posto dove si vive come vivete voi. Che significa anche: potrebbe accadere anche nel vostro paesino brianzolo, ma scegliamone una ambientata in America che è il posto più vicino, e nel contempo più lontano, da qualunque altro posto occidentale (compresa l'America stessa).
Ma addentriamoci un poco in questa prima stagione di American Crime Story.
The People v. O.J. Simpson
È il titolo di questa prima stagione. Una nota da aggiungere a quanto riportato sopra: sì, ci stanno raccontando una storia, ma non una storia qualsiasi: American Horror Story tratta una storia realmente accaduta.
IL CASO DI O.J. SIMPSON: Innanzitutto, chi è O. J. Simpson? Il nome ci ricorda, in qualche modo, Homer J. Simpson, ma non c'entra, ovviamente, nulla. Tuttavia, O. J. Simpson è effettivamente una celebrità. Celeberrimo giocatore di Football americano al punto tale da venire inserito nella Pro Football Hall of Fame. Nel 1972 venne nominato miglior runningback e, l'anno seguente, fu suo il record dei 2000 yard corsi in sole 14 partite. Ma di Simpson potete ricordarvi anche se non amate lo sport: egli fu anche un attore. Un film su tutti? Una pallottola spuntata, di David Zucker. È chiaro che American Crime Story non parli né di pallottole spuntate, né dello spogliatoio dei Buffalo Bills (la squadra di O. J.). Il fattaccio è questo: la notte del 13 giugno 1994 vengono ritrovati due corpi martoriati. Sono i cadaveri di Nicole Brown (ex moglie di O.J.) e Ronald Lyle Goldman. Unico sospettato è O.J. Simpson. Di questo caso tratta la nuova serie di Murphy.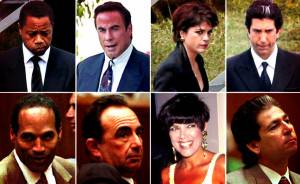 PERCHÉ VALE LA PENA VEDERE AMERICAN CRIME STORY: Sono diversi i motivi per cui vale la pena vedere questa serie. Due sono già stati enunciati: il genere Crime è indubbiamente uno di quei generi che tiene maggiormente gli spettatori incollati allo schermo e la firma di Ryan Murphy non è un particolare trascurabile. Inoltre questa serie vanta un cast veramente eccezionale: Cuba Gooding Jr. è O.J. Simpson, John Travolta è Robert Shapiro un famoso avvocato che fece parte della difesa di Simpson e David Schwimmer (sì, ROSS, ROSS DI FRIENDS!) interpreta Robert Kardashian, avvocato e amico di O.J. e padre dei famosi Kim, Kourtney, Khloè e Robi. C'è anche altro, ovviamente. Il caso trattato è uno dei casi più discussi degli storia della giustizia degli USA. Senza spoilerarvi nulla, l'evoluzione della faccenda si farà sempre più interessante, arrivando anche allo scontro razziale. In quegli anni, infatti, si erano verificati casi di maltrattamento di persone di colore da parte di poliziotti e O.J. è di colore. Questo sarà uno dei capisaldi della difesa, anche se ci saranno interessanti colpi di scena. Oltre al godimento derivante dal genere e dalla suspense che si crea solo con il genere giallo, il punto di forza delle storie criminose è un altro: il racconto di delitti ci permette di scrutare i lati più reconditi del nostro essere. In poche altre occasioni siamo così a diretto contatto con la parte più oscura di ciò che è l'uomo e solo nel confronto con essa possiamo sviluppare riflessioni importanti su cosa sia, in fin dei conti,  l'Umanità.
Elisa Belotti