FAN DI RICK E MORTY A RAPPORTO!
La notizia di quest'oggi potrebbe indurvi a spendere una certa quantità di denaro per hotel e voli oltreoceano.
Dal 16 agosto al 6 ottobre 2018 a Wastington è stato aperto un temporary pub a tema Rick e Morty.
Proprio come è successo per Game of Thrones qualche tempo fa, questa è la volta della Serie animata Rick e Morty.
Il locale si chiama Wubba Lubba Dub Pub ed è stato aperto dalla Drink Company, la stessa che aveva aperto il locale pop-up di Game of Thrones.
Il Wubba Lubba Dub Pub è un'esperienza a 360 gradi nel mondo di Rick e Morty, viene descritta proprio come una "full immersive experience" ed è pensato esclusivamente per far impazzire i fan.
Per citare qualche esempio: si potrà fare un giro per l'Anatomy Park, la colorata dimensione 35-C, ci saranno diversi Meeseeks (Miguardi) a grandezza naturale e ultime ma non per importanza saranno presenti le Vere Finte Porte.
C'è l'opportunità di vestirsi con costumi a tema, proprio come per il pop-up di Game of Thrones, e se si decide per questa ipotesi c'è un ingresso speciale dedicato!
Gli easter egg si sprecheranno nello spazio dedicato agli spettatori.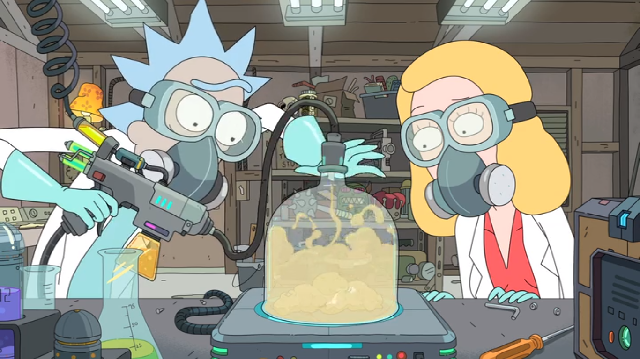 Non vorrei esaltarvi troppo ma c'è anche una ricostruzione del laboratorio di Rick nel garage, lo Space Cruiser con tanto di giraffa al contrario!
La brutta notizia è per i più giovani, il locale è esclusivo per le persone che hanno già compiuto 21 anni d'età.
Questa iniziativa è stata progettata in modo positivo dall'inizio alla fine. Non solo renderà elettrizzati fan che potranno visitare il pop-up, ma quando il temporary pub di Rick e Morty chiuderà le sue porte (il 6 ottobre 2018) la Drink Company venderà all'asta tutte le opere d'arte presenti nel locale e donerà tutto il ricavato alla Destination Immagination. Quest'ultima è un'organizzazione no profit dedicata a un tipo di apprendimento pratico che risalta la creatività e promuove sfide accademiche tra gli studenti in diversi campi, come scienza e tecnologia.
In pratica, vincono tutti! I fan potranno visitare il mondo di Rick e Morty e potranno acquistare le opere presenti nel locale e la Destination Immagination può promuovere un nuovo tipo di apprendimento.
Chi ha le ferie prenoti il biglietto e parta alla volta di Washington!