Ogni giorno il linguaggio parlato vede la creazione costante di termini nuovi. E allora come è possibile che non esista un modo per descrivere come ci sentiamo dopo aver visto il finale di The Big Bang Theory? Nessuno si aspettava un finale perfetto, molti dubitavano. E allora come mai siamo rimasti così soddisfatti? Una volta terminate le due puntate finali, è stato come se un peso ci si fosse sollevato dal petto.
È sempre così con i finali di stagione, figurarsi con quelli di serie e noi addicted teniamo particolarmente a queste cose. Una sola puntata ha il potere di compromettere tutta quanta una serie tv e in passato è successo parecchie volte. Questa è la ragione per la quale gli sceneggiatori si trovano sempre con più pressione sulle spalle quando si tratta di scrivere l'ultimissima puntata.
Beh, a noi il finale di The Big Bang Theory è piaciuto. Non solo, lo abbiamo trovato perfetto nella sua imperfezione.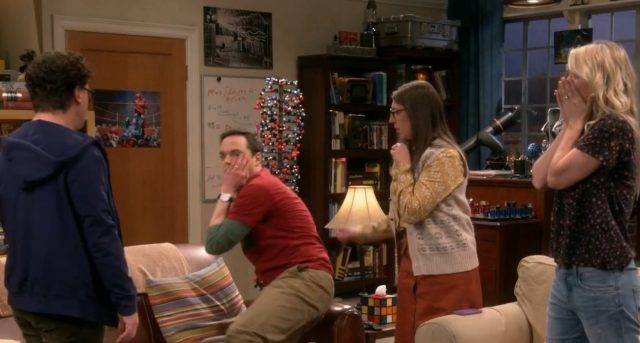 La vera forza di The Big Bang Theory è sempre stata racchiusa nella caratterizzazione dei personaggi. Le particolarità di ognuno dei sette protagonisti ha contribuito alla creazione di qualcosa di magico e noi ne abbiamo avuto la riprova in tutte e dodici le stagioni. C'è un motivo se siamo rimasti con loro fino alla fine, c'è un motivo se non ci siamo arresi e non li abbiamo abbandonati quando, con il passare delle stagioni, abbiamo percepito un cambiamento nella comicità della serie. Il finale ha dissipato ogni dubbio: ora la serie e i personaggi sono completi. Ma partiamo dall'inizio.
Ci ritroviamo esattamente dove volevamo essere, con Sheldon e Amy che attendono di scoprire se hanno vinto o meno il Premio Nobel. Abbiamo gioito con loro quando hanno scoperto di aver vinto e abbiamo riso quando Leonard ha finalmente realizzato il sogno della sua vita, tirando uno schiaffo al suo ex-coinquilino.
Marshall Eriksen approves.
Ovviamente la vittoria comporta una serie di attenzioni e cambiamenti che a Sheldon non fanno piacere. Non ci siamo dimenticati di quella volta in cui è partito per un viaggio in treno per gli Stati Uniti dopo che l'università non gli aveva permesso di cambiare campo di ricerca e dopo che Leonard e Penny avevano deciso di vivere assieme. Lui comincia a dare di matto e il fatto che Amy abbia deciso di cambiare completamente look per sentirsi più sicura di sé non lo ha di certo aiutato.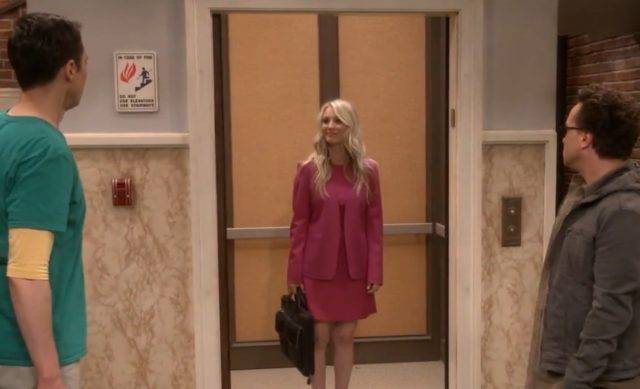 Ma poco importa e volete sapere perché?
Perché il tutto è passato in secondo piano nel momento in cui abbiamo sentito un campanello e abbiamo visto le porte di quel dannatissimo ascensore aprirsi. Se ne parlava da tempo, sapevamo che potesse essere un'opzione plausibile per il gran finale, ma nulla è stato così soddisfacente come vedere Penny usare finalmente l'ascensore che da troppo tempo era fuori servizio.
Parlando di Penny, quanti avevano indovinato la gravidanza? Era nell'aria dato che questa dodicesima stagione è stata molto trasparente e ci ha fatto intuire cosa sarebbe successo alla fine. Però non possiamo non essere felici per lei, vedendola così contenta, e per Leonard, che si merita questo e molto di più.
Finalmente abbiamo visto i figli di Howard e Bernadette.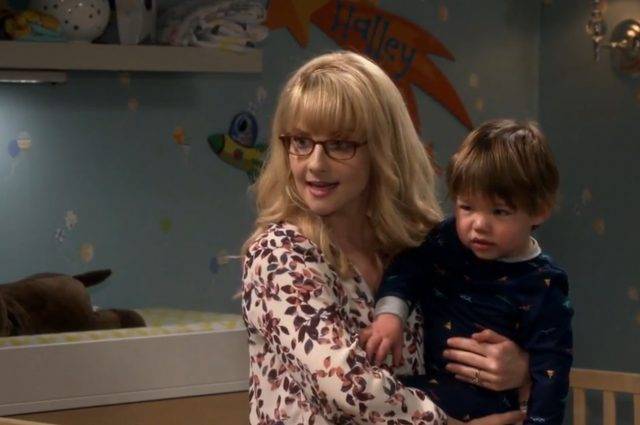 Gli sceneggiatori ce l'hanno fatta penare, ma finalmente abbiamo visto Halley e Neil Michael, più carini che mai. Durante la puntata i loro genitori li affidano a Stuart e Denise quando partono assieme agli altri per la Svezia, dove Sheldon e Amy accetteranno il Nobel. Pessima decisione, chiunque era meglio di quei due (o di Bert, al quale Raj affida Cannella). Quasi rischiano di perdersi la premiazione per tornare a casa, dopo che Halley perde un dente cadendo dalle scale.
L'unica pecca, se come tale si vuole considerare, è la fine della storia di Raj. Ok, avevamo terminato la puntata precedente al finale con l'astrofisico sul punto di partire per l'Inghilterra e raggiungere Anu per sposarla ma, fermato da Howard, aveva deciso di restare a Pasadena con i suoi amici. Ci aspettavamo più dettagli su questa storia, e non li abbiamo avuti. Siamo rimasti con un Raj single, sempre alla ricerca dell'amore. Ma onestamente è andata benissimo così. Quale finale migliore per lui, se non questo?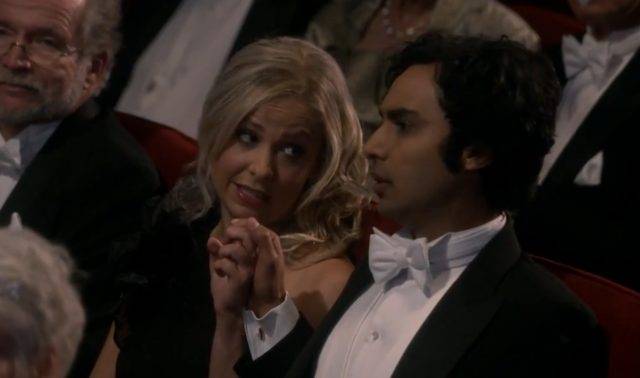 Insomma, quasi quasi speravamo in una storia con Sarah Michelle Gellar di Buffy l'ammazzavampiri, ma lei ha subito voluto mettere le cose in chiaro.
Il punto focale del finale è l'atteggiamento di Sheldon. L'abbiamo visto comportarsi così per anni e anni ed è stato quello il motivo per cui lo abbiamo amato così tanto. L'universo Sheldon-centrico in cui vive, però, ha finito per stancare i suoi migliori amici. Ancora una volta ci è voluta Amy, colei che è riuscita, insieme al grande aiuto di Penny, a cambiare il protagonista, colei che ha sempre saputo parlargli nel migliore dei modi, aiutandolo e indirizzandolo verso ciò che è giusto. Se c'è qualcuno che merita il Nobel è proprio lei.
A partire dal "ricapitolando" delle puntate precedenti, ovvero tutti i punti salienti delle stagioni di The Big Bang Theory fino ad arrivare al bellissimo discorso di Sheldon. Questo è stato un grande regalo da parte di Chuck Lorre e del team di sceneggiatori, decisamente un successo. Ne siamo usciti profondamente soddisfatti, con la consapevolezza di quanto le parole di Sheldon fossero appropriate, vere e sentite. È stato un omaggio a tutti i suoi amici, confessando l'affetto che a modo suo prova per loro, lo stesso che proviamo anche noi.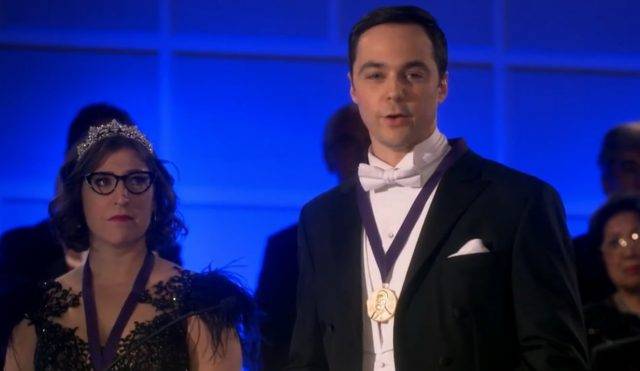 Grazie di tutto Dr. Amy Farrah Fowler, Dr. Bernadette Rostenkowski-Wolowitz, Astronauta Howard Wolowitz, Dr. Rajesh Koothrappali, Penny Hofstadter, Dr. Leonard Hofstadter e Dr. Sheldon Cooper.
Parafrasando Winnie the Pooh, quanto siamo stati fortunati ad avere qualcosa che ha reso così difficile dire addio.