Bentornati con la recensione dell'episodio conclusivo di questa terza stagione di Station 19. Prima di cominciare, permettetemi un piccolo sfogo: MA PORCA MISERIA LADRA!
Bene, ora possiamo cominciare. Lasciate che ve lo dica, sono ancora scioccata per quello che ho visto. Sì, certo è Shondaland e perciò non dovrei meravigliarmi di niente, ma quando penso che la serie non possa diventare più trash o più simile a Beautiful ecco che arriva la smentita. La mamma di Andy è viva. La mamma di Andy è viva e io non riesco a non fare paragoni con Taylor Hayes. Perché, signori, tutto ciò è fantascienza. 'Sta tizia che è stata data per morta da quando la Herrera aveva nove anni, è ricomparsa all'improvviso e ce lo dicono nella scena finale senza darci nemmeno un attimo per processare cosa stia succedendo.
L'episodio di questa settimana è stato pura follia. La pagina ufficiale e le anticipazioni ci hanno depistato alla grande e, mentre noi ci chiedevamo chi sarebbe morto, un morto è risorto. O meglio, si è rivelato essere non morto. Sono ancora incredibilmente confusa. Il padre di Maya poi spunta all'improvviso e le tira la coda, rendendo fisico il suo abuso e vi giuro che ho sentito le mani formicolare, perché fossi stata io la Bishop, gli avrei mollato un rovescio che gli avrebbe fatto rivivere la sua vita intera.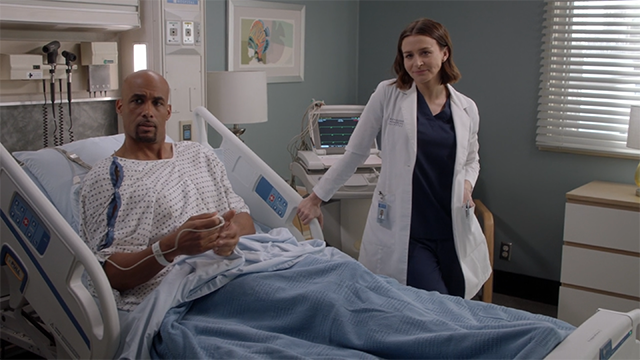 In tutto questo, com'era chiaro, ad Andy del marito non frega per niente proprio. E, invece, passa il tempo con la Grey a prendere il caffeuccio come se fossero nello studio della d'Urso, mentre quel povero cristo prega per sopprimere la voglia di farsi una dose. La beata Amelia, fresca di parto, che dovrebbe essere quantomeno in maternità, è già tornata in corsia pronta a operare e ciò me la fa amare ancora di più. Sta tizia è Wonder Woman, è un portento e proprio non capisco perché a gran parte del fandom non piaccia. Ma, ehi, a gran parte del fandom piace il bigotto Owen Hunt perciò è chiaro che non siamo sulla stessa frequenza, tra noi ci sono differenze inconciliabili. È un matrimonio impossibile.
La questione Miller/Hughes diventa sempre più imbarazzante. Mettetevi nei panni della povera Vic che una mattina si sveglia e il suo coinquilino la caccia di casa senza darle una spiegazione sensata. Insomma, ma che razza di comportamento è questo, Dean? Mi sarei aspettata una dichiarazione d'amore seguita da un rifiuto che avrebbe reso più facile capire la decisione presa dal collega.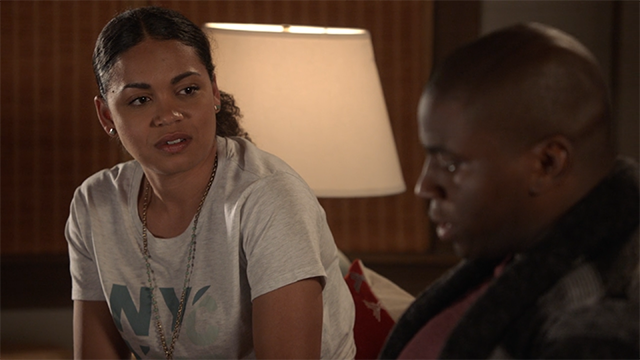 Ma andiamo avanti e parliamo del fatto che ci avevano detto che un medico di Grey's Anatomy (qui la recensione del finale di stagione) sarebbe dovuto morire in questo episodio e che per via del finale anticipato avevano dovuto cambiare idea, ma che avremmo capito chi sarebbe dovuto essere. E invece, ci hanno preso in giro alla grande. Perché se è pur vero che un medico muore, con Grey's Anatomy non ha niente a che fare.
La dottoressa che – a causa dell'esplosione al Pac North – muore, non l'avevamo mai vista prima, motivo per cui mi sento profondamente trollata (e anche un po' sollevata). Ma non è l'unica volta che mi sono sentita così. No, perché proprio il giorno prima della messa in onda di questo episodio di Station 19, sulla pagina ufficiale è emerso un post che ci ha allarmati.
Posso confermare… qualcuno muore stasera in Station 19. Riuscite ad indovinare chi?
È chiaro che abbiano cominciato a tremarci le ginocchia. Sui gruppi più attivi di Facebook di Grey's Anatomy e Station 19, nonché sui rispettivi hashtag su Twitter, non si faceva altro che parlare di questo. Ci siamo sforzati per capire chi potesse morire in questa terza stagione che di morti ne ha viste abbastanza. Abbiamo proposto le nostre teorie, abbiamo commentato quelle degli altri e per cosa? Per essere presi in giro? Per essere trollati? Non va bene. Ok, è confortante sapere che siano tutti vivi, ma ho desiderato davvero tanto vedere crepare il capo Dixon. Questo mi rende una brutta persona? Forse.
Per quanto riguarda le questioni sentimentali, devo dire che sono molto contenta per Travis. Ho apprezzato il fatto che abbia reso chiari i suoi sentimenti e le sue intenzioni nei confronti di Emmett. È stato coraggioso da parte sua e continuo a innamorarmi di questo personaggio sempre di più. Non lo so è così genuino che non posso che volergli bene. E poi lo trovo estremamente esilarante. Soprattutto quando è con Vic. La loro è una delle migliori friendship di Station 19, se non proprio la migliore.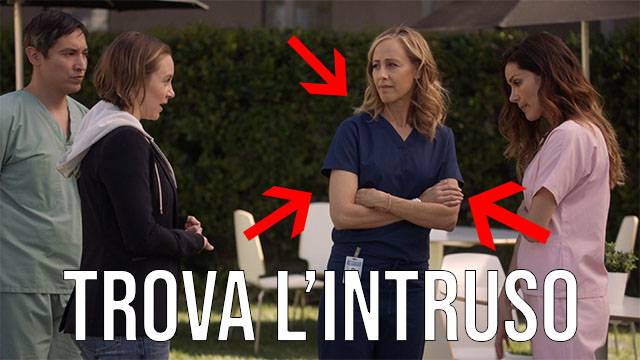 Mi fa piacere anche che Maya e Carina si siano riappacificate. Era ora che la Bishop si innamorasse. Sì, forse ho sperato fino all'ultimo secondo che fosse innamorata di Jack, ma sono contenta di come sia andata. Solo una cosa ho trovato incredibilmente fastidiosa: la presenza di Teddy Altman. Ok, Maya va a cercare di riprendersi Carina, fa una bellissima dichiarazione d'amore e la Altman se ne sta là, in mezzo alle due e per tutto il tempo ho pensato: get the fuck out of there, Teddy! Insomma, facci vedere sta dichiarazione d'amore in santa pace e togliti dalle consistenze.
Passando al mio amato Jack, sento nell'aria la possibilità che cominci una relazione con quella donna che ha salvato dalle grinfie del marito violento, perciò sono molto curiosa di vedere come si svilupperà quella storia. Tra l'altro sono profondamente convinta che Gibson meriti una storia d'amore normale per una volta e che non ripeta le situazioni disfunzionali come quelle in cui l'abbiamo visto coinvolto finora. Sarebbe anche ora che 'sto povero cristo avesse una gioia. Ho creduto finora che fosse Andy Herrera l'equivalente di Meredith Grey per Station 19, ma considerando la sfortuna esagerata di Jack comincio a pensare seriamente che sia lui l'erede designato.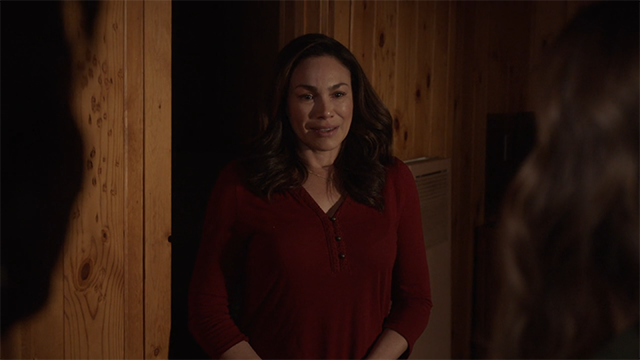 Concludo dicendo non so ancora per certo se questo episodio mi sia piaciuto. Spero, però, che questa volta non dovremo aspettare gennaio 2021 per tornare a vivere le avventure dei pompieri della caserma 19 (anche se è piuttosto improbabile che il network lo sposti a settembre considerando che non sappiamo quando ripartirà l'industria televisiva e cinematografica). Sono estremamente curiosa di scoprire Pruitt attraverso i racconti di sua moglie e, soprattutto, non vedo l'ora di assistere alla reazione della Herrera.
Per questa stagione è tutto, alla prossima, halleloo!
P.S. Speriamo che l'anno prossimo la Vernoff manterrà le promesse fatta l'anno scorso (qui i dettagli) e ci dia un cross-over alla settimana con Grey's.